Corset Garter Set
A corset garter set is a lingerie ensemble that typically includes a corset or bustier and garters. The corset or bustier is a form-fitting garment that is designed to shape and support the bust and torso. It may have boning or underwire to provide structure and often laces up in the back to allow for adjustment and a custom fit.
Garters are straps or bands that are worn around the thighs to hold up stockings. In a corset garter set, the garters are typically attached to the corset or bustier and may be adjustable to ensure a comfortable fit. The stockings themselves are not typically included with the set, but can be purchased separately.
Corset garter sets are often worn as lingerie for special occasions or as a way to add a touch of sensuality to an outfit. They come in a variety of styles, colors, and materials to suit different preferences and occasions.

Please Note
Stocking length :70cm
Please refer to the weight for the specific size, maybe the stockings will be thin, because the diameter of the stockings is the normal size, please know before buying
Measurement In CM

Size

Upper Chest

Under Chest

Waist

Thong Waist

Clothing length

Garter

S

67-80

57-67

57-67

60-75

33

15-35

M

70-83

60-70

60-70

62-80

35

15-35

L

72-85

62-75

62-75

64-85

37

15-35
Model Show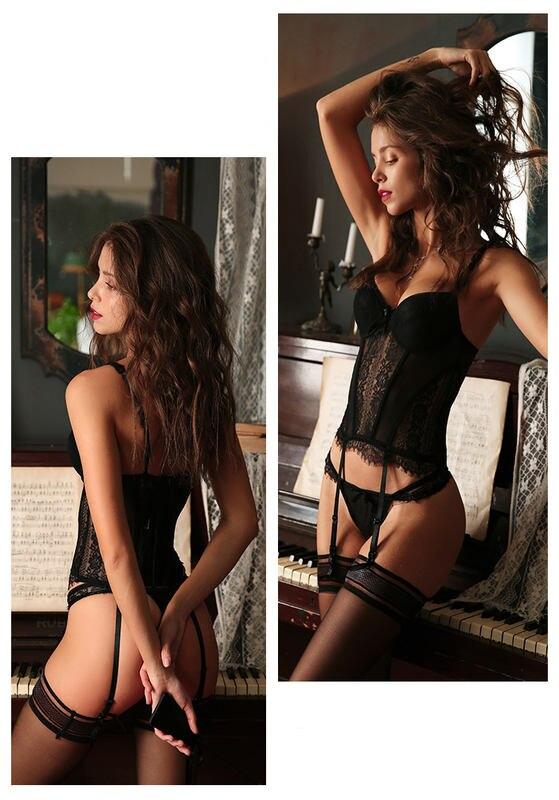 Elastic shoulder strap can be adjusted Lingerie Push Up Corset Shoulder Strape