Corset Garter Set | Garter And Corset Set
Description:
Stocking length :70cm
Please refer to the weight for the specific size, maybe the stockings will be thin, because the diameter of the stockings is the normal size, please know before buying

Measurement In CM

Size

Upper Chest

Under Chest

Waist

Thong Waist

Clothing length

Garter

S

67-80

57-67

57-67

60-75

33

15-35

M

70-83

60-70

60-70

62-80

35

15-35

L

72-85

62-75

62-75

64-85

37

15-35
Model Show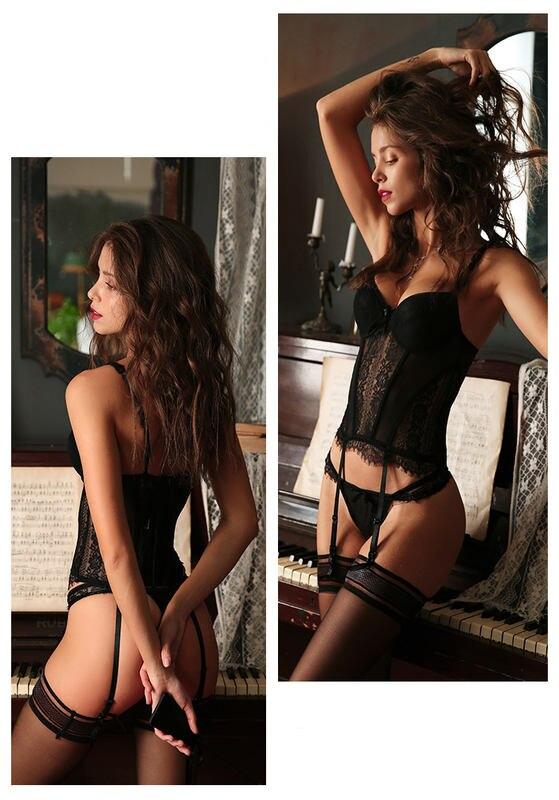 Elastic shoulder strap can be adjusted Lingerie Push Up Corset Shoulder Strape
Elevate Your Elegance with a Corset Garter Set: The Ultimate Guide
In the world of lingerie, there's a timeless allure associated with corsets and garter sets. These seductive ensembles have been enhancing the beauty and confidence of individuals for centuries. Whether you're looking to spice up your intimate moments or simply want to feel empowered and glamorous, a Corset Garter Set is the perfect choice.
In this comprehensive guide, we'll delve into the world of corset garter sets, exploring related keywords such as garter and corset set and garter belt and corset set. Join us on a journey to discover how these exquisite pieces can transform your style and boost your confidence.
The Allure of a Corset Garter Set
The Timeless Appeal
A corset garter set epitomizes timeless elegance and sensuality. The corset, with its structured boning, cinches the waist, accentuating curves and creating a classic hourglass figure. Paired with garters, this ensemble adds an irresistible touch of seduction, making it perfect for both romantic nights and special occasions.
Versatility Redefined
One of the most appealing aspects of a corset garter set is its versatility. You can wear it as an undergarment beneath your favorite dress, adding an extra layer of confidence. Alternatively, it can be the centerpiece of your bedroom attire, setting the stage for a passionate evening. This adaptability makes it a must-have in every lingerie collection.
Anatomy of a Corset Garter Set
The Corset
The corset is the heart of this ensemble. Crafted from luxurious fabrics like satin, lace, or mesh, it embraces your torso, enhancing your natural curves. The boning inside provides structure and support while maintaining comfort. Traditional lacing or modern hook-and-eye closures ensure a snug fit.
 The Garter Belt
Attached to the corset, the garter belt adds an element of allure and intrigue. It features adjustable straps that hold up your stockings, creating a classic, vintage-inspired look. Garter belts come in various designs, from minimalist to ornate, allowing you to express your personal style.
The Stockings
Completing the set, stockings are an essential component. They come in different styles, such as sheer, lace-topped, or fishnet, letting you choose the level of seduction you desire. The combination of stockings and garters draws attention to your legs, making them appear longer and more shapely.
How to Choose the Perfect Corset Garter Set
Finding the Right Size
The key to feeling comfortable and confident in a corset garter set is selecting the right size. Measure your bust, waist, and hips accurately, and consult the sizing chart provided by the manufacturer. Remember that corsets are designed to be snug but not restrictive, so choose a size that allows for a comfortable fit.
Fabrics and Styles
Consider your personal style and the occasion when choosing the fabric and style of your corset garter set. Satin and lace exude a classic, romantic vibe, while mesh and leather offer a more daring and modern look. Choose a design that resonates with your individuality.
Customization Options
Many corsets come with customization options like detachable garters, removable straps, or adjustable lacing. These features allow you to adapt your ensemble to different outfits and moods, making it a versatile addition to your wardrobe.
Garter and Corset Set vs. Garter Belt and Corset Set
Garter and Corset Set
A "garter and corset set" typically refers to a two-piece ensemble where the corset and garters are integrated into a single piece of lingerie. This design offers convenience and ease of wear, making it a popular choice for those new to corsetry. Garter and corset sets often feature intricate detailing and are perfect for intimate moments.
Garter Belt and Corset Set
On the other hand, a "garter belt and corset set" consists of a separate corset and a garter belt, allowing for more customization. This option offers greater versatility as you can mix and match different corsets and garter belts to create unique looks. It's an ideal choice for those who appreciate variety in their lingerie collection.
Styling Tips and Occasions
Romantic Nights
For a memorable night of romance, choose a lace or satin corset garter set in a sultry color like red or black. Pair it with thigh-high stockings and your favorite heels for a seductive and elegant look that's sure to captivate your partner.
Special Occasions
Corset garter sets also make stunning additions to special occasions like weddings or anniversary celebrations. Opt for a white or ivory set with delicate lace detailing to create a bridal look that's both timeless and alluring.
Everyday Elegance
Don't reserve your corset garter set solely for special occasions. Incorporate it into your daily wardrobe by wearing it under dresses or skirts for a confidence boost that lasts all day.
Caring for Your Corset Garter Set
To ensure the longevity of your corset garter set, proper care is essential. Always follow the care instructions provided by the manufacturer, but here are some general tips:
Hand wash your corset garter set in cold water with a mild detergent.
Avoid wringing or twisting the fabric, as it may damage delicate lace or boning.
Hang it to dry or lay it flat on a clean towel.
Store it in a cool, dry place away from direct sunlight to prevent fabric fading or warping of boning.
A corset garter set, whether in the form of a "garter and corset set" or a "garter belt and corset set," is a symbol of timeless elegance and sensuality. Its ability to enhance your natural beauty and boost your confidence is unmatched.
By choosing the right size, style, and customization options, you can make this exquisite ensemble a versatile addition to your lingerie collection. Whether you're preparing for a romantic night, a special occasion, or simply want to elevate your everyday elegance, a corset garter set is your secret weapon. Embrace the allure and transform your style with this classic lingerie piece.