Crotchless Bodysuit | Body Stockings Lingerie
Item Type: Body Suit

Product Description:

Season: Four season

Gender: Women

Occasion: Sleepwear,Daily

Material: Polyester

Pattern Type: NO

Style: Sexy

Fit: Fits ture to size

How to wash: Hand wash

Weight: 80-160g

| | | |
| --- | --- | --- |
| Size | Weight | Height |
| One size | 80-145g | 145-180cm/57.09-70.87" |

| | | |
| --- | --- | --- |
| One size | Weight:80-145g | Height:145-180cm/57.09-70.87" |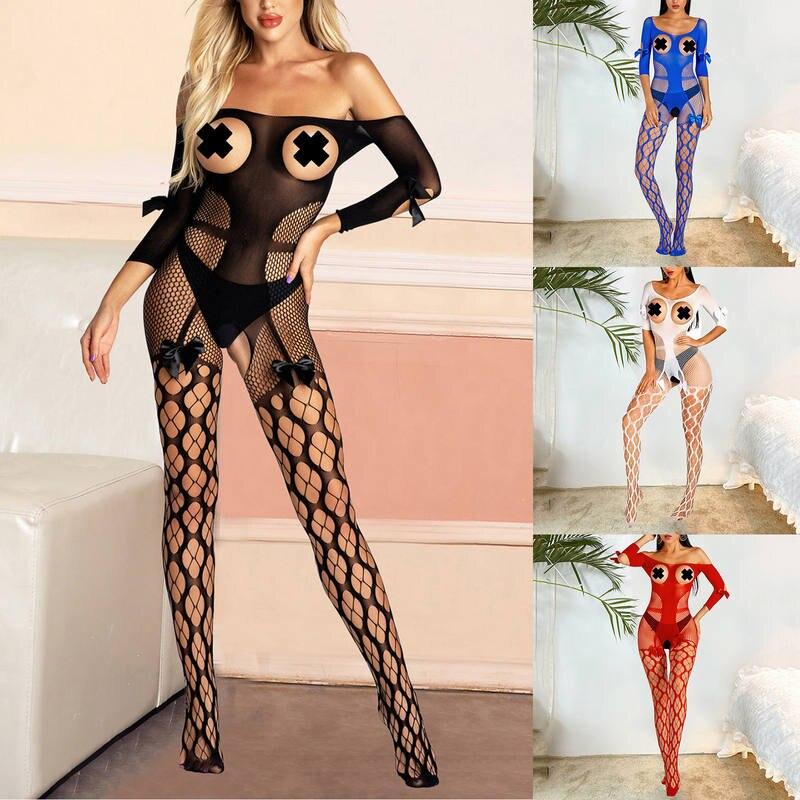 Crotchless Bodysuits: The Ultimate Guide to Seductive Lingerie
Lingerie has long been an essential part of a woman's wardrobe, not just for its functionality but also for the confidence and allure it brings. When it comes to exploring the world of intimate apparel, crotchless bodysuits stand out as a bold and provocative choice.
In this comprehensive guide, we'll delve into the world of crotchless bodysuits, explore related products like body stockings lingerie and lingerie with stockings, and help you discover how to make a statement in the bedroom.
Crotchless Bodysuits: A Seductive Revelation
Crotchless bodysuits are a tantalizing twist on traditional lingerie. These alluring pieces of intimate apparel feature an open crotch design, allowing for a provocative display of your curves and assets. Whether you're looking to spice up your romantic life or simply feel empowered in your own skin, crotchless bodysuits are a fantastic choice. Here are some reasons why they've become a staple in the world of lingerie:
a. Confidence and Empowerment: Crotchless bodysuits are designed to make you feel incredibly confident and empowered. The revealing nature of these garments allows you to embrace your sensuality and express your desires.
b. Versatility: These bodysuits come in a wide range of styles, from lacey and elegant to bold and daring. You can choose a design that perfectly matches your mood and preferences.
c. Surprise Element: Surprise your partner with the element of surprise that crotchless bodysuits provide. They add an exciting element to your intimate moments.
Body Stockings Lingerie: Sheer Elegance
Body stockings lingerie is another seductive option that combines the allure of hosiery with the sensuality of lingerie. These one-piece wonders are typically made from sheer materials that accentuate your curves and skin. Here's why body stockings lingerie deserves a place in your collection:
a. Sheer Sensuality: Body stockings lingerie is known for its sheer fabrics that tease and tantalize. They leave little to the imagination, making them perfect for intimate moments.
b. Flattering Fit: These garments are designed to fit snugly against your body, enhancing your natural shape and curves. Whether you're petite or curvy, you'll find a flattering fit.
c. Variety of Styles: From classic black to intricate lace patterns, body stockings lingerie comes in a variety of styles to suit different tastes.
Lingerie With Stockings: Classic Elegance
Lingerie with stockings is a timeless and classic choice for those who appreciate the elegance and sophistication of intimate apparel. This combination includes a bra, panties, and a pair of stockings, all carefully coordinated to create a stunning ensemble. Here's why lingerie with stockings remains a beloved choice:
a. Complete Set: Lingerie with stockings offers a complete look that's both stylish and seductive. It takes the guesswork out of mixing and matching pieces.
b. Enhanced Support: The bra in these sets provides support and lift, enhancing your bust and overall silhouette.
c. Endless Styles: Whether you prefer satin, lace, or bold colors, there's a wide variety of lingerie with stockings sets to choose from.
How to Choose the Perfect Crotchless Bodysuit
Selecting the right crotchless bodysuit is essential to ensure both comfort and confidence. Here are some tips to guide you through the process:
a. Size Matters: Ensure you know your correct size. Ill-fitting lingerie can be uncomfortable and affect your confidence.
b. Material Matters: Choose a fabric that suits your comfort level and the occasion. Silk and lace are popular choices for their sensual feel.
c. Style Matters: Consider the style that aligns with your personality and the occasion. Classic black or vibrant red? It's your choice!
d. Accessories: Pair your crotchless bodysuit with matching accessories like stockings, garters, or even a sexy robe for added allure.
Caring for Your Intimate Apparel
To keep your crotchless bodysuits, body stockings lingerie, and lingerie with stockings looking and feeling their best, proper care is essential. Here are some tips for maintaining your lingerie collection:
a. Hand Wash: Hand washing is often recommended for delicate lingerie. Use a mild detergent and cold water to preserve the fabric's integrity.
b. Avoid Heat: Avoid using a dryer or exposing your lingerie to direct sunlight. Heat can damage the delicate materials.
c. Store with Care: Store your lingerie in a cool, dry place, away from direct sunlight. Consider using satin or silk pouches to prevent snagging.
Exploring the world of intimate apparel is an exciting journey that allows you to embrace your sensuality and feel confident in your own skin. Crotchless bodysuits, body stockings lingerie, and lingerie with stockings are all fantastic options to add to your collection.
Whether you're looking to surprise your partner or simply feel empowered, these seductive pieces of lingerie are sure to make you feel like a goddess in the bedroom. So, indulge in the world of intimate apparel, express your desires, and let your confidence shine through the allure of crotchless bodysuits and their companions.