Gartered Lingerie | Garter Belt Set
Description:
If you need different size panties or garter, just mark in the your order. we will send you the panties you need. thank you
About the panties size:
70/32ABCD bra For the S size panties (70ABCD), For hips 81-89cm
75/34ABCD bra For the M size panties (75ABCD), For hips 86-94cm
80/36ABCD bra For the L size panties (80ABCD), For hips 91-99cm
85/38BCD bra For the XL size panties (85BCD),for hips 96-104cm
90-95/40-42CD bra For the 2XL size panties(95CD),for hips 101-109cm
French Size Description
If you are wearing a French size, please choose according to the size below, or consult customer service, thank you
French size:85ABCD, choose 75/34ABCD
French size:90ABCD, choose 80/36ABCD
French size:95ABCD, choose 85/38ABCD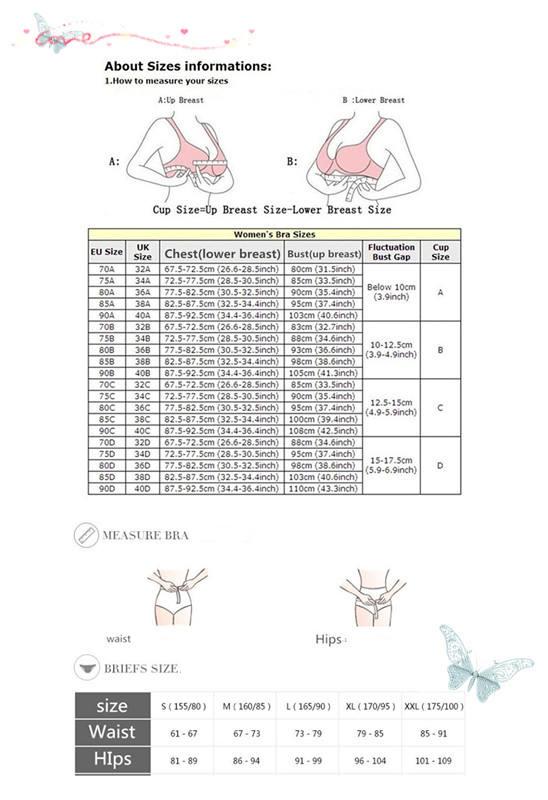 Gartered Lingerie: A Guide to Garter Belt Sets and Garter Belt Stockings
Gartered lingerie has long been synonymous with elegance, allure, and timeless sensuality. Whether you're indulging in a special evening or simply seeking to boost your everyday confidence, gartered lingerie holds the power to transform any moment into a memorable one.
In this comprehensive guide, we'll delve into the world of gartered lingerie, with a focus on garter belt sets and garter belt stockings. Discover how these enchanting pieces of intimate wear can elevate your style, boost your self-esteem, and ignite the flames of passion.
The Art of Gartered Lingerie:
Gartered lingerie, with its delicate lace, seductive straps, and alluring stockings, is a work of art that has enchanted generations. Its history can be traced back to the early 20th century when it was primarily functional.
Garter belts were designed to hold up stockings, preventing them from slipping down. However, as fashion evolved, gartered lingerie became a symbol of femininity and sensuality. Today, gartered lingerie is not just an undergarment; it's a statement of confidence and sophistication.
The Allure of Garter Belt Sets:
Garter belt sets are the epitome of sophistication and seduction. These sets typically consist of a garter belt, matching panties, and sometimes a bra. The garter belt, often adorned with intricate lace or satin, cinches at the waist and extends downward to attach to stockings. The result is a look that exudes confidence and allure.
One of the key advantages of garter belt sets is their versatility. They can be worn beneath your everyday attire for a secret boost of self-assuredness, or they can be revealed in all their glory for a special occasion. The options are endless, and the empowerment that comes from wearing a well-fitted garter belt set is unparalleled.
Garter Belt Stockings – The Perfect Pairing:
No gartered lingerie ensemble is complete without the perfect pair of garter belt stockings. These stockings are specially designed with a reinforced top that allows them to be attached to the garter straps of the belt.
Garter belt stockings come in a variety of styles, from sheer and lacy to opaque and seductive. They add an extra layer of elegance to your look and make you feel irresistibly alluring.
The act of attaching garter belt stockings to the garter belt is not just functional; it's a sensuous ritual that can be enjoyed by both wearers and admirers. It's a moment of anticipation and connection that heightens the overall experience of wearing gartered lingerie.
Choosing the Perfect Gartered Lingerie:
Selecting the right gartered lingerie is a personal journey that begins with understanding your body and preferences. Consider factors like fabric, color, style, and fit. Lace, satin, and mesh are popular choices for gartered lingerie, each offering a unique look and feel. Colors can range from classic black to vibrant reds or delicate pastels, allowing you to express your personality and mood.
The fit of your gartered lingerie is crucial for comfort and confidence. Ensure that the garter belt sits comfortably on your waist, and the straps securely hold the stockings without digging into your skin. Remember that well-fitted lingerie not only looks better but also feels better.
Confidence and Empowerment:
Gartered lingerie isn't just about aesthetics; it's about how it makes you feel. The act of putting on a garter belt set and attaching stockings can be a transformative experience. It boosts confidence, encourages self-expression, and ignites a sense of empowerment that radiates from within.
Gartered lingerie, with its captivating garter belt sets and seductive garter belt stockings, is a timeless expression of sensuality and self-assuredness. Embrace the artistry of this intimate wear, and discover how it can elevate your style, boost your self-esteem, and ignite the flames of passion. Embrace the allure of gartered lingerie and step into a world of elegance and confidence