Elevate Your Outdoor Space with Professional
Installing a Shade Sail | Shade Sail Installation Melbourne
Transform Your Open Spaces into Shaded Retreats with Gflashy Expert Shade Sail Installation
Melbourne, Australia, is known for its beautiful weather and outdoor lifestyle. Whether you have a garden, patio, pool area, or any outdoor space, maximizing its potential for relaxation, entertainment, and comfort is a must. One effective way to achieve this is through shade sail installation. At Gflashy, we understand the significance of expert installation in ensuring the durability and effectiveness of shade sails. In this article, we'll delve into the world of shade sails and introduce you to our top-notch installation services designed to enhance your outdoor living experience.

The Art of Shade Sail Installation
Shade sail installation isn't just about hanging a piece of fabric. It's a meticulous process that involves precision, creativity, and an understanding of your outdoor space's unique dynamics. Here's why professional installation matters:
1. Structural Integrity
Shade sails are not just about providing shade; they are an architectural statement. Proper installation ensures that your shade sail is structurally sound, capable of withstanding the elements and complementing your outdoor aesthetics.
2. Optimal Shade Placement
An experienced installer knows precisely where to position shade sails to provide maximum coverage and the right amount of shade. This ensures that your outdoor space remains comfortable throughout the day.
3. Longevity
Expertly installed shade sails are less prone to wear and tear. They are more likely to last longer, providing you with extended comfort and value.
4. Aesthetic Appeal
A professional installer considers not only functionality but also the visual impact. A well-installed shade sail can enhance the aesthetics of your outdoor area, adding a touch of elegance.
Gflashy: Your Trusted Shade Sail Installation Partner in Melbourne
Service Description
Our shade sail installation service includes:
Site Assessment: Our experts visit your location to assess the outdoor space, considering factors such as sun exposure, wind direction, and the layout of your area.
Custom Design: Based on the assessment, we work with you to design a custom shade sail solution. We offer a variety of shapes, sizes, and colors to match your preferences.
High-Quality Materials: We use top-quality materials that are durable, UV-resistant, and weatherproof, ensuring your shade sail stands the test of time.
Expert Installation: Our team of skilled installers ensures that your shade sail is precisely and securely installed, adhering to industry standards.
Repairs and Cleaning: In addition to installation, we offer repair and cleaning services to maintain the longevity and aesthetics of your shade sail.
Service Area: Melbourne, Australia
We proudly serve Melbourne and its surrounding areas, ensuring that residents across the city can enjoy the benefits of our shade sail installation expertise.
Contact Gflashy for a Custom Quote
Ready to enhance your outdoor space with a beautifully installed shade sail? Contact us today for a custom quote. Our team is dedicated to helping you find the perfect shading solutions that align with your style, needs, and budget.
Call us at +614 478 555 038 or email us at support@gflashy.com for personalized assistance and to schedule a consultation.
Elevate your outdoor living experience, create comfortable retreats, and enhance the beauty of your outdoor spaces with shade sail installation from Gflashy. Contact us now, and let's bring your shade sail vision to life.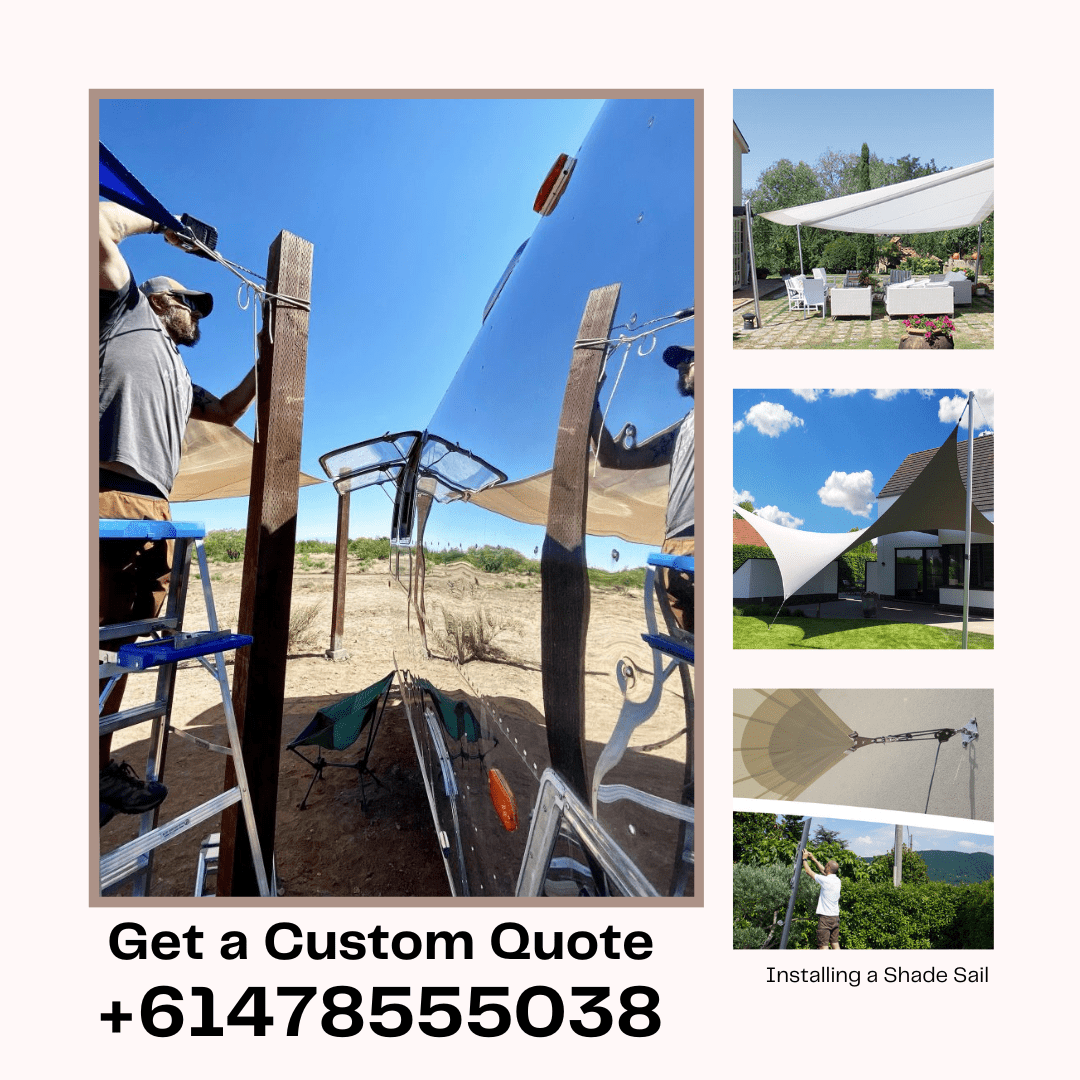 More Services