Kitchen Oil Proof Sheet
Description:
Material:
Vinyl PVC Self adhesive Wallpaper
Metric size:
Width: 60 centimeters.
Length: 1meters, 3meters, 5meters
Features:
Self-adhesive, removable, Waterproof, oil-Proof
Use for:
Kitchen wall, Bathroom wall, Furniture renovation, TV background, Home, Coffee house.
Wallpaper Waterproof Anti Greasy Self Adhesive Film Panels PVC Decoration Vinyl Renovation For Kitchen Desk Wall Stickers Decals
Attention:
—-Please buy enough rolls at a time to make sure they come from the same batch to avoid color difference.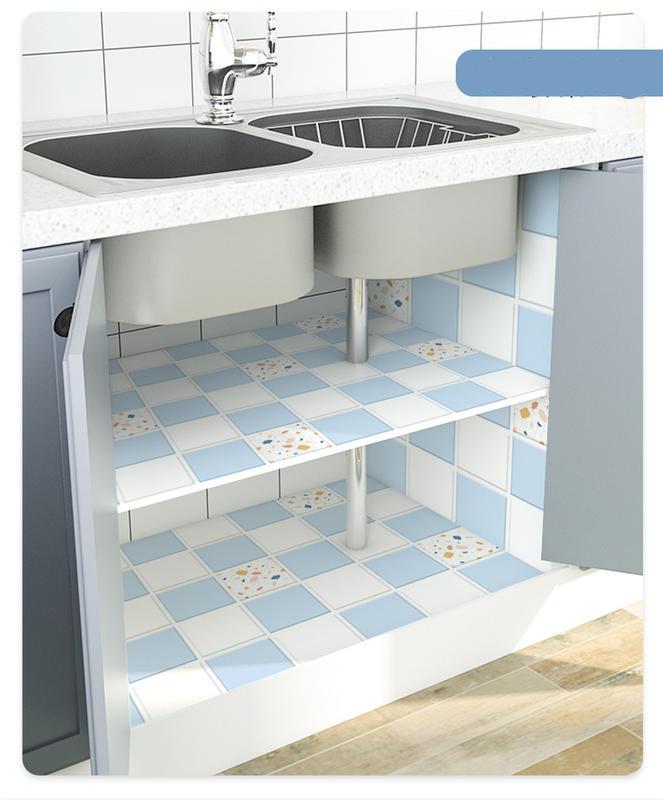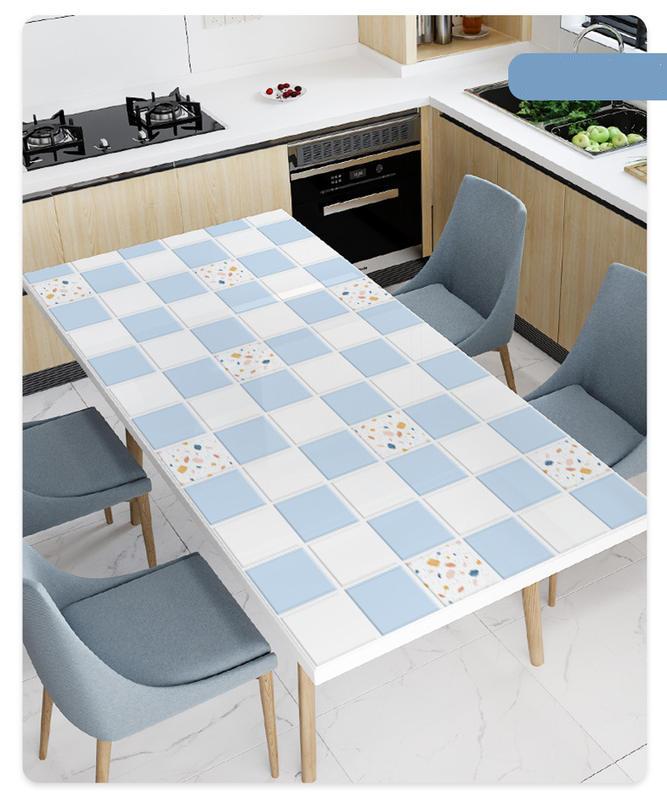 Kitchen Oil-Proof Sheet: Ultimate Defense Against Culinary Chaos:
In the heart of every home, the kitchen serves as the epicenter of culinary creativity and daily nourishment. It's a space where flavors collide, recipes are tested, and family bonds are forged. However, amidst the delicious chaos, one common nemesis persistently makes its presence felt – cooking oil. The inevitable splatters, spills, and greasy residues can turn a pristine kitchen into a greasy battleground.
But fear not, for there's a solution that promises to revolutionize your cooking experience and keep your kitchen shining: the Kitchen Oil-Proof Sheet. In this comprehensive exploration, we will dive into the myriad aspects of this innovative kitchen accessory, from its origins and composition to its installation and maintenance. Whether you're a professional chef or an amateur cook, join us on a journey to discover how this ingenious invention can transform your kitchen into a culinary haven.
The Battle Against Kitchen Grease:
The kitchen is where home-cooked magic happens, but it's also where messes manifest. Among the primary culprits is cooking oil, which can leave a stubborn trail of grease on walls, cabinets, countertops, and various kitchen surfaces. The daily struggle to keep a kitchen clean and presentable can be both tiresome and daunting. Fortunately, the Kitchen Oil-Proof Sheet offers a pragmatic solution to this perennial problem.
The Kitchen Oil-Proof Sheet: A Closer Look:
A Kitchen Oil-Proof Sheet is a specially designed, innovative accessory for your kitchen. It is engineered to resist oil splatters and stains, ensuring that your kitchen remains clean, fresh, and visually appealing. This durable sheet acts as a protective barrier, preventing oil and other cooking residues from adhering to your kitchen surfaces. Now, let's explore the many facets of this revolutionary product.
Origins of the Kitchen Oil-Proof Sheet:
The concept of oil-proofing kitchen surfaces is not new, but it has evolved significantly over the years. Early attempts often involved applying oil-resistant coatings to various surfaces, which, while effective, presented issues of durability and maintenance.
The Kitchen Oil-Proof Sheet emerged as a modern solution to these challenges. Its origins can be traced back to the demand for a more efficient, affordable, and user-friendly method to safeguard kitchen spaces from the perils of cooking oil.
Composition and Materials:
A Kitchen Oil-Proof Sheet is typically crafted from a combination of advanced materials, each carefully selected for its unique properties. These materials work together to create a durable and effective oil-resistant barrier.
High-Quality Polymer Base: The core of the Kitchen Oil-Proof Sheet is a high-quality polymer base. This base material is chosen for its water-resistant, heat-resistant, and stain-resistant properties. It forms a strong foundation for the sheet's protective capabilities.
Oil-Repellent Coating: A critical element of the sheet is its oil-repellent coating. This specialized coating is responsible for preventing oil from adhering to the surface. It works on the principle of molecular repulsion, ensuring that oil splatters bead up and can be easily wiped away.
Adhesive Backing: To ensure easy installation, the reverse side of the sheet features a strong adhesive backing. This adhesive is designed to bond securely with various surfaces in your kitchen, creating a seamless and oil-proof barrier.
Design and Aesthetic Layer: Some Kitchen Oil-Proof Sheets also come with an attractive design layer. This not only enhances the visual appeal of your kitchen but also provides an additional layer of protection.
Installation and Application:
One of the most attractive aspects of the Kitchen Oil-Proof Sheet is its ease of installation. You don't need to be a DIY expert to apply it. Here's a step-by-step guide to installing the sheet in your kitchen:
1. Surface Preparation: Start by thoroughly cleaning the surface where you plan to apply the Kitchen Oil-Proof Sheet. Ensure it's free from any dust, dirt, or grease. It's essential to have a clean and dry surface for the best adhesion.
2. Measure and Cut: Measure the dimensions of the area you wish to cover with the sheet. The Kitchen Oil-Proof Sheet is usually sold in rolls, so cut it to the desired size using scissors or a utility knife.
3. Peel and Stick: Carefully peel the backing off the adhesive side of the sheet. Align it with the area you want to protect and gently press it into place. Ensure there are no air bubbles or wrinkles as you adhere it.
4. Smoothing: Use a flat tool or your hand to smooth the sheet onto the surface, making sure it adheres securely and evenly. Pay special attention to the edges to ensure a tight seal.
5. Trim Excess: If there is any excess material, trim it with a knife or scissors for a neat and tailored fit.
6. Seam Integration: If you have multiple sheets to install, ensure that the seams are properly aligned and integrated, so they offer a seamless and continuous oil-proof surface.
Versatile Applications:
The Kitchen Oil-Proof Sheet can be applied to a wide range of surfaces in your kitchen, making it an incredibly versatile tool:
Backsplashes: Protect the wall behind your stove or countertops from oil splatters.
Cabinets: Apply the sheet to cabinet doors and surfaces to prevent oil stains.
Countertops: Create a clean, oil-resistant surface for meal prep.
Appliances: Cover the front of your refrigerator or dishwasher to guard against oil splatters.
Island and Dining Tables: Ensure your dining area remains free from oil stains with the Kitchen Oil-Proof Sheet.
Range Hoods: Protect your range hood from greasy buildup, making it easier to clean.
Shelves: Apply the sheet to shelves to keep them pristine and free from oil residue.
Maintenance and Cleaning:
Maintaining your Kitchen Oil-Proof Sheet is a straightforward process. It's designed to make your life easier, and cleaning it is no exception. Follow these simple steps to keep your kitchen oil-proof sheet in top condition:
Regular Wiping: After cooking, simply wipe the surface of the sheet with a damp cloth or paper towel to remove any oil splatters and residues.
Mild Cleaning Agents: For stubborn stains, you can use a mild dish soap solution or a kitchen cleaner. Be sure to rinse and wipe the surface clean after using any cleaning agents.
Avoid Abrasives: Do not use abrasive cleaning materials, as they may damage the oil-repellent coating.
Routine Inspection: Periodically check the condition of the sheet to ensure there are no damaged areas or areas where the adhesive has weakened. If you notice any issues, consider replacing or repairing the sheet.
Benefits of Using a Kitchen Oil-Proof Sheet:
The Kitchen Oil-Proof Sheet offers a plethora of benefits to homeowners and professional chefs alike:
Cleanliness: The primary advantage is a cleaner and more hygienic kitchen. No more hours spent scrubbing oil stains and splatters.
Time-Saving: With the sheet in place, you spend less time on kitchen cleanup and more time doing what you love – cooking and enjoying meals with loved ones.
Aesthetic Appeal: Many Kitchen Oil-Proof Sheets come with attractive designs, adding an aesthetic touch to your kitchen.
Versatility: It can be applied to various surfaces, making it a versatile solution for kitchens of all sizes and layouts.
Cost-Effective: It is a cost-effective solution that saves money on cleaning agents and repainting damaged surfaces.
Durable: The sheet is built to last, with a robust construction that can withstand the rigors of a busy kitchen.
Hygiene: By preventing oil buildup, it contributes to a more hygienic kitchen environment.
Resale Value: A kitchen with an oil-proof sheet may have a higher resale value, as it signifies a well-maintained and clean space.
Frequently Asked Questions:
Is the Kitchen Oil-Proof Sheet safe for food preparation areas? Yes, the sheet is safe for use on surfaces where food is prepared. It is typically made from materials that comply with food safety standards.
Can I remove and reapply the sheet? While the adhesive backing is strong, it may lose its effectiveness if removed and reapplied. It's best to measure and install carefully the first time.
How often do I need to replace the sheet? The lifespan of the Kitchen Oil-Proof Sheet varies depending on its quality and usage. In general, you may need to replace it every 1-3 years.
Can the sheet be painted over? It's not recommended to paint over the sheet, as it may compromise its oil-repellent properties.
Your Kitchen with the Kitchen Oil-Proof Sheet:
The Kitchen Oil-Proof Sheet is more than just a kitchen accessory; it's a game-changer that has the potential to redefine your culinary experience. It takes the hassle out of kitchen cleanup, leaving you with more time to enjoy your culinary creations and the company of loved ones. Its versatility and cost-effectiveness make it a practical addition to any kitchen, and its sleek design can enhance the overall aesthetics of the space.
Say goodbye to the daily battle against stubborn oil stains and splatters. Embrace the Kitchen Oil-Proof Sheet and revolutionize your kitchen into a gleaming, oil-resistant haven. Let it be your steadfast ally in the pursuit of culinary excellence, and watch as it transforms the heart of your home into a cleaner, more beautiful, and more functional space.