Lingerie Garter Set | Garter Belt Set
Description:
Manual measurement, there is a 2-3 cm error in the size,
Packaging: 1* Lingerie Set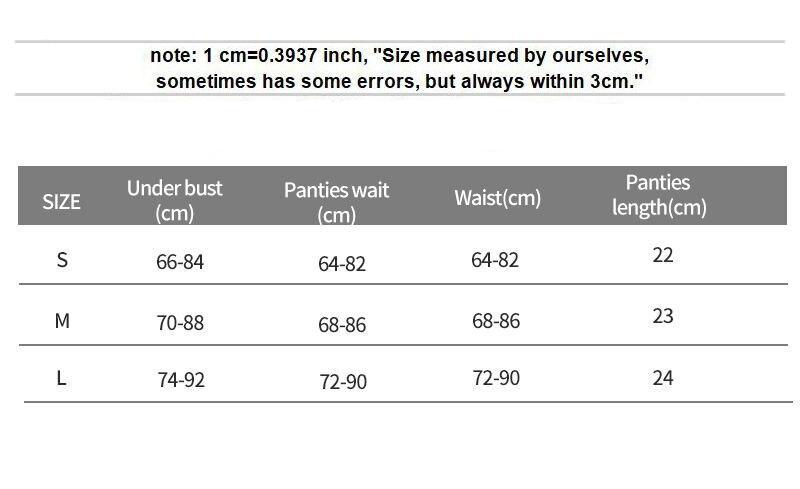 Elevate Your Intimate Moments with Exquisite Lingerie Garter Sets:
When it comes to embracing your inner sensuality and igniting the flames of passion, few things hold as much allure as a well-crafted Garter Belt Set. This tantalizing ensemble, often comprising a garter belt, garter straps, and stockings, has been a symbol of seduction and elegance for generations.
In this comprehensive guide, we delve into the world of lingerie garter sets, exploring their history, variations, and how to choose the perfect set to make you feel like the confident, empowered individual you are.
A Brief History of Lingerie Garter Sets:
Lingerie garter sets have a rich and fascinating history dating back to the early 20th century. Originally designed to hold up stockings and provide a practical solution for women, they quickly evolved into a symbol of femininity and allure.
Over the decades, Garter Belt Set have undergone transformations in style and materials, reflecting changing fashion trends and women's evolving roles in society. Today, they are no longer just a functional undergarment but a statement of confidence and sophistication.
The Elements of a Lingerie Garter Set:
A typical lingerie garter set consists of several key elements, each playing a vital role in creating a stunning and alluring look. The primary components include:
Garter Belt: The foundation of the set, the garter belt wraps around the waist, hugging your curves and providing a secure anchor for the garter straps.
Garter Straps: These slender, adjustable straps attach to the garter belt and extend down to secure your stockings. They come in various styles, including classic straps and decorative designs.
Stockings: Often made from luxurious materials like silk or lace, stockings add the finishing touch to your ensemble, giving your legs an irresistibly smooth and seductive appearance.
Types of Lingerie Garter Sets:
Lingerie garter sets come in a wide range of styles, catering to different tastes and occasions. Here are some popular types:
Classic Elegance: Timeless and sophisticated, these sets typically feature black or white garter belts and stockings. Perfect for romantic evenings or special occasions.
Playful and Provocative: For those looking to add a dash of spice, there are garter sets adorned with intricate lace, strappy details, and bold colors. These are ideal for intimate moments.
Vintage Charm: Inspired by retro fashion, vintage garter sets evoke the glamour of a bygone era. They often feature satin materials, decorative bows, and a hint of nostalgia.
Bridal Lingerie: Brides can embrace their sensuality with delicate, white lace garter sets designed specifically for their big day. They are a symbolic addition to any wedding ensemble.
How to Choose the Perfect Lingerie Garter Set:
Selecting the right lingerie garter set is crucial for feeling confident and comfortable. Here are some tips to help you make the perfect choice:
Know Your Size: Ensure you know your exact measurements, including waist and hip size, to find a garter belt that fits snugly and comfortably.
Consider the Occasion: Think about when you'll be wearing the set. Is it for a special night, everyday wear, or your wedding day? This will help you choose the right style and level of sophistication.
Fabric Matters: Different materials offer varying levels of comfort and appeal. Silk is luxurious, lace is alluring, and satin exudes elegance. Choose based on your preferences.
Pay Attention to Detail: Look for sets with adjustable straps and multiple hook-and-eye closures on the garter belt for a customized fit.
Complete the Look: Don't forget to choose stockings that complement your garter set. Consider color, texture, and denier (thickness) when making your selection.
The Confidence Boost of Lingerie Garter Sets:
Wearing a lingerie garter set isn't just about aesthetics; it's about feeling confident and empowered. These sets have a transformative effect, boosting self-esteem and making you feel irresistibly attractive. Whether you're wearing one for yourself or for a special someone, the allure of a garter set lies in its ability to unlock your inner sensuality.
Lingerie garter sets, with their rich history and timeless appeal, are a symbol of confidence, sensuality, and empowerment. They have the power to transform ordinary moments into extraordinary ones, making every day a special occasion.
Whether you're drawn to classic elegance or playful provocativeness, there's a garter set that's perfect for you. So, why wait? Elevate your intimate moments and embrace your inner seductress with the exquisite charm of a lingerie garter set. Indulge in the allure, because you deserve it.