Luxury Designer Curtains | Sheer Luxury Curtains
Description:
Package included:1 piece x curtain or 1 piece x tulle
1.Price is for1 pieceof curtain or tulle. Curtain and tulle are sold  seperately
.2.Size:W–means width, L–means Length.Length:Free to adjust, Max is 2.7 meter
3.Curtain width=2 timesrod/rail width.
4.Not Included:Tassel/Tieback/Beads/Valance
5.The height error of machining is1-3cm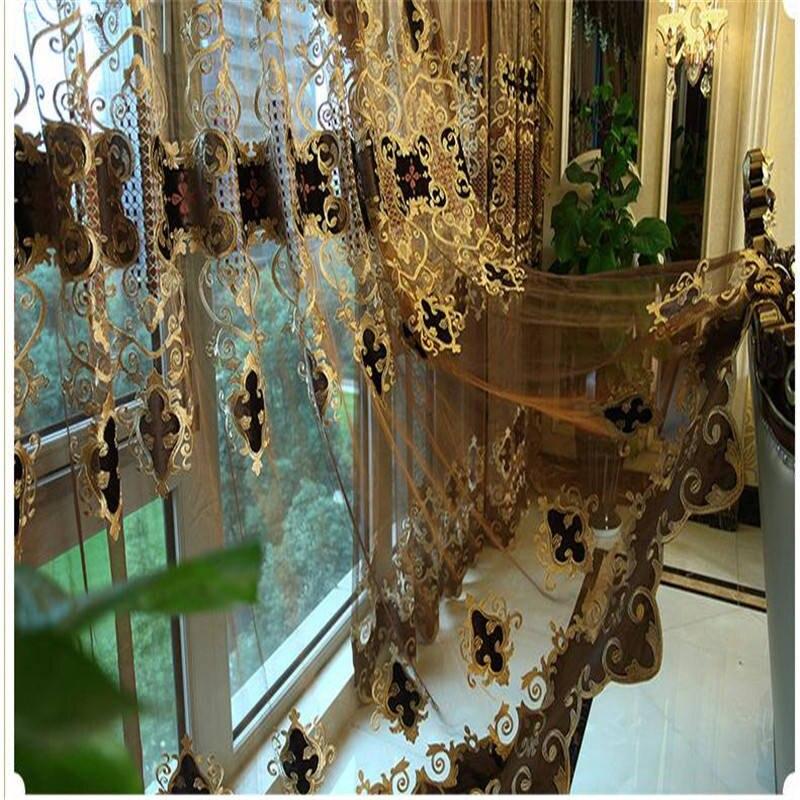 Luxury Designer Curtains: Elevate Your Home with Elegance and Style:
When it comes to transforming a house into a home, the role of curtains cannot be underestimated. Luxury designer curtains are a quintessential element that elevates the aesthetic appeal of any living space, offering both functionality and style.
These meticulously crafted pieces of art not only serve the purpose of controlling light and providing privacy but also play a pivotal role in defining the overall ambiance of a room. In this comprehensive guide, we delve into the world of Sheer Luxury Curtains, exploring their history, craftsmanship, materials, and the impact they can have on interior design.
A Brief History of Luxury Curtains:
Curtains have a fascinating history that spans thousands of years. They were initially used in ancient civilizations like Egypt and Mesopotamia to shield homes from dust and insects while allowing air circulation.
Over the centuries, curtains evolved from simple pieces of fabric to extravagant creations adorned with intricate designs and opulent materials. The Renaissance era saw the rise of rich fabrics like silk and velvet, heavily embellished with gold and silver threads. As time progressed, various styles emerged, reflecting the prevailing tastes and design trends of different periods.
The Art of Luxury Curtain Design:
Designing luxury curtains is an art form that requires a keen eye for detail and an understanding of the principles of interior design. Talented designers blend their creativity with functionality to create curtains that not only complement the room's decor but also serve a purpose. From traditional to contemporary, from minimalistic to ornate, Sheer Luxury Curtains can cater to a wide range of preferences, making them a versatile element of interior design.
High-Quality Materials for Exquisite Curtains:
The materials used in luxury designer curtains play a crucial role in their overall appearance and performance. Silk remains one of the most coveted materials due to its luxurious texture and lustrous sheen.
Velvet exudes opulence and warmth, while satin adds a touch of elegance. Linen and cotton bring a natural, understated charm, ideal for more relaxed environments. Additionally, incorporating delicate embellishments like embroidery, lace, or beading can enhance the visual appeal of the curtains, adding an extra layer of luxury.
Customization and Personalization:
One of the defining features of luxury designer curtains is the ability to customize them according to individual preferences. Whether it's choosing a specific fabric, color, pattern, or size, customization allows homeowners to create curtains that perfectly match their interior vision.
Some renowned luxury curtain brands even offer bespoke services, collaborating closely with clients to craft one-of-a-kind pieces that harmonize with the existing decor and reflect the homeowner's unique style.
Luxury Curtains on Interior Design:
Luxury designer curtains can significantly impact the overall atmosphere of a room. They have the power to create an illusion of space, add drama and grandeur, or infuse a space with a sense of tranquility.
With the right choice of curtains, a room can feel cozier, more inviting, or even regal. Additionally, these curtains can serve as focal points, drawing attention to architectural features or breathtaking views. The interplay of light and fabric creates a mesmerizing dance, casting an enchanting spell on the room's inhabitants.
Maintaining Luxury Curtains:
To preserve the elegance and allure of Sheer Luxury Curtains, proper care and maintenance are essential. Different fabrics have specific cleaning requirements, and it's crucial to follow the manufacturer's guidelines. Regular dusting and occasional professional cleaning can help extend the life of these precious pieces. Additionally, storing curtains appropriately when not in use can prevent damage and fading, ensuring they remain a timeless addition to your home.
Luxury designer curtains are not mere window coverings; they are exquisite pieces of art that transcend functionality to become an integral part of a home's decor. From their historical significance to their impact on interior design, these curtains have a remarkable journey through time.
Their presence adds a touch of opulence and refinement to any living space, creating a captivating ambiance that lingers long after the first glance. Embracing luxury designer curtains is an investment in the art of living, and their allure will continue to grace homes with elegance and style for generations to come.