Sex Bed Straps | Bed Binding Restraints
Those of you who are into bondage sex. And who enjoys the sexual adventure that comes with it. Will need some knowledge on how to make bondage sex better. The most important thing is to be fully aware and prepared to turn your passion into an art form.
Bed binding restraints are the first choice of bondage lovers. With these sex bed straps you can easily and quickly turn your bedroom into a BDSM room. Just place the strap bottom under your mattress and position your straps according to your needs for different uses and styles of bondage sex.
These sex bed straps will fit you comfortably as it is made of high density band with adjustable length. Two wrist cuffs and two feet cuffs. All four straps are connected by a fastener that goes under the mattress for maximum hold. The max length of each band is 155 cm and 4 cm width. All four cuffs are made of super soft nylon material.
Product features:
Type: Sex bed straps
Material: Nylon
Washable: Yes
Adjustable: Yes
Size: All four cuffs can be regulated to fit all sizes
Package Includes:
1 x bed strap [Four cuffs connected through a fastener]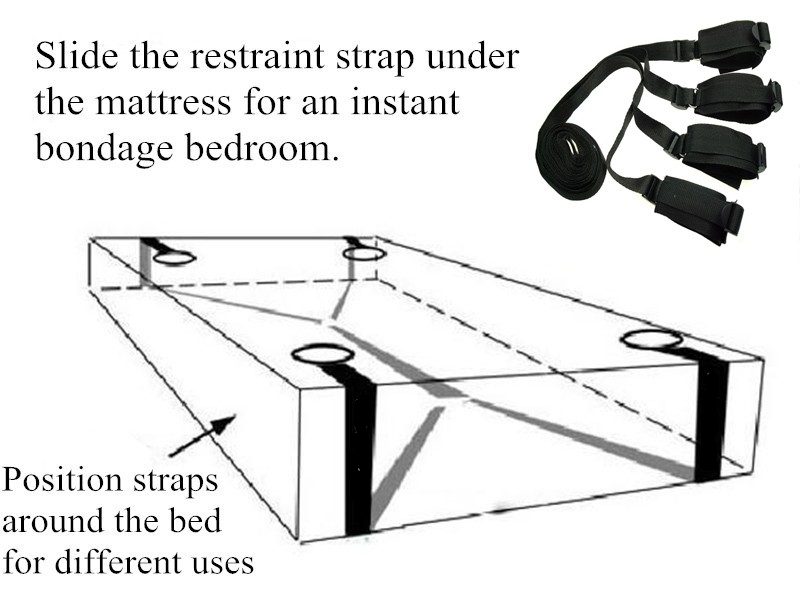 Buy More Products