Sheer Bra And Panties | Matching Underwear
Mold Cup Thickness: Ultra-ThinThick
Item Type: Bra & Brief Sets
Cup Shape: Three Quarters (3/4 Cup)\
Pattern Type: Floral
Material: Polyester, LYCRA, Acrylic
Obscene Picture: No
Support Type: Underwire
Bra Style: push up, Padded, Unlined
Gender: WOMEN
Closure Type: Back Closure, Tow Hook-and-eye
Strap Type: Adjusted-straps, Non-Convertible Straps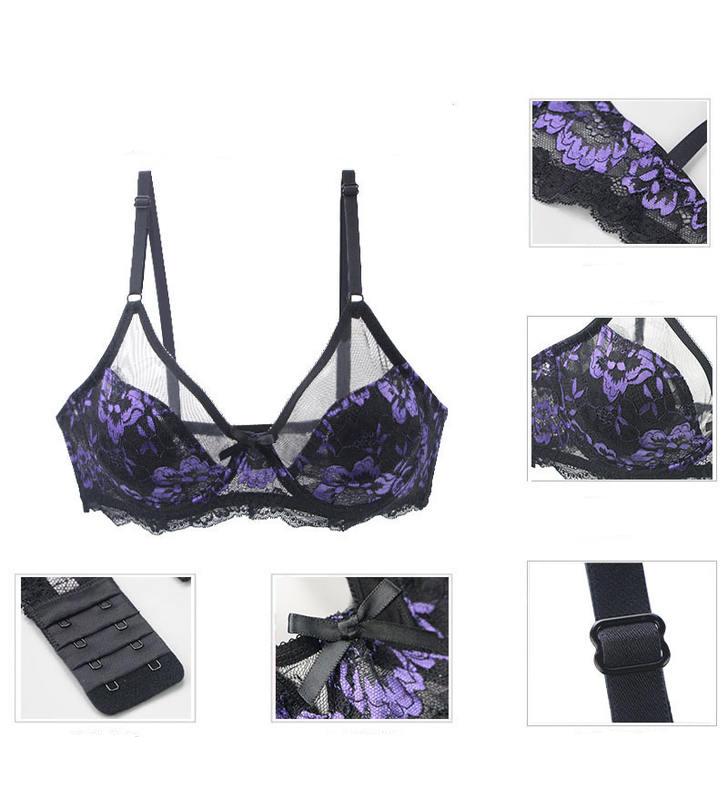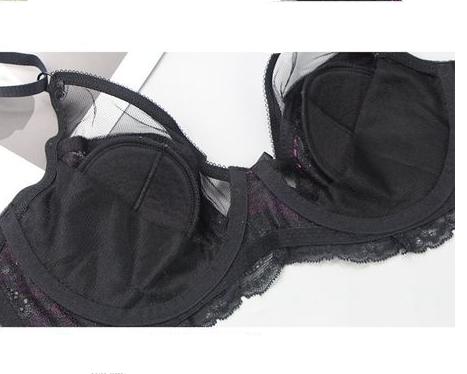 Sheer Bra and Panties: Unveiling the Allure of Matching Underwear Sets
When it comes to lingerie, every woman knows that the right choice can make all the difference. It's not just about comfort; it's about confidence, sensuality, and self-expression. One of the most tantalizing and sophisticated choices in lingerie is the sheer bra and panties set.
These delicate pieces of intimate apparel have the power to make you feel irresistibly alluring. In this comprehensive guide, we'll explore the world of sheer lingerie, the allure of matching underwear sets, and the exquisite charm of mesh bra and panty sets.
Sheer Elegance – The Sheer Bra and Panties:
Sheer lingerie is the epitome of elegance and seduction. Crafted from lightweight, translucent fabrics like lace, mesh, and chiffon, sheer bras and panties provide a teasing glimpse of what lies beneath. These pieces are designed to enhance your natural beauty while adding an element of mystique. Whether you're wearing them for a special occasion or simply to feel fabulous every day, sheer lingerie is a timeless choice.
The Allure of Matching Underwear Sets:
Matching underwear sets are more than just a fashion statement; they are a symbol of self-assuredness. Coordinating bras and panties in the same color or pattern showcase your attention to detail and dedication to feeling your best. It's about the secret confidence boost you get when you know you're impeccably dressed from the inside out. Matching sets come in various styles, from classic to daring, allowing you to choose the level of allure that suits your mood.
Embrace the Sensuality of Mesh Bra and Panty Sets:
Mesh bra and panty sets take sheer lingerie to the next level. Mesh fabric is breathable, comfortable, and incredibly seductive. It provides the perfect balance between revealing and concealing, allowing you to feel confident and sensual. These sets often feature intricate lace or embroidery, adding a touch of sophistication to the sultry appeal. Whether you prefer a full-coverage bra or a daringly strappy design, mesh sets offer versatility and style.
Choosing the Perfect Sheer Lingerie Set:
Selecting the ideal sheer bra and panties or mesh bra and panty set is a personal journey. Consider factors like body shape, color preferences, and the occasion when making your choice. Don't forget the importance of fit; a well-fitting lingerie set can do wonders for your comfort and confidence. Take the time to explore various styles and find the ones that make you feel your most beautiful.
Confidence and Self-Expression:
In conclusion, sheer bra and panties, especially when part of a matching underwear set or crafted from alluring mesh, are more than just pieces of clothing. They are tools of self-expression and empowerment. Embrace the elegance, allure, and sensuality that these intimate apparel pieces offer.
Whether you're wearing them for yourself or a special someone, the confidence they provide is unparalleled. Elevate your lingerie collection and unleash your inner goddess with sheer bras and panties.
Sheer lingerie, matching underwear sets, and mesh bra and panty sets are the epitome of elegance and sensuality. They empower women to embrace their beauty and confidence. So, why wait? Treat yourself to the allure of these exquisite pieces and discover the transformative power of lingerie.