Short Sleeve Blouse | Blouses Casual Short Sleeve
Release Date: Spring 2022

Combination Form: Single-piece Set

Fabric content: 91% (inclusive) – 95% (inclusive)

Material Composition: Synthetic fiber

Age: Ages 18-35 Years Old

Shirts Type: Casual Shirts

Sleeve Length(cm): Sleeveless

Size: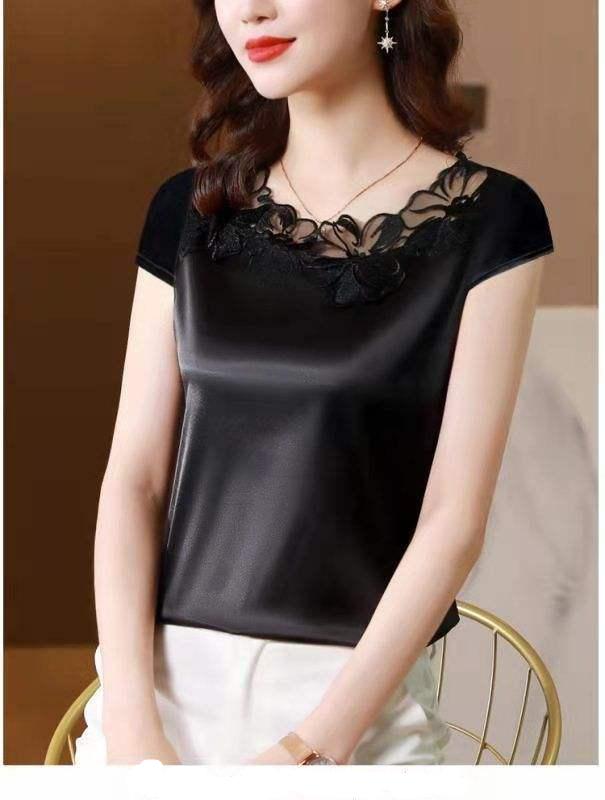 Wardrobe with Chic Comfort: The Short Sleeve Blouse Collection
In the ever-evolving world of fashion, certain classics never lose their charm. The short sleeve blouse is undoubtedly one such timeless piece that effortlessly combines comfort and style.
Whether you're looking for blouses to complement your casual outings, match with your favorite skirts, or simply enhance your day-to-day ensembles, our curated collection of Short Sleeve Blouses has got you covered. Let's delve into the world of blouses, exploring their versatility and the myriad of ways they can elevate your wardrobe.
Blouses: A Versatile Essential
Blouses have been a staple in women's fashion for decades, and the short sleeve variant takes this classic to a whole new level. These blouses offer the perfect balance between ease of movement and sophistication, making them an essential addition to any closet. With a variety of styles, fabrics, and patterns available, short sleeve blouses seamlessly transition from casual to semi-formal occasions, making them an incredibly versatile wardrobe piece.
Casual Chic: Short Sleeve Blouses for Effortless Style
When it comes to casual wear, comfort and style go hand in hand. Our collection of Casual Short Sleeve Blouses encapsulates the essence of relaxed elegance. Crafted from soft, breathable fabrics, these blouses are designed to provide all-day comfort while exuding an air of understated sophistication. From plain solid colors to playful prints, you can easily find a blouse that resonates with your personal style.
Pairing these blouses with your favourite jeans, shorts, or casual skirts creates an ensemble that is both comfortable and chic. Whether you're meeting friends for brunch or running errands around town, the casual short sleeve blouse ensures you look effortlessly put together.
Short Blouses for Skirts: Elevating Elegance
The synergy between short blouses and skirts is unparalleled. When you're aiming for a more polished appearance without compromising on comfort, these blouses make an impeccable choice. They strike the perfect balance between formal and relaxed, making them ideal for various settings, from professional meetings to social gatherings.
The versatility of short sleeve blouses shines when paired with skirts. A fitted pencil skirt coupled with a tucked-in blouse creates a silhouette that exudes confidence and grace. On the other hand, a flowy A-line skirt paired with a slightly looser blouse offers a more relaxed yet sophisticated look.
Whether you opt for a monochromatic ensemble or mix and match patterns, short blouses for skirts open up a realm of possibilities, letting you express your unique style effortlessly.
Quality Meets Style: Our Short Sleeve Blouse Collection
Our commitment to quality and style is evident in each blouse within our collection. We understand the importance of not only looking good but also feeling comfortable in what you wear. That's why each piece is carefully crafted with attention to detail, ensuring a flawless fit and a lasting appeal.
From breathable cotton to elegant silk, our blouses come in a range of fabrics to suit different preferences and occasions. Intricate detailing such as delicate embroidery, tasteful embellishments, and thoughtfully designed collars adds a touch of individuality to each piece.
Embrace Timeless Elegance
In a world of fast-changing trends, the short sleeve blouse remains a constant reminder of timeless elegance. Its ability to seamlessly transition between casual and formal, paired with its comfortable design, makes it a wardrobe essential for every modern woman. Whether you're dressing up for a special occasion or aiming for a refined everyday look, the short sleeve blouse offers a plethora of styling options.
Explore our curated collection and discover blouses that resonate with your style, whether you're drawn to casual comfort or refined elegance. Elevate your wardrobe with the versatile charm of short sleeve blouses and embrace a world of endless fashion possibilities.