Wedding Chair Covers
Wedding Chair Covers
Product Description
Quick & Easier Clean
Cleaning a wedding chair cover requires less time than cleaning a chair. Our wedding chairs covers can be washed by hand, machine, as well as dry cleaning.
Versatile Application
Banquet chair covers are Ideal for altering the style of your room or other occasions: homes, kitchens, hotels, offices, weddings, festivals, celebrations, etc.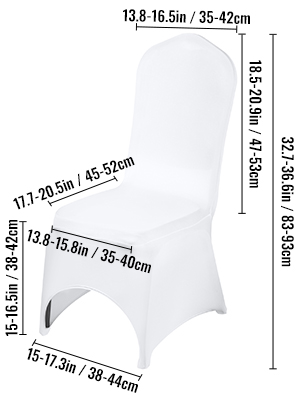 Specifications
Amount: 50/100 PCs
Color: White
Material: 94% Polyester & 6% Spandex
Chair Overall Height: 32.7″-36.6″/ 83-93 cm
Back Height: 18.5″-20.9″/ 47-53 cm
Back Width: 13.8″-16.5″/ 35-42 cm
Back Thickness: 0.8″-2″/ 2-5 cm
Seat Height: 15″-16.5″/ 38-42 cm
Seat Width: 13.8″-15.8″/ 35-40 cm
Seat Thickness: 0.4″-1.6″/ 1-4 cm
Front Legs Distance: 15″-17.3″/ 38-44 cm
Back Legs Distance: 15″-17.3″/ 38-44 cm
Side Legs Distance: 17.7″-20.5″/ 45-52 cm
Item Weight(Each): 0.33 lbs/ 0.15 kg