Wedding Chair Covers
Wedding chair covers are a popular accessory used to enhance the appearance of chairs at a wedding ceremony or reception. They are designed to fit snugly over chairs and come in a variety of materials, colors, and styles to match the overall decor and theme of the wedding.
Some common materials used for wedding chair covers include polyester, spandex, satin, and organza. They can be purchased or rented from wedding supply companies or event rental companies.
In addition to the chair covers themselves, sashes or bands can also be used to further customize the look of the chairs. These can be tied in a variety of ways and can be made of a complementary or contrasting color to the chair cover.
Using wedding chair covers can help create a cohesive and polished look for the wedding decor. They can also be a cost-effective way to transform plain or mismatched chairs into elegant and uniform seating options.
Wedding Chair Covers
Product Description
Quick & Easier Clean
Cleaning a wedding chair cover requires less time than cleaning a chair. Our wedding chairs covers can be washed by hand, machine, as well as dry cleaning.
Versatile Application
Banquet chair covers are Ideal for altering the style of your room or other occasions: homes, kitchens, hotels, offices, weddings, festivals, celebrations, etc.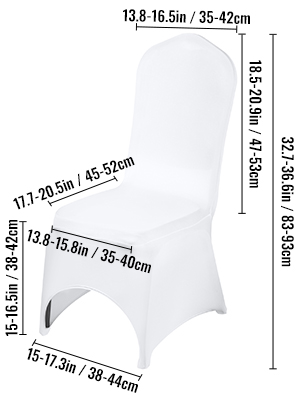 Specifications
Amount: 50/100 PCs
Color: White
Material: 94% Polyester & 6% Spandex
Chair Overall Height: 32.7″-36.6″/ 83-93 cm
Back Height: 18.5″-20.9″/ 47-53 cm
Back Width: 13.8″-16.5″/ 35-42 cm
Back Thickness: 0.8″-2″/ 2-5 cm
Seat Height: 15″-16.5″/ 38-42 cm
Seat Width: 13.8″-15.8″/ 35-40 cm
Seat Thickness: 0.4″-1.6″/ 1-4 cm
Front Legs Distance: 15″-17.3″/ 38-44 cm
Back Legs Distance: 15″-17.3″/ 38-44 cm
Side Legs Distance: 17.7″-20.5″/ 45-52 cm
Item Weight(Each): 0.33 lbs/ 0.15 kg