White Jacquard Curtains | Window Curtains
Description:
1.Price is for 1 piece of curtain.
2.Size:W–means width, L–means Length.
If your window is 200cm wide, we suggust 2 pieces w400cm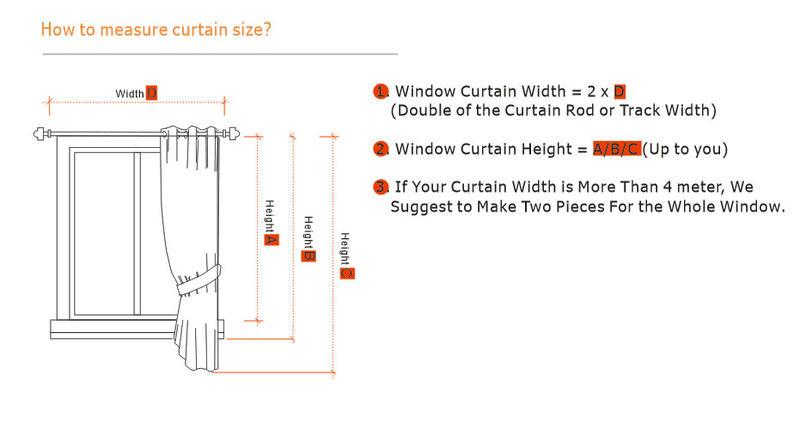 Elegance and Sophistication: Exploration of White Jacquard Curtains
Curtains play a vital role in interior design, setting the tone and ambiance of a living space. Among the plethora of curtain options available, white jacquard curtains stand out for their timeless elegance and sophisticated charm.
These exquisite window coverings are created using the jacquard weaving technique, which gives them a distinct and intricate pattern. In this comprehensive article, we will delve into the world of Window Curtains, exploring their history, manufacturing process, design versatility, and how they can transform any room into a stylish and inviting haven.
 Jacquard Weaving and Its Rich History
Jacquard weaving is a complex and intricate method of fabric production. Named after its inventor, Joseph Marie Jacquard, this technique revolutionized the weaving industry in the early 19th century.
It allowed for the creation of intricate patterns by using a series of punched cards that controlled the movement of individual warp threads. This innovation marked the birth of jacquard fabrics, and since then, the technique has been employed to craft luxurious textiles, including the beloved white jacquard curtains.
Manufacturing Process of White Jacquard Curtains
The creation of white jacquard curtains involves a series of carefully orchestrated steps to achieve the desired result. Manufacturers start by selecting high-quality, natural fibers such as cotton, linen, or silk, as they provide the ideal canvas for intricate weaving. The chosen fibers are then spun into yarns, where they undergo various treatments to ensure strength and durability.
Once the yarns are ready, they are set up on the jacquard loom. The jacquard loom operates with a punch card system, wherein each card corresponds to a specific design element. These punch cards control the lifting of individual warp threads, allowing the creation of complex patterns and motifs. The weaving process is slow and meticulous, requiring a skilled artisan's expertise to ensure every detail is captured flawlessly.
 Timeless Elegance of White Jacquard Curtains
One of the primary reasons white jacquard curtains have stood the test of time is their timeless elegance. The color white exudes purity, simplicity, and sophistication, making it a versatile choice for any interior decor style. Whether it be a contemporary living room, a classic bedroom, or a minimalist study, white jacquard curtains effortlessly blend in and enhance the overall aesthetics of the space.
The intricate patterns woven into the fabric give white jacquard curtains a refined and opulent appearance. From delicate florals to ornate geometric motifs, each design exudes a sense of artistry that adds a touch of luxury to any room. Moreover, the interplay of light and shadow on the textured surface of the fabric further enhances its visual appeal, creating a dynamic and captivating atmosphere.
Design Versatility and Complementing Decor Styles
White jacquard curtains are a testament to the concept of design versatility. Their neutral color and intricate patterns make them compatible with a wide range of interior decor styles. For those with a penchant for classic elegance, white jacquard curtains complement traditional or Victorian themes flawlessly. Paired with rich wooden furniture and antique accents, these curtains transport the room back to a bygone era of grace and refinement.
On the other hand, white jacquard curtains can also be seamlessly integrated into modern and contemporary spaces. The clean lines and subtle sheen of the fabric provide a touch of glamour without overwhelming the overall design. In combination with sleek furniture and bold color accents, white jacquard curtains create a contemporary and luxurious ambiance.
Harnessing Natural Light and Privacy Control
Apart from their aesthetic appeal, Window Curtains serve practical purposes as well. The translucency of the fabric allows natural light to filter into the room, creating a warm and inviting atmosphere during the day. The soft diffusion of light through the intricate patterns of the curtains adds an ethereal touch to the space, making it feel airy and spacious.
Furthermore, white jacquard curtains offer privacy control without compromising on style. When drawn, the curtains provide a sense of seclusion from the outside world, making them perfect for bedrooms or intimate living spaces. However, they still retain a level of transparency, preserving the connection to the outdoors and maintaining a harmonious balance between privacy and openness.
Maintenance and Care
To ensure the longevity of white jacquard curtains, proper maintenance and care are essential. These curtains should be dry cleaned or gently hand-washed using mild detergents. Avoid using harsh chemicals or bleach, as they can damage the delicate fabric and intricate patterns. Additionally, iron the curtains on low heat to smoothen out any creases while maintaining the fabric's integrity.
White jacquard curtains are an epitome of grace, sophistication, and versatility in interior design. Their rich history and intricate manufacturing process give them a unique allure that stands the test of time. From classic elegance to modern glamour, these curtains seamlessly blend into various decor styles, making them a popular choice among interior designers and homeowners alike.
Their ability to harness natural light, offer privacy control, and add a touch of opulence makes them a coveted addition to any living space. Whether adorning a cozy bedroom, a formal dining room, or a chic living area, Window Curtains have the power to elevate the ambiance and create a truly inviting haven for residents and guests alike. With proper care, these curtains will continue to exude their timeless charm for generations to come, making them a treasured investment in home decor.