Adjustable Bed Fitted Sheet Straps
Product: elastic fitted sheet strap
Color: black/white
Material: elastic band + metal buckle
Use for: bed sheet
Size: adjustable
Package includes: 1 pc mattress cover clips
Keep your bed sheets in position, six long straps with metal clips.
The built-in plastic clenching system does not harm the fabric.
Made of sturdy chrome metal clips and heavy-duty wide elastic bands.
Fit use for hide-a-beds, adjustable beds, inclining beds, baby's cribs, sofas, tables, couches, ironing boards, and more.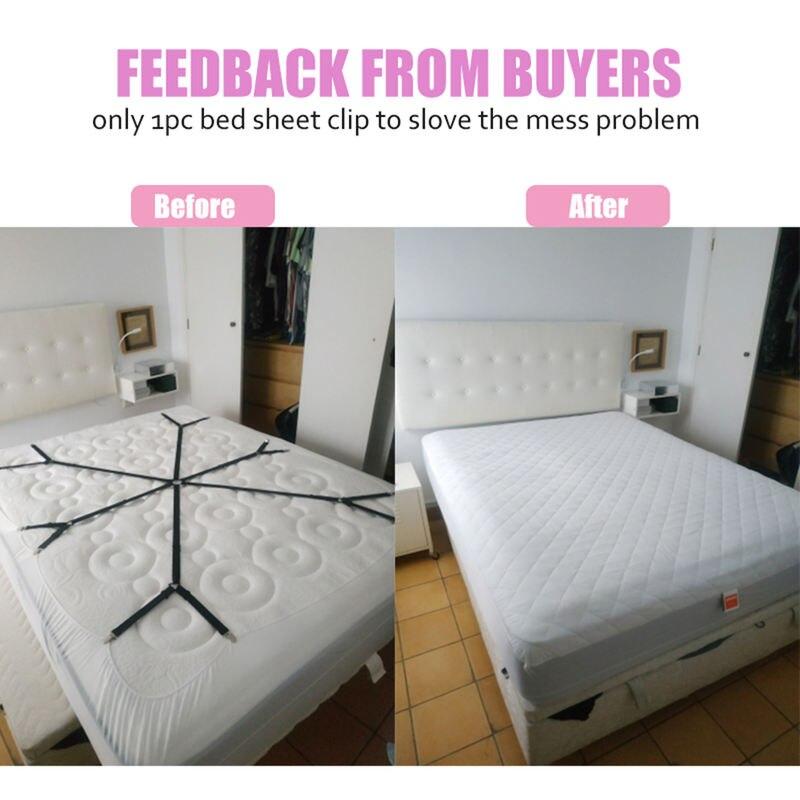 Keep your sheets securely in place and enjoy a restful night's sleep with our Adjustable Bed Fitted Sheet Straps! These innovative and durable straps are designed to hold your fitted sheet snugly on your adjustable bed, ensuring it stays in position throughout the night, no matter how much you move or adjust your bed's settings.
Key Features:
Premium Quality Materials: Our Adjustable Bed Fitted Sheet Straps are crafted from high-quality, stretchable elastic bands that provide excellent elasticity and strength. The strong elastic ensures a tight and secure fit, preventing your fitted sheet from slipping or bunching up.
Adjustable Length: Each strap is fully adjustable, allowing you to customize the fit according to your bed's size and your preferred level of tightness. The adjustable length also makes these straps versatile and compatible with various bed sizes, including Twin, Full, Queen, King, and California King.
Easy Installation: Installing the Adjustable Bed Fitted Sheet Straps is quick and effortless. Simply attach one end of the strap to the corner of your fitted sheet, then loop the other end under the mattress and secure it to the opposite corner of the sheet. Repeat the process for all four corners, and you're done!
Secure and Slip-Resistant: Our fitted sheet straps are designed to stay in place all night long. Say goodbye to waking up to a messy and crumpled bedsheet. The innovative grip and stronghold of these straps keep your sheets in position, promoting a neat and tidy bed.
Suitable for Adjustable Beds: Whether you have a traditional adjustable bed with head and foot incline features or an adjustable bed base with multiple articulation options, these sheet straps are specially designed to accommodate the movement of adjustable beds.
Versatile Use: Apart from adjustable beds, these sheet straps can be used with standard beds, memory foam mattresses, pillow-top mattresses, and even air mattresses, ensuring a comfortable and smooth sleeping experience.
Pack of Multiple Straps: Each set includes multiple fitted sheet straps, providing you with a complete solution for securing all corners of your fitted sheet effectively.
Sleep peacefully knowing your fitted sheet will stay firmly in place with our Adjustable Bed Fitted Sheet Straps. Enhance your sleeping experience and say goodbye to constant sheet readjustments. Get your set of fitted sheet straps now and wake up to a well-made bed every morning!