Aluminum Towel Rack 40-60cm
Specifications:
Color:Matte Black
TR-01-39 Size:39*21*18.7cm
TR-01-49 Size:49*21*18.7cm
TR-01-59 Size:59*21*18.7cm
Material:Space Aluminum
Note:The size of this product is manually measured, there may be an error of 1-2cm. Due to different lighting and shooting conditions, the color of the picture may be slightly different from the actual product, please refer to the actual product.
Package Included:
1 x Space Aluminum Towel Rack
1 x Set Of Screws
Tips:This product need to hole-punch intallation.The package contains the screws required for installation.Due to the upgrade of the delivery security inspection, the delivery of glue is prohibited, and the package will no longer contain nail-free glue. If you need punch-free installation, please purchase nail-free glue separately in our shop. You can search for "Nail-Free Glue" in our shop to find it and buy it. We will ship it separately using a special shipping method.
---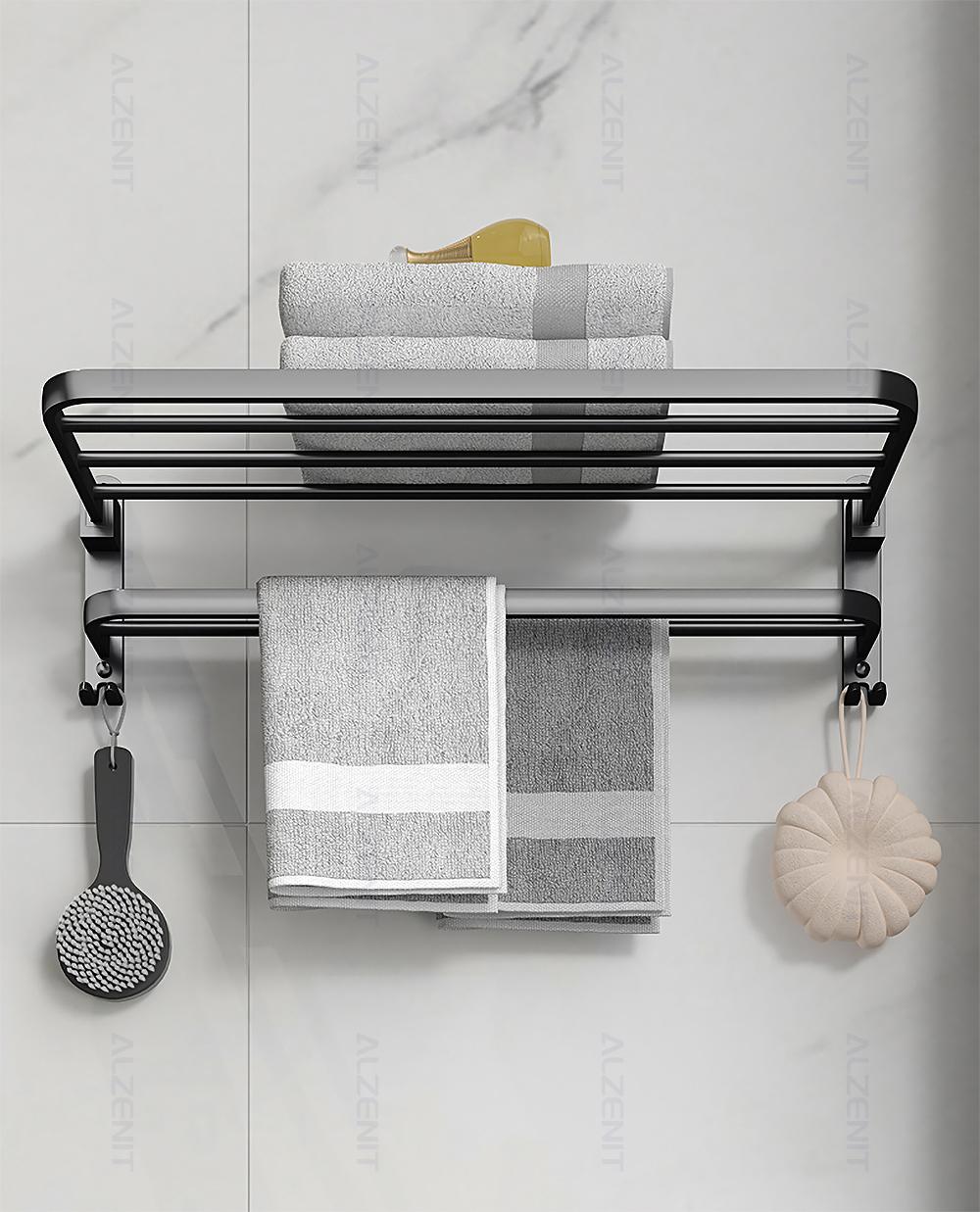 luminum Towel Rack: Elevating Bathroom Organization with Style and Durability
In the pursuit of a well-organized and functional bathroom, the choice of accessories plays a crucial role in enhancing both aesthetics and practicality. Among the array of bathroom essentials, the Aluminum Towel Rack stands out as a sleek and durable solution, revolutionizing the way towels are stored and displayed. With its modern design, impressive durability, and space-saving features, this towel rack has become a must-have accessory for individuals seeking to elevate their bathroom organization with style and efficiency.
The defining feature of the Aluminum Towel Rack lies in its material. Crafted from high-quality aluminum, this towel rack boasts remarkable durability and resistance to corrosion, making it an ideal choice for humid bathroom environments. The aluminum construction ensures that the towel rack remains in pristine condition, withstanding the test of time and frequent use.
Aesthetically, the Aluminum Towel Rack adds a contemporary touch to any bathroom setting. Its clean lines and minimalist design complement various interior styles, from modern and industrial to classic and minimalist. The sleek surface of the towel rack contributes to a sense of sophistication, enhancing the overall visual appeal of the bathroom.
The functionality of the Aluminum Towel Rack is equally impressive. The rack typically features multiple bars or rails to hang towels, allowing users to neatly display and air-dry their towels after use. The number of bars can vary, providing options for individuals with different storage needs, whether it's for a single user or a larger household.
Some models of Aluminum Towel Racks include additional features to maximize space and convenience. Integrated shelves or hooks provide extra storage for smaller items like toiletries or bathrobes, reducing clutter on bathroom countertops and floors. These added storage options elevate the rack's practicality, creating a more organized and efficient bathroom space.
Installing the Aluminum Towel Rack is a straightforward process. Many models come with wall-mounting hardware, allowing for easy installation on bathroom walls. The sturdy mounting ensures that the rack remains securely fixed to the wall, providing stability and reliability even with heavy towel loads.
In addition to being a functional accessory, the Aluminum Towel Rack contributes to a sustainable and eco-conscious lifestyle. Aluminum is a recyclable material, aligning with efforts to reduce waste and promote environmental responsibility. By choosing an Aluminum Towel Rack, individuals contribute to a greener future and demonstrate their commitment to sustainable living.
The versatility of the Aluminum Towel Rack extends to its applications beyond the bathroom. In some cases, this towel rack finds practical use in other areas of the home, such as the kitchen or laundry room. Its sleek design and durability make it an excellent option for hanging dish towels or aprons, contributing to an organized and tidy living space.
For businesses in the hospitality industry, the Aluminum Towel Rack offers an attractive and functional solution for guest bathrooms. Its modern appearance adds a touch of elegance to hotel rooms or vacation rentals, while its durability ensures that it can withstand frequent use by guests.
In conclusion, the Aluminum Towel Rack stands as a testament to the marriage of style and durability in bathroom organization. With its sleek design, impressive resilience, and space-saving features, this towel rack becomes an essential accessory for any bathroom seeking an upgrade in both aesthetics and functionality. Embrace the advantages of the Aluminum Towel Rack and experience the transformative power of an accessory that not only enhances bathroom organization but also contributes to a more sustainable and sophisticated lifestyle. Elevate your bathroom with this modern and reliable towel storage solution, and let its sleek surface and efficient design redefine the way you enjoy the comfort and convenience of a well-organized and elegant bathroom space.