Carpet Slippers
Product Details
Description:
100% Brand New and high quality.
Hotel disposable slippers,coral fleece material,warm and comfortable,light and breathable.
The non-slip pattern design on the sole is non-slip and wear-resistant.A variety of colors are available.
Features:
Material:Coral fleece
Color:white,grey,purple,green,red,dark red,coffee,black,dark coffee
(1 inch =25.4mm or 1mm = 0.0393 inch)
Package Includes:
1Pair Disposable Slippers
Notice:
1. Please allow 2-3% error due to manual measurement.
Please make sure you do not mind before you bid.
2. The colors may have different as the difference display,please understand.
Product Photos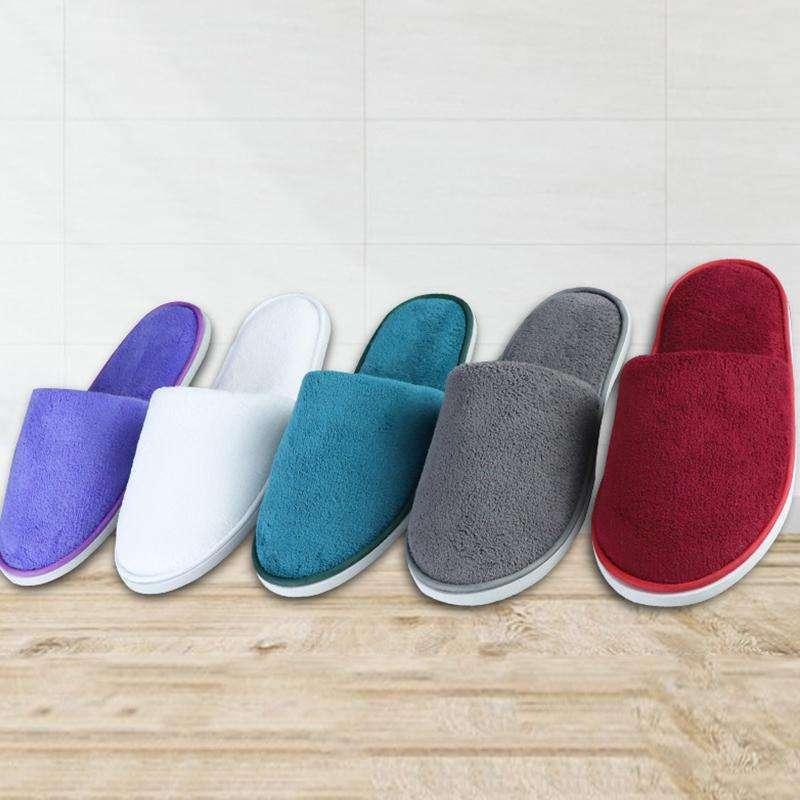 Introduction:
Carpet slippers are more than just a footwear choice; they offer a delightful fusion of comfort, warmth, and style. Designed to provide a soft and cozy experience for your feet, these slippers have become a go-to accessory for individuals seeking relaxation and indulgence at home. In this article, we will explore the captivating features and benefits of carpet slippers, uncovering why they have become a popular choice for people looking to add a touch of luxury to their everyday life.
Unmatched Comfort:
The primary allure of carpet slippers lies in the unparalleled comfort they provide. The plush carpet-like material cradles your feet, creating a sensation of walking on clouds. Whether you've had a long day at work or are simply looking to unwind, slipping into these slippers is a surefire way to indulge in comfort and relaxation.
Luxurious Warmth:
During colder months, carpet slippers offer a luxurious source of warmth. The insulating properties of the plush fabric keep your feet cozy, making them the ideal choice for chilly mornings or evenings. Say goodbye to cold feet and embrace the snug embrace of these slippers.
Gentle on Your Feet:
Carpet slippers are designed with foot health in mind. The soft and gentle material reduces the risk of irritation or chafing, making them a perfect option for individuals with sensitive skin or foot conditions. They provide a soothing experience, even for those who may experience discomfort in other types of footwear.
Versatile Designs:
Carpet slippers are available in a wide range of designs, colors, and patterns, allowing you to find a pair that matches your personal style and preferences. From classic solid colors to playful prints, there is a pair of carpet slippers to suit everyone's taste.
Easy Maintenance:
Cleaning and maintaining carpet slippers is a breeze. Most pairs are machine-washable or can be easily cleaned with a damp cloth, ensuring they stay fresh and hygienic for extended use.
Ideal for All Ages:
Carpet slippers are a hit with all age groups. From children who enjoy the comfort of soft materials to the elderly seeking foot support, these slippers cater to the needs of everyone in the family.
Non-Slip Soles for Safety:
Many carpet slippers come with non-slip soles, providing stability and preventing accidents on smooth surfaces. This feature makes them an excellent choice for use around the house, where safety is paramount.
Travel-Friendly and Space-Saving:
For travelers seeking familiar comfort on their journeys, carpet slippers are an excellent addition to their packing list. These lightweight and compact slippers take up minimal space in luggage, ensuring that a slice of home comfort is always at hand, no matter the destination.
Perfect Gift Option:
Carpet slippers make thoughtful and practical gifts for loved ones. Whether it's for a birthday, holiday, or a simple gesture of appreciation, giving the gift of comfort and warmth through these slippers is a heartwarming gesture.
Conclusion:
Carpet slippers are more than just footwear; they are an embodiment of comfort, style, and luxury. With their soft and cozy material, these slippers provide a soothing experience for your feet, making them a perfect companion for relaxing at home. The versatility in design and ease of maintenance add to their appeal, catering to the needs and preferences of various individuals. Embrace the feeling of walking on clouds and treat yourself or your loved ones to the comfort and indulgence of carpet slippers. Whether it's a relaxing weekend at home or a trip away, these slippers offer a delightful blend of comfort and style for all occasions.