Lace Bra And Underwear | Thong Underwear Set
Mold Cup Thickness: Thin Under Thick Mold Cup

Closure Type: Back Closure, Three Hook-and-eye

Strap Type: Adjusted-straps, Non-Convertible Straps

Cup Shape: Three Quarters(3/4 Cup)

Item Type: Bra & Brief Sets
Get Lace Bra And Underwear:
Bra Size: 32=70, 34=75, 36=80, 38=85.
This style AB same cup.
Panties Size: Free, suitable for hip within 95cm.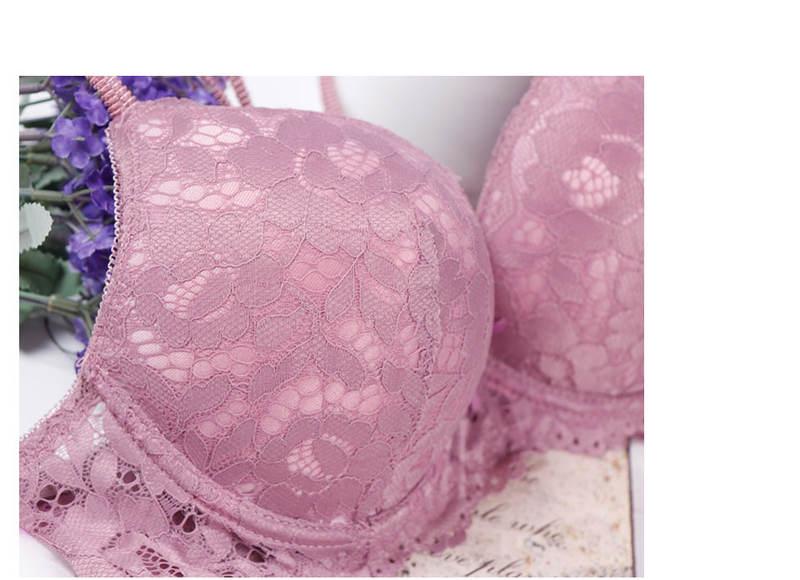 Elevate Your Intimate Style with Lace Bra and Underwear Sets
In the world of fashion and self-expression, the choices we make about our undergarments can be just as important as the clothes we wear on the outside. Lace bra and underwear sets have become a symbol of elegance, sensuality, and confidence for modern women.
With intricate lace detailing and a perfect fit, these sets have the power to make you feel beautiful from the inside out. In this article, we will explore the allure of lace bra and underwear sets and delve into related keywords like Thong Underwear Set and Bra Lingerie Set to help you make the best choices for your intimate wardrobe.
The Timeless Appeal of Lace:
Lace has always held a special place in the world of lingerie. Its delicate, intricate patterns and luxurious texture can turn a simple piece of underwear into a work of art. Lace has been used for centuries to add a touch of femininity and sophistication to undergarments, and it continues to be a favorite choice among women of all ages.
Whether you're looking for a bra and underwear set for everyday wear or a special occasion, lace is a fabric that never goes out of style.
Lace Bra and Underwear Sets:
Lace bra and underwear sets come in a wide range of styles, from classic to contemporary. You can find everything from traditional full-coverage bras and briefs to more daring options like balconette bras and thong underwear sets. These sets are designed to make you feel confident and beautiful, whether you're wearing them to work, on a date night, or simply for yourself.
The lace used in these sets is not only aesthetically pleasing but also comfortable. Modern lace is often soft and stretchy, ensuring that you don't have to sacrifice comfort for style. It molds to your body, providing a snug fit without feeling restrictive. Plus, the breathable nature of lace helps keep you cool and comfortable throughout the day.
Thong Underwear Sets:
For those looking to add a touch of allure to their lingerie collection, thong underwear sets are an excellent choice. These sets feature a thong-style panty that eliminates visible panty lines, making them ideal for wearing under fitted clothing. The lace detailing on thong underwear sets adds a hint of seduction without compromising on comfort.
Thongs also come in various lace patterns and colors, allowing you to express your personal style. Whether you prefer delicate floral lace or bold geometric designs, there's a thong set for everyone. Pair it with a matching lace bra, and you have a complete ensemble that's sure to make you feel sexy and confident.
Bra Lingerie Sets:
Bra lingerie sets are a must-have in every woman's wardrobe. These sets typically include a bra and matching panties, creating a coordinated look that exudes sophistication. Like lace bra and underwear sets, bra lingerie sets come in various styles to suit your preferences.
From push-up bras that enhance your cleavage to bralettes that prioritize comfort, there's a lingerie set for every occasion. Many sets also feature additional embellishments such as satin bows, embroidery, or lace trims, adding an extra layer of elegance to your undergarments.
In the world of lingerie, lace bra and underwear sets, thong underwear sets, and bra lingerie sets stand out as symbols of style, comfort, and confidence. The choice between these sets ultimately depends on your personal preferences and the occasion.
Whether you opt for the timeless beauty of lace, the allure of thongs, or the coordinated elegance of bra lingerie sets, investing in quality intimate wear can make a significant difference in how you feel about yourself. Embrace your individuality, express your style, and elevate your intimate wardrobe with these exquisite options.