Meat Cutting Scissors | Best Food Cutting Scissors
Features
Material: Stainless steel made of durable stainless steel, these scissors are rust-resistant and easy to clean.
• Multi-functional: These scissors not only cut bones and wings but also open bottles and clip walnuts, making them a versatile tool in the kitchen.
• Ergonomic Design: The handle design provides a comfortable grip, reducing hand fatigue while using the scissors for extended periods.
• Bone Cutting Capability: The sharp blades of these scissors make short work of bones and wings, making meal preparation easier and more efficient.

Suitable for the kitchen, cutting a variety of food, but also as a bottle opener and clip crushed nut shell tool
1. Multifunctional, practicality is very strong
2. Very good quality, can be used for a long time
Specifications:
Product Name: Stainless steel kitchen scissors

Material: stainless steel + plastic

Weight: 108g

Size: 20.5*9cm

Available color: black
Package includes:
1 kitchen scissors
Note:
The edge of the knife is very sharp, please pay attention to safety when using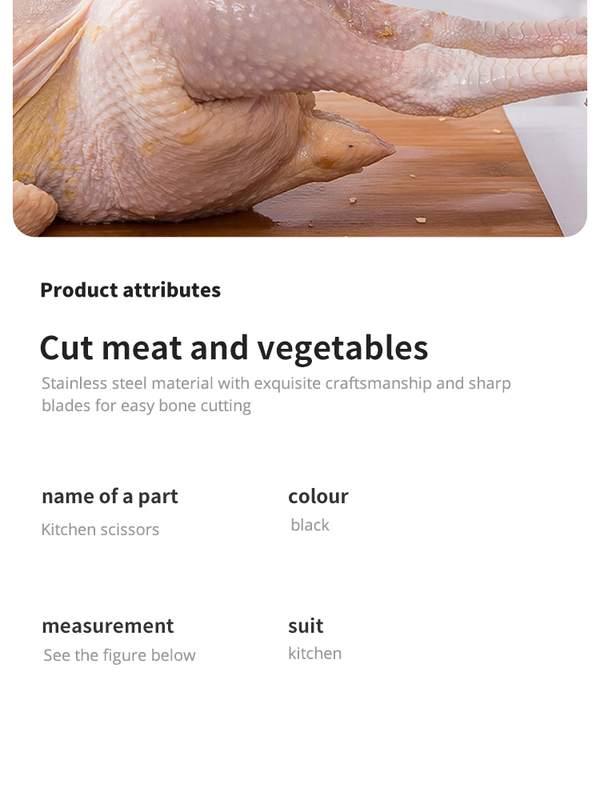 Elevate your kitchen cutting experience with Meat Cutting Scissors designed for precision and efficiency. These versatile scissors are crafted for cutting meat with ease, ensuring that your culinary creations are expertly prepared.
Sharp Blades for Effortless Cutting
Meat cutting scissors feature sharp blades that effortlessly cut through various types of meat. The precision in the blades allows for clean and precise cuts, making them ideal for trimming, deboning, and preparing meat for cooking.
Comfortable Grip for Control
Designed with a comfortable grip, these scissors provide control and ease of use. The ergonomic design ensures that your hands remain comfortable even during prolonged use, allowing you to tackle meat-cutting tasks with confidence.
Multipurpose Functionality
While perfect for cutting meat, these scissors often showcase multipurpose functionality. Use them for cutting herbs, and vegetables, and even opening packaging, making them a versatile tool in your kitchen arsenal.