Moissanite Stud Earrings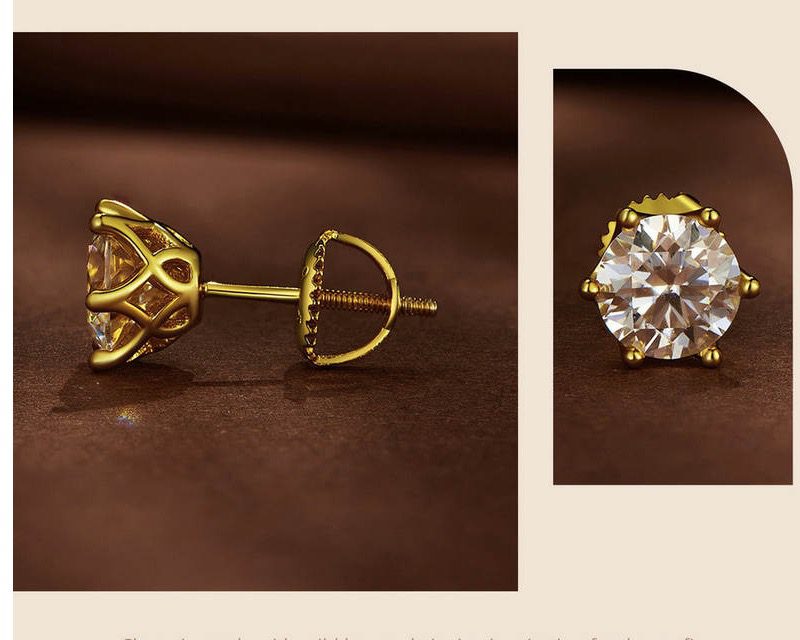 Moissanite stud earrings are exquisite pieces of jewelry that offer elegance, brilliance, and affordability. These earrings feature moissanite gemstones, which are created in a laboratory using advanced technology to mimic the appearance of natural diamonds. With their stunning sparkle and durability, moissanite stud earrings have become a popular alternative to traditional diamond earrings.
Moissanite is a gemstone that was first discovered by Henri Moissan in 1893 in a meteorite crater in Arizona. Initially, scientists believed that these crystals were diamonds, but they later identified them as silicon carbide. Today, moissanite gemstones are created in labs through a process called chemical vapor deposition (CVD). This process involves growing a crystal structure that replicates the natural formation of moissanite.
One of the most remarkable features of moissanite stud earrings is their brilliance. These gemstones possess a high refractive index, meaning they have a greater ability to bend light than diamonds. As a result, moissanite earrings exhibit an intense sparkle that is comparable to, and in some cases even surpasses, the brilliance of diamonds. The play of light within each stone creates a stunning visual effect that catches the eye and adds a touch of glamour to any outfit.
Another attractive aspect of moissanite stud earrings is their affordability. While diamonds are known for their high price tags, moissanite offers a more budget-friendly option without compromising on beauty or quality. Due to the lab-grown nature of moissanite, the cost of production is significantly lower than that of natural diamonds. As a result, moissanite stud earrings can be found at a fraction of the price of diamond earrings, allowing individuals to enjoy the luxury and elegance of fine jewelry without breaking the bank.
Durability is yet another advantage of moissanite stud earrings. With a hardness rating of 9.25 on the Mohs scale, moissanite is second only to diamonds in terms of hardness. This exceptional hardness ensures that moissanite earrings can withstand the rigors of everyday wear without scratching or chipping. Whether you're wearing them to a formal event or as part of your everyday ensemble, you can be confident that your moissanite stud earrings will maintain their beauty and brilliance for years to come.
In addition to their durability, moissanite earrings also offer versatility in design. These gemstones can be cut into various shapes, such as round brilliant, princess, cushion, or emerald, allowing for a wide range of earring styles. Whether you prefer a classic solitaire or a more intricate halo design, you can find a pair of moissanite stud earrings that suits your personal style and preferences.
Moreover, moissanite is an ethical and sustainable choice for jewelry enthusiasts. As lab-grown gemstones, moissanite earrings do not involve the environmental and ethical concerns associated with diamond mining. By opting for moissanite, you can enjoy the beauty of fine jewelry while supporting a more sustainable and responsible industry.
Moissanite stud earrings offer a captivating combination of beauty, affordability, and durability. These lab-grown gemstones rival the brilliance of diamonds while being more accessible to a wider range of budgets. With their versatility in design and ethical production process, moissanite earrings are an excellent choice for anyone seeking a stunning and sustainable piece of jewelry. Whether you're looking for a special gift or a personal accessory, moissanite stud earrings are sure to dazzle and delight.