Pearl Dangle Earrings
Description:
Material: Zinc Alloy + Crystal + Pearl
Size: 6.0 cm * 2.5 cm
Weight: 6g
Color:  Silver Color Plated

Package: 1 Pair Earrings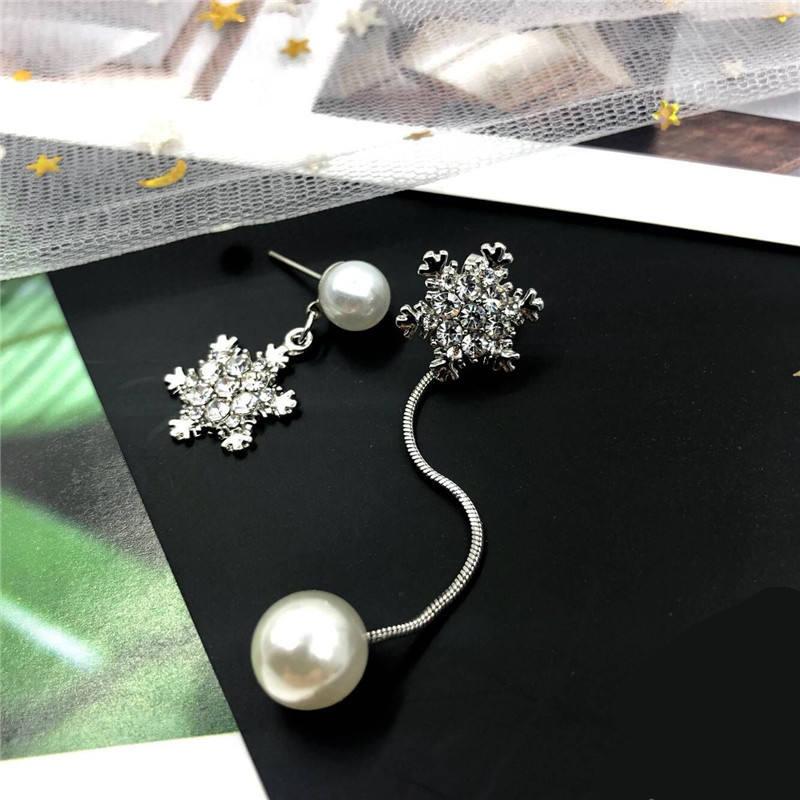 Pearl dangle earrings are a classic and elegant accessory that adds a touch of sophistication to any outfit. These earrings typically feature one or more pearls suspended from a hook or a stud, creating a dangling effect. The pearls used in dangle earrings can vary in size, shape, and color, allowing for a range of styles and designs.
One of the most popular types of pearls used in dangle earrings is the cultured pearl. These pearls are created by inserting an irritant, such as a piece of shell, into an oyster or mollusk. Over time, the mollusk secretes layers of nacre, which eventually forms a lustrous pearl. Cultured pearls come in various shapes, including round, teardrop, oval, and baroque, giving designers plenty of options when creating dangle earrings.
The dangle length of pearl earrings can vary from short and subtle to long and dramatic. Some designs feature a single pearl, while others incorporate multiple pearls in a cascading or tiered arrangement. Additionally, pearls can be combined with other gemstones or precious metals to create intricate and unique designs. Common metals used for the earring hooks or studs include sterling silver, gold, or platinum.
Pearl dangle earrings are versatile and can be worn for various occasions. They can add a touch of elegance to a formal evening gown or complement a more casual outfit for a sophisticated daytime look. The natural beauty and timeless appeal of pearls make them a popular choice for weddings, anniversaries, or any special event.
When wearing pearl dangle earrings, it's important to consider your personal style, facial features, and the outfit you're pairing them with. The size and length of the earrings should be proportionate to your face shape and the occasion. If you prefer a more understated look, opt for smaller pearls and shorter dangles. On the other hand, if you want to make a statement, choose larger pearls and longer dangles.
In summary, pearl dangle earrings are a classic and elegant jewelry choice that adds a touch of sophistication to any outfit. Whether you prefer a simple design or a more intricate arrangement, these earrings offer a timeless and versatile accessory option that can be cherished for years to come.
Buy more