Pink Icy Watch
★ Features (Approx):
Case diameter: 3.4 cm approx.
Case thickness: 0.9 cm approx.
Band Width: 1.4 cm
Band Length: 18.00 cm approx.
Band Adjustable: Yes, Can Be Prolonged, Contact Our Gold Customer Service
Style: Luxury
– Feature Big Diamond
– 100% brand new and high quality.
– Precise quartz movement for accurate time keeping.
– 30M Daily Water Resistant (not for showering and swimming), Shock Resistant
-18K Gold Nano Vaccum Plated, Gold Color Not Fade.
-Vatenlines,Christmas Gift, Anneversary, Party, Brithday, Dating Wear.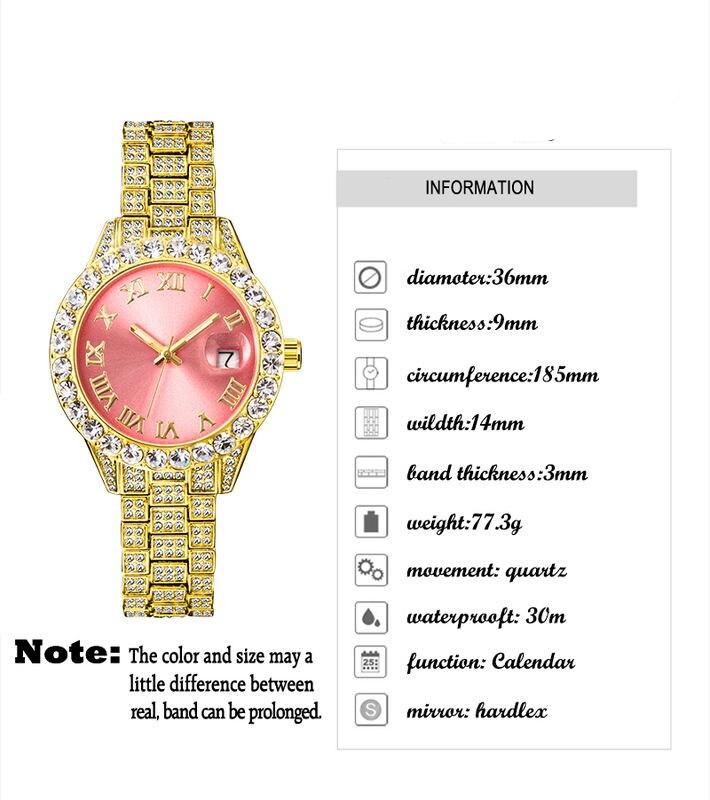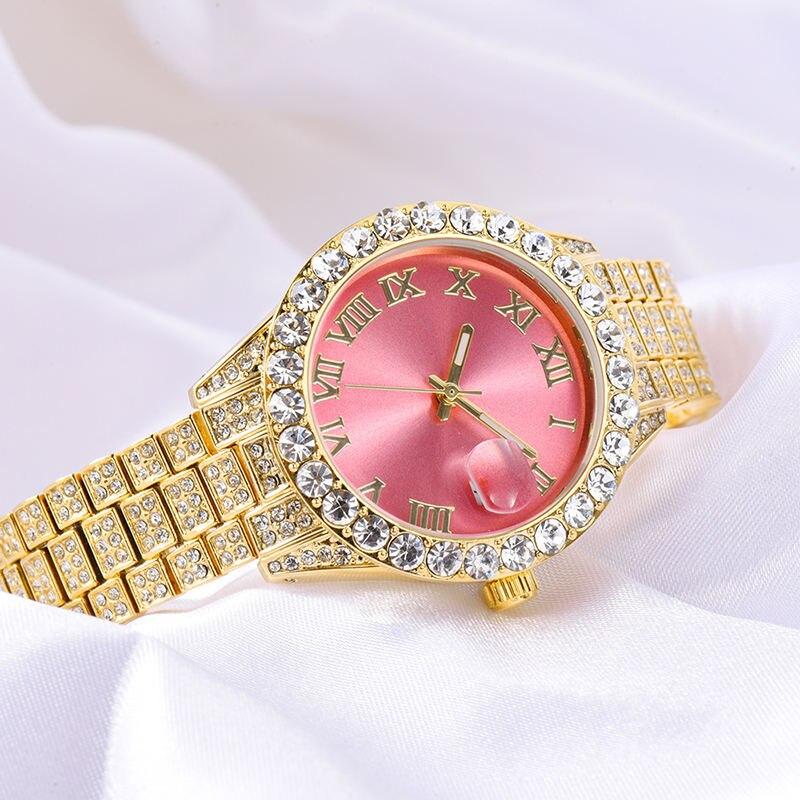 Pink Icy Watch: A Dazzling Timepiece of Feminine Glamour and Style
A pink icy watch embodies the perfect fusion of feminine charm, glamour, and dazzling beauty. With its sparkling pink crystals or diamond accents, it exudes a sense of luxury and elegance. This timepiece serves as a stunning accessory that adds a touch of sophistication and style to any ensemble, making a fashion statement that reflects the wearer's confident and fashion-forward personality.
The allure of a pink icy watch lies in its captivating sparkle and vibrant pink hue. Whether adorned with pink crystals or featuring pink diamond accents, this timepiece creates a mesmerizing display of brilliance. The sparkling pink elements catch the light and add a radiant glow to the watch, capturing attention and making it a true statement piece. The play of light on the pink surface creates an eye-catching spectacle that exudes feminine glamour.
Pink icy watches for women come in a variety of designs, catering to different tastes and preferences. Some watches feature a fully iced-out design, where the dial, bezel, and bracelet are encrusted with pink crystals or diamonds, creating a breathtaking and opulent display. Others may feature a combination of pink elements with contrasting colored accents, adding depth and visual interest to the watch. The diverse range of designs ensures that there is a pink icy watch to suit every woman's unique style.
Crafted with meticulous attention to detail, pink icy watches showcase exceptional craftsmanship and quality. Each crystal or diamond is carefully set by skilled artisans to ensure a secure and precise placement. The seamless integration of pink elements with the watch's overall design creates a cohesive and visually striking timepiece. The attention to detail extends beyond the pink elements, with intricate detailing on the dial, hands, and bracelet, making the watch a true work of art.
In addition to their captivating aesthetics, pink icy watches for women offer functionality and versatility. They are equipped with reliable movements that ensure accurate timekeeping. Whether powered by quartz or mechanical movements, these timepieces provide precise and reliable performance. The functionality is seamlessly combined with the glamorous design, making pink icy watches not just accessories but also reliable timekeeping companions.
The versatility of pink icy watches allows them to transition seamlessly from day to night. During the day, the pink elements add a touch of sparkle and feminine charm to casual outfits, making a statement without being overpowering. In the evening or for special occasions, these watches become dazzling accessories that elevate formal attire, exuding sophistication and glamour. The versatility ensures that pink icy watches are not limited to specific occasions but can be worn to enhance any ensemble.
Pink icy watches for women have gained popularity among those who appreciate glamorous and luxurious accessories with a feminine touch. Renowned watch brands have embraced the allure of pink designs, creating a wide selection of models that cater to different preferences. Each brand brings its unique touch, incorporating innovative design elements, high-quality materials, and precise craftsmanship. From classic and elegant designs to bold and avant-garde interpretations, there is a pink icy watch to suit every woman's fashion sensibilities.
In conclusion, a pink icy watch radiates feminine glamour and style with its dazzling sparkle and vibrant pink hue. The pink crystals or diamond accents capture attention and add a touch of opulence to any outfit. Crafted with meticulous attention to detail, these timepieces showcase exceptional craftsmanship and quality. With their versatile and glamorous designs, pink icy watches serve as statement accessories that reflect the wearer's confident and fashion-forward personality. They are a true embodiment of luxury and elegance, making them a coveted choice among women who seek to make a sparkling and glamorous statement with a touch of feminine charm.