Sink Drain Stopper | Best Silicone Sink Strainer
Features
【HIGH QUALITY】 Made of flexible, durable, and water-resistant silicone material, not easy to deform, easy to filter long and thin hair, no clogging, and reduces the risk of sewer overflow.
【EASY TO INSTALL】 It is effortless to install anywhere you wish, and fits most standard sinks and drains. While removing, just grab it out of the sinks and drains. Simply wipe or rinse with mild soap to clean.
【WIDELY USE】 Wildly applicable for most outlets of sinks, showers, or tub drains. These silicone sink filter plugs can be used in the bathroom drains, bathtub drains, kitchen sink, shower room, laundry, and anywhere you want to stop and trap debris.
☛ Material: TPR
☛ Size: 10 x 10.5 cm
☛ Weight: 35 g
☛ Color: yellow, green, orange, blue
☛ Package: Silicone Sink Filter Plug * 1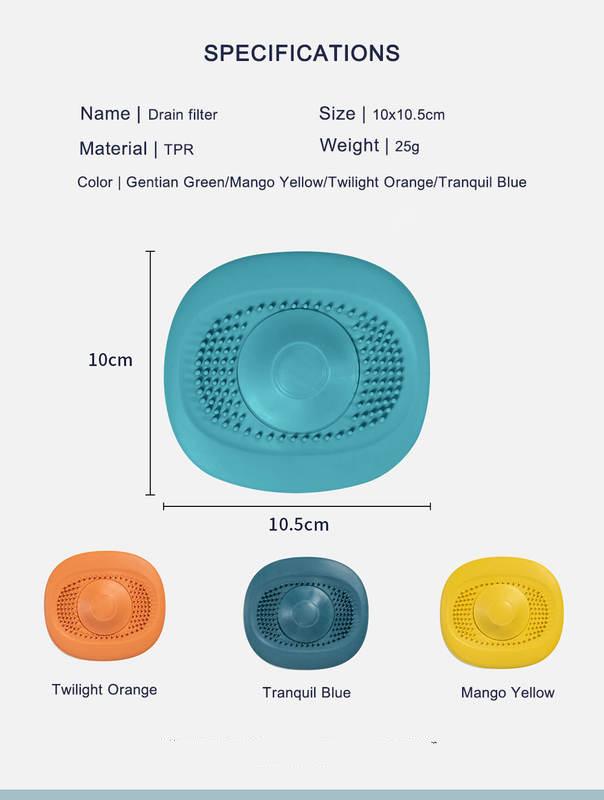 When it comes to selecting the Best Silicone Sink Strainer, the Sink Drain Stopper stands out as a kitchen essential that combines efficiency, versatility, and ease of maintenance.
Prevent Costly Plumbing Issues
By using the best silicone sink strainer, you're taking a proactive step to prevent costly plumbing issues. Avoiding the accumulation of debris in your drain reduces the risk of clogs and potential damage to your plumbing, saving you both time and money in the long run.
Durable Silicone Construction
The Sink Drain Stopper boasts durable silicone construction, ensuring longevity and resilience. Unlike traditional strainers that may rust or corrode over time, the silicone material remains in excellent condition, providing reliable performance for an extended period.
Environmentally Friendly Choice
Choosing a silicone sink strainer is an environmentally friendly choice. By preventing debris from entering your drain, you contribute to a more sustainable lifestyle by reducing the need for harsh chemical drain cleaners and minimizing your environmental impact.