Traditional Wall Décor
Description:
Color Quantity: 30-50 Colors
Rhinestone Picture Type :Diamond Painting Waterfall  
Diamond Mosaic Mountain :Personalized Gift DIY Hobby 
Diamond Shape: 100% Full Square Or Full Round
About Frame: No Frame, After You Complete Requirement For Adhesion To The Local Buy Frame Canvas 
Picture Size: Any size can be customized
Canvas Package:  Roll Up, Avoid Creases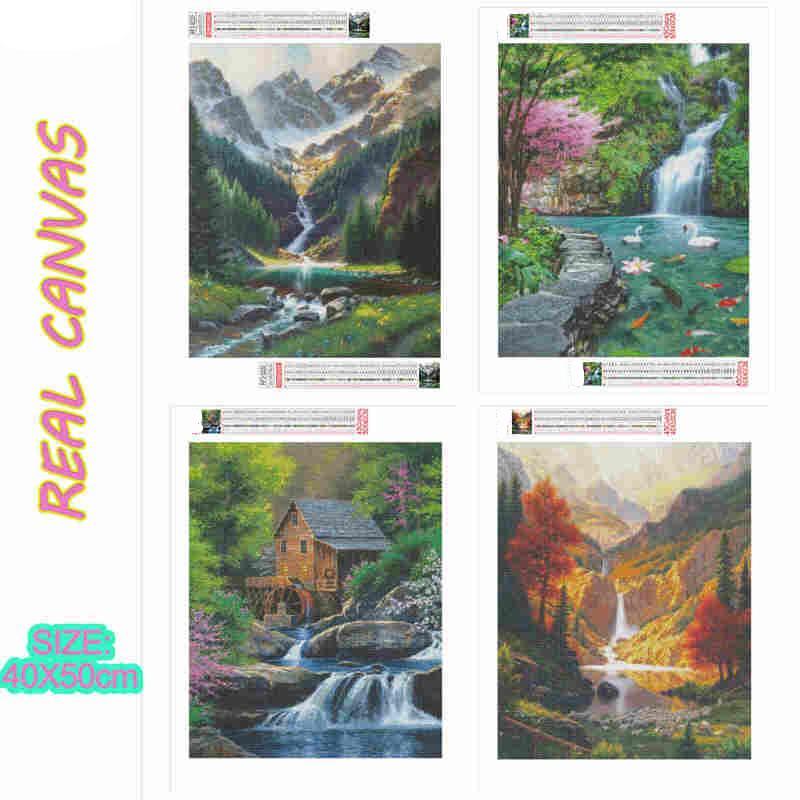 Timeless Beauty: Traditional Wall Décor
Traditional wall décor is a captivating journey through history and culture, an art form that transcends time and continues to grace the walls of homes, palaces, and museums across the world.
Rooted in the heritage of various regions and shaped by centuries of craftsmanship, traditional wall décor reflects the unique character of each culture while conveying a universal appreciation for the beauty of the past. In this article, we will explore the enchanting world of traditional wall décor, its history, techniques, and enduring appeal.
Historical Roots
Traditional wall décor traces its origins back to ancient civilizations where the need to adorn walls with art and symbolism was deeply ingrained. From the Egyptian hieroglyphs and frescoes to the exquisite Chinese silk tapestries and the intricate Indian mandalas, these early examples highlight the importance of visual storytelling and aesthetic expression.
Medieval Europe also contributed significantly to the development of traditional wall décor. The grandeur of Gothic cathedrals, adorned with stunning stained glass windows and intricate frescoes, serves as an enduring testament to the influence of religion and art on European culture.
The Renaissance period saw an explosion of creativity with painters like Leonardo da Vinci and Michelangelo producing masterpieces that continue to inspire awe and admiration.
Traditional wall décor also thrived in Asian cultures, where techniques like Japanese woodblock printing, Chinese porcelain murals, and Indian miniature paintings displayed a remarkable diversity of style and technique.
Techniques and Materials
Traditional wall décor employs a wide array of techniques and materials, reflecting the diversity of cultures and artistic expressions. Some of the most notable methods include:
Fresco Painting: Originating in ancient Rome, fresco painting involves applying pigments onto wet plaster, allowing for a seamless integration of colors into the wall. Notable frescoes can be found in the Roman ruins of Pompeii and the ceiling of the Sistine Chapel in Vatican City.
Tapestry: This method involves weaving intricate designs into fabric, often depicting historical events, landscapes, or mythological narratives. The Bayeux Tapestry, which chronicles the Norman Conquest of England, is a remarkable example of this art form.
Mosaic: Mosaic art involves the arrangement of small, colored pieces of glass, stone, or other materials to create intricate patterns or images. The Hagia Sophia in Istanbul is renowned for its stunning mosaic designs.
Calligraphy: Arabic calligraphy has a long history of adorning walls with intricate and beautiful script. The calligraphy on the walls of the Alhambra Palace in Spain is a fine example of this art form.
Woodblock Printing: Traditional in Asia, woodblock printing involves carving designs onto wooden blocks and then using them to print onto various surfaces. The Ukiyo-e prints of Japan are iconic in this regard.
Enduring Appeal
The enduring appeal of traditional wall décor can be attributed to several factors:
Cultural Heritage: These art forms represent the cultural heritage and history of a region. They serve as a visual and historical record, preserving the stories, values, and traditions of a people.
Aesthetic Beauty: Traditional wall décor often captivates with its sheer beauty. The meticulous craftsmanship, attention to detail, and use of vibrant colors and patterns continue to delight the eye and evoke a sense of wonder.
Timelessness: Many traditional wall décor styles have remained relevant and captivating throughout the centuries. The allure of a beautifully crafted fresco or a finely woven tapestry transcends time, making them a timeless addition to any space.
Symbolism and Meaning: These artworks frequently carry deep symbolism and meaning, whether religious, mythological, or cultural. They convey stories and beliefs, allowing viewers to connect with the past on a profound level.
Craftsmanship: The art of creating traditional wall décor often involves labor-intensive techniques that demand skill, patience, and dedication. This craftsmanship adds an additional layer of appreciation for these pieces.
Traditional wall décor is a testament to human creativity and the enduring power of art to transcend time and culture. It continues to grace our homes, museums, and places of worship, reminding us of the rich history and cultural diversity that make up the tapestry of human civilization.
From the intricate frescoes of Italy to the delicate calligraphy of the Middle East and the vibrant tapestries of Asia, traditional wall décor weaves a story of our shared past, offering a timeless connection to the beauty of our world's artistic heritage.