Vaginal Beads | Wireless Kegel Balls
Nowadays, people are focusing on how to tighten the vagina with vibrator and are using it for being more sensual and intimate. There are many types of vaginal beads, this particularly is a remote control vaginal vibrator. These kind of vibrators are definitely the most popular and most preferred. People can easily enjoy the vibrating sensation with these opposing to using the ones without a vibrator.
Its a great g-spot stimulator with 12 frequency vibrations, it will allow you to get more pleasure from the sensations that it provides. You can adjust the vibration and speed according to your tolerance. This will allow you to have a whole different level of stimulation that will make you enjoy using it more. There are many people who find it very pleasing and enjoyable to have a clitoral vibration orgasm. Because the vibration of the remote control vagina vibrator allows them to feel the fullness. That comes with the feeling of riding your clitora on these vibrating vaginal beads.
Although it is enjoyable and fun, it is highly recommended that you use these vaginal beads with caution. Follow the instructions guide that comes with it. And never forget to use ample amount of lubricant before using the vibrator. In fact, the more sensitive and intense it is, the more enjoyable it will be for you to use. Some people use it while having their panties on and some use it on bare skin. It all depends on one's liking. Using these vibrating vaginal beads is a great way to have fun while doing well for your vaginal and sexual health.
Product Features:
Shrinking ball remote control can also be used to jump eggs separately.
Function: Long press power button for 3 seconds (power on, power off, stop)
Life waterproof,noise is less than 60 db.
12 frequency vibration vaginal shrink ball.
Vaginal shrink ball: 180 mAh. Flirting remote jumping egg: 130 mAh.
USB rechargeable,charging time: 30-50 minutes,Operation time: 90 minutes, full charge lights 3 minutes, automatic light off .
The vaginal shrinking ball and remote jumping egg both have vibration motors.
12 mode vibration,one key conversion. 10 m wireless remote control.
Description:
Material: Silicone
Product: Vaginal shrinking ball (two types)
Function: long press power button for 3 seconds (power on, power off)
Frequency: 12 frequency, can swing.
Operation time: 90 minutes
Charging time: 30-50 minutes,, full charge lights 3 minutes, automatic light off .
Battery capacity: 140 mAh
Remote control distance: 10 m
Package Includes:
Vaginal shrinking ball
1x USB cable
Remote Controller
User manual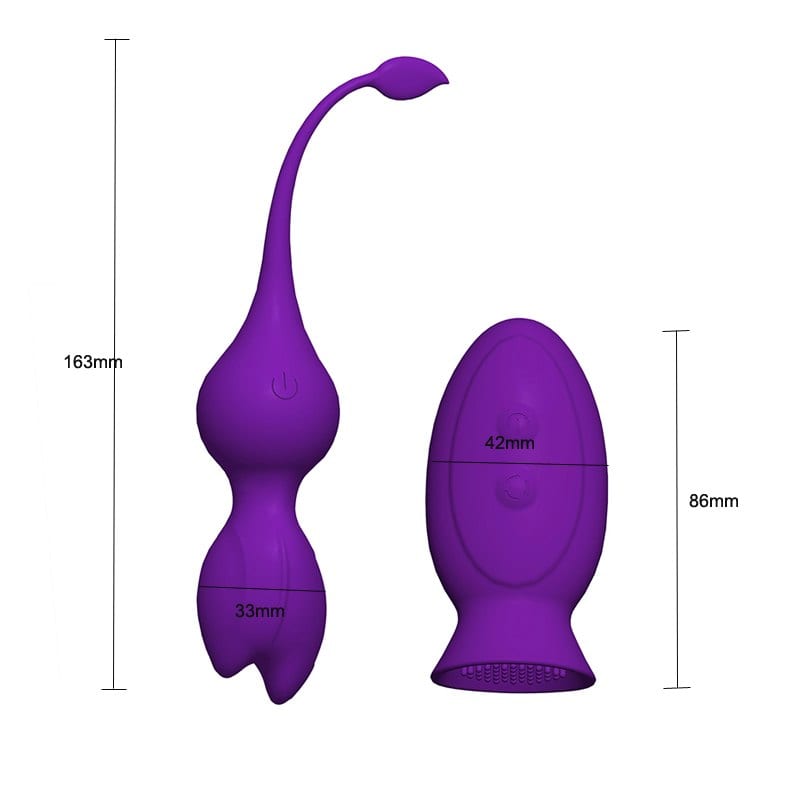 Buy More Products