Visual Ear Picking Stick
Smart Visual Ear Sticks Endoscope 300W High Precision Earpick Mini Camera Otoscope Health Care Ear Cleaner
Notice
Specification
Connection: Wireless WIFI Pixels: 3 Megapixels Lens diameter: 10-50mm Battery capacity: 185mAh Input current: DC 5V Charging time: 50min, Image transmission rate: 30fps
Cyan Color = Blue Color
 Features
Rapid WiFi visual connection. No connection is required to open picking ears. Use optical lens and high-performance 300W pixel. The CMOS sensor has a clear picture, 20X amplifying ear canal & 100° viewing angle. 13 lens combination & 6 LED lights. IP67 waterproof lens. Water washable. Adapt to dry ear, oil ear, and other complex environment. 3-axis smart directional gyroscope quick positioning, the screen is not biased & shakes. High-end OV chip video coding technique, hand-eye synchronous exciting picking! Strong WiFi signal, penetrating power, avoid delay. More safety protection. Earpick head buckles, over-hot earpick protection, timing automatic shutdown, children lock, and anti-frost cracking protection. Smart constant temperature control. Prevent low temperature & ear burning. Otoscope: 25°C non-inductive temperature. Earpick body: 32°C palm's temperature. Long endurance. Built-in 185mAh large capacity battery. Picking once a week for 10 minutes can use about 30 days.
Package included
1x Earpick Body 2x Ear Picking Accessaries
Notice
Otitis media and other diseases ears can safely pick. Children over 3 years old should be accompanied by adults.
Compare to R1 and X3, The R3 version has a Better Battery and Better Camera.
is New Arrival. It has a set of Cleaning kits in the package(Photo Below).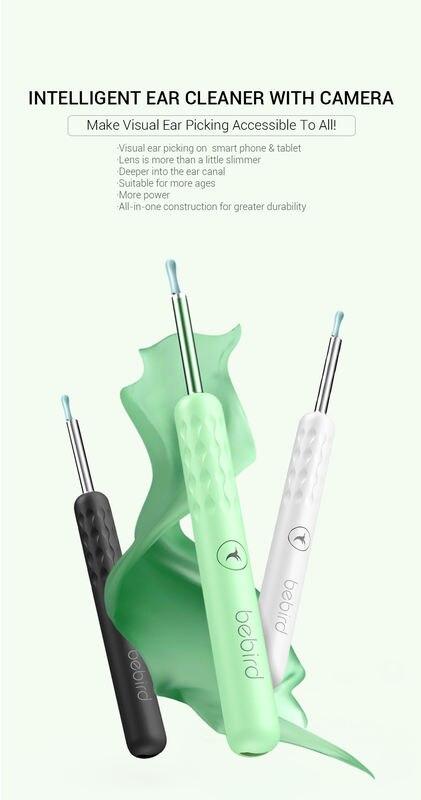 Introduction:
Ear hygiene is an essential aspect of overall health, and finding the right tool for ear cleaning can be a daunting task. However, the visual ear-picking stick presents a modern and hygienic solution that combines safety, effectiveness, and ease of use. In this article, we will delve into the features and benefits of this innovative tool, highlighting why it has become the preferred choice for individuals seeking a reliable and gentle way to clean their ears.
Enhanced Safety with Visual Design:
The visual earpicking stick is equipped with a built-in camera and LED light, providing users with a clear view of the ear canal during the cleaning process. This visual aid ensures precise and careful ear cleaning, significantly reducing the risk of accidental injury or discomfort. With real-time visibility, users can monitor their progress and avoid pushing the stick too deep into the ear, promoting safer usage.
Hygienic and Easy-to-Clean:
Unlike traditional cotton swabs that can push earwax deeper into the visual ear picking stick offers a hygienic and non-invasive alternative. The replaceable silicone tips are designed for one-time use, eliminating the risk of cross-contamination and promoting better ear hygiene. Additionally, the detachable tips are easy to clean, further ensuring a hygienic ear cleaning experience.
Effective Earwax Removal:
The visual ear picking stick is specifically designed to gently remove excess earwax buildup, providing effective cleaning without causing irritation. The soft and flexible silicone tips are engineered to fit comfortably into the ear canal, ensuring a gentle and thorough cleaning process. With real-time visibility, users can precisely target and remove earwax, leaving their ears feeling clean and refreshed.
User-Friendly Interface:
The visual ear picking stick is designed with user convenience in mind. It features a user-friendly interface that allows easy control of the camera and LED light. Users can adjust the angle and brightness of the camera to obtain the best view for efficient ear cleaning. The compact and ergonomic design makes it easy to hold and maneuver, ensuring a comfortable and hassle-free cleaning experience.
Suitable for All Ages:
The visual ear picking stick is suitable for users of all ages, including children and the elderly. Its gentle and non-invasive cleaning process makes it a safer alternative to traditional ear cleaning methods. Additionally, the visual aspect of the tool can make the process more engaging for children, making it easier to maintain their ear hygiene.
Travel-Friendly and Portable:
Whether you are at home or on the go, the visual ear picking stick is a convenient tool to have. Its compact size and portability make it an ideal travel companion, ensuring you can maintain ear hygiene wherever you are. The stick is battery-operated, eliminating the need for cords or charging, making it even more travel-friendly.
Economical and Environmentally-Friendly:
Traditional visual ear picking stick, such as cotton swabs, can be costly and produce unnecessary waste. The visual ear-picking stick, with its replaceable silicone tips, offers an economical and environmentally-friendly solution. Users can purchase replacement tips separately, reducing long-term costs and contributing to a greener environment.
Conclusion:
The visual ear picking stick revolutionizes the way we clean our ears, providing a modern, hygienic, and effective solution for earwax removal. With its built-in camera and LED light, users can achieve a new level of safety and precision in their ear cleaning routine. The soft and flexible silicone tips, along with the user friendly interface, ensure a comfortable and hassle-free experience for users of all ages. Say goodbye to traditional cotton swabs and embrace the innovative visual ear picking stick for a gentle, effective, and hygienic ear-cleaning experience. Keep your ears clean and healthy with this remarkable and convenient tool!