Butterfly Knot Wedge Slippers | Casual Slippers For Ladies
Features
Upper-Genuine Leather Type

Sheepskin

Fit

Fits true to size, take your normal size
1. The US size or EUR size may be different from the size in your country. Please choose the size according to your foot length.
2. If your feet are thick or wide, we suggest you choose one size bigger.
3. If you are not sure about what size you want, please contact us before ordering.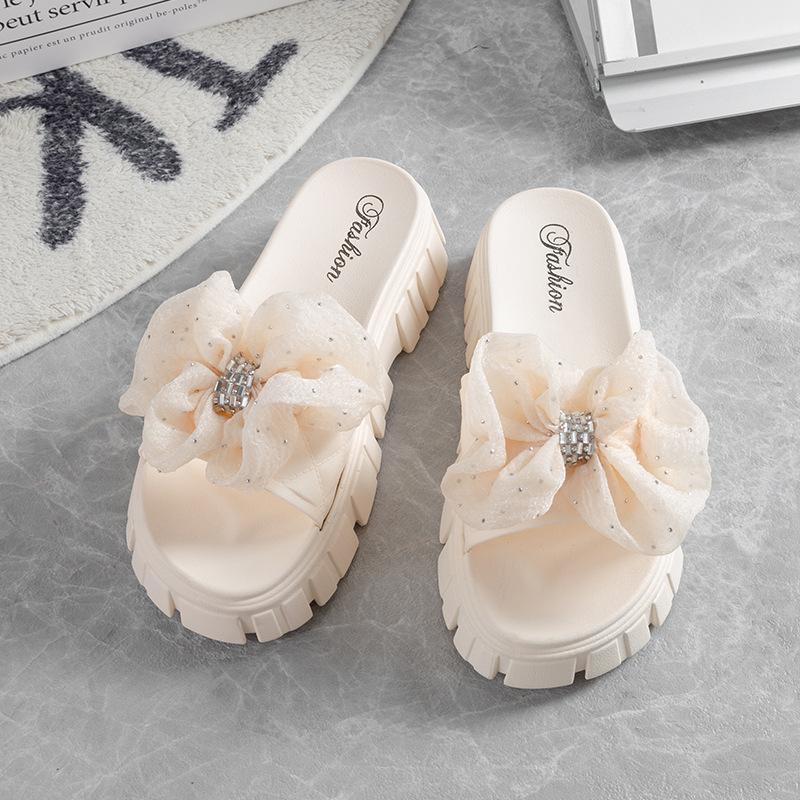 Add a touch of charm to your casual footwear with Butterfly Knot Wedge Slippers For Ladies. These slippers are all about easy elegance, combining a cute butterfly knot design with comfy wedge soles. If you're a lady who loves style without sacrificing comfort, these slippers are perfect for you.
Why Butterfly Knot Wedge Slippers Are Great
The butterfly knot makes these slippers unique. It's a cute detail that adds a special touch to your everyday style. Whether you're hanging out at home or running quick errands, these slippers effortlessly make you look more put-together.
Comfy and Stylish
The wedge soles of these slippers bring together comfort and style. They give you a little lift while making sure your weight is spread out evenly. This combo of the butterfly knot and wedge sole makes these slippers a stylish and practical choice.
Casual Charm at Its Best
These Cascual slippers for ladies are all about easygoing charm. They're perfect for laid-back outings, and the butterfly knot adds a hint of fancy. Match them with your jeans, skirts, or dresses to create a relaxed yet stylish vibe.
Super Comfortable
These slippers are a treat for your feet. The soft footbed and supportive wedge sole keep your feet comfy whether you're out and about or just kicking back at home.
Picking Your Perfect Pair
When you're choosing your Butterfly Knot Wedge Slippers:
Get the Right Fit: Make sure they fit just right, not too tight or too loose. You want them to feel snug but comfy.
Choose Your Color: There are different colors to pick from, so you can go for something that matches your style – whether you like soft colors or classic ones.
Think About Where You'll Wear Them: These slippers can be worn indoors or for easy outdoor activities. Consider where you'll wear them the most to pick the perfect style.
Wrap-Up: Elevate Your Casual Style
Butterfly Knot Wedge Slippers combine charm and comfort effortlessly. With their cute butterfly knot and supportive wedge sole, they give your everyday look a boost. Embrace easygoing elegance and feel confident with every step you take.
Ready to add some charm to your casual footwear? Check out our collection of Butterfly Knot Wedge Slippers and enjoy both style and comfort in one neat package.