Electric Sandwich Maker | Buy Sandwich Press
Features:
1. Safe: due to the use of a heat-resistant handle and anti-slip foot, the design ensures maximum safety.

2. Non-stick: high-quality non-stick coating plate ensures fast and easy cleaning after use. In addition, you can store this sandwich grill combination device horizontally and vertically, so you can always store your items in a space-saving way.

3. Multi-functional: You can use the sandwich machine to make delicious sandwiches, toast and cheese sandwiches.

4. Easy to clean: very suitable for enjoying the perfect sandwich. Very easy-to-use sandwich toaster. The non-stick coating ensures easy cleaning.

5. Applicable occasions: suitable for family use, kitchen gadgets, making different kinds of sandwiches for children, and can also be used in dessert shops, bakeries, and other places.
Specification
Interchangeable Plates: Waffle Plates
Function: Non-Stick Cooking Surface
Model Number: Sandwich Makers
Color: Black
Size: 22.8 * 22.5cm/8.98*8.86inch
Rated power: 750W
Plug: US, EU(optional)
1 x Sandwich Maker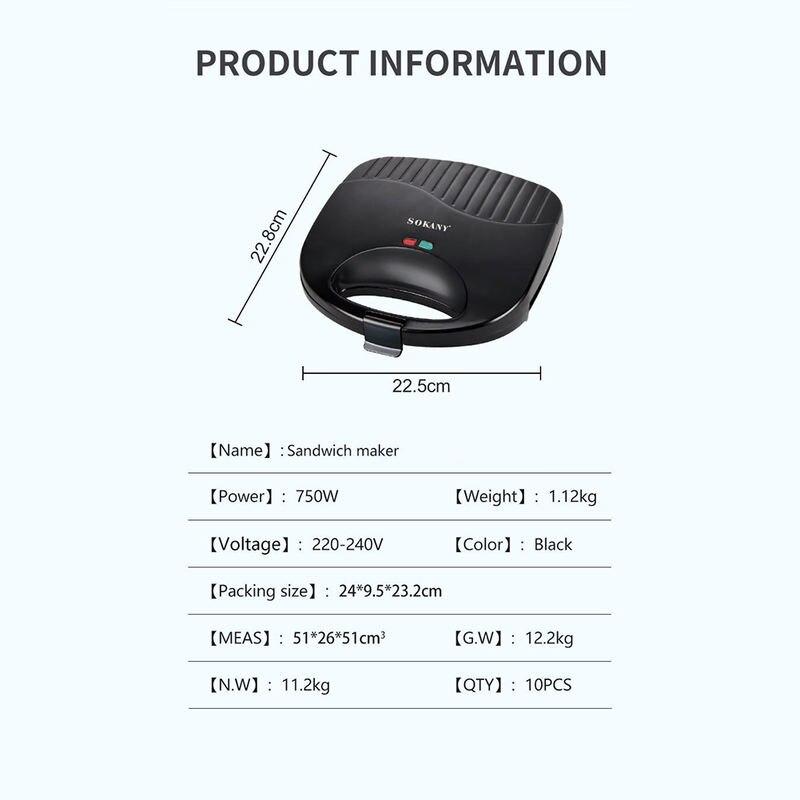 When in search of the perfect sandwich press, the opportunity to Buy the Electric Sandwich Maker emerges as the top choice, offering the ideal combination of efficiency and creativity for sandwich enthusiasts.
Instant Sandwich Press for Quick Meals
The Electric Sandwich Maker serves as an instant sandwich press, allowing you to whip up quick and delicious meals in a matter of minutes. Perfect for busy mornings, lazy weekends, or any time you crave a tasty sandwich without the wait.
Ideal for Home Cooks and Sandwich Lovers
Whether you're a home cook looking to simplify meal preparation or a sandwich lover eager to experiment with new flavors, the Electric Sandwich Maker caters to your culinary needs. Buy this sandwich press to add a touch of gourmet to your everyday meals.
Invest in Quality for Culinary Excellence
Consider the decision to Buy the Electric Sandwich Maker as an investment in quality for culinary excellence. The efficiency, versatility, and ease of use make this sandwich press an essential tool for those who appreciate the art of crafting gourmet sandwiches.