Hand Juicers | Buy Online Manual Fruit Juicer
Features
• Multifunctional: This juicer is not just for lemons! It can also be used to juice fruits and vegetables, making it a versatile tool in the kitchen.
• Non-electric: No need for a power outlet or batteries, this juicer is manual and easy to use.
• Eco-friendly: Made of plastic, this juicer is environmentally friendly and can be recycled.
• Small size: Compact and easy to store, this juicer is perfect for those with limited counter space.
Characteristic:
1. The lever is designed to save energy, making it easy to press juice effortlessly

2. Removable design, refusing to hide dirt and dirt

3. Phoenix tail handle with humanized grip, comfortable and powerful
Specification
Name: Manual juicer

Specification: 22 * 13 * 12cm

Packaging: OPP bagged

Product color: Grass Green

Product material: PP

Product Usage: Extractable Orange Juice, Watermelon Juice, Nuts, etc

Product features: convenient operation, high cost-effectiveness, hygiene, and health
Usage method:
1. Cut the fruit into small pieces that can be put into a juicer
2. Put the pulp into the juicer
3. Slowly and forcefully close the lid to squeeze the flesh
4. Pour out the juice and taste the freshly squeezed juice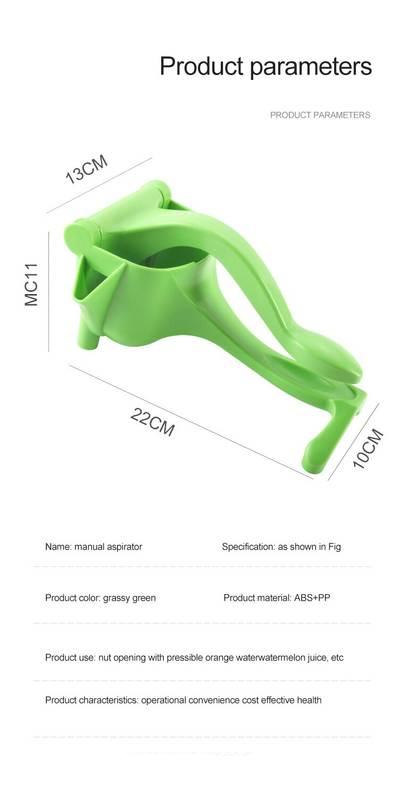 When you decide to Hand Juicers, you're choosing a convenient and efficient way to bring the freshness of homemade juice into your life.
Convenient Online Shopping
Buying a Hand juicers online provides the convenience of shopping from the comfort of your home. Browse through various options, read reviews, and make an informed decision to find the perfect juicer that suits your needs.
Easy Assembly and Cleaning
Most online manual fruit juicers come with user-friendly designs, ensuring easy assembly and cleaning. Many parts are detachable and dishwasher-safe, simplifying the maintenance process and making it hassle-free for regular use.
Buy More