Elevate Your Melbourne Home with Stylish Indoor Blinds In Melbourne from Gflashy.com
Transform Your Space with Premium Indoor Blinds in Melbourne
Your home in Melbourne deserves the best, and that includes window treatments that offer both style and functionality. At Gflashy.com, we understand the unique needs of Melbourne homeowners, and that's why we offer a wide range of indoor blinds that cater to your aesthetic preferences and practical requirements. In this article, we'll explore the world of indoor blinds and introduce you to our exceptional range of products and services, all designed to enhance your living spaces.

The Versatility of Indoor Blinds
Indoor blinds, also known as window blinds or shades, are a versatile window covering option that combines form and function seamlessly. They are available in various styles, materials, and designs, making it easy to find the perfect fit for your home's décor. Whether you prefer a classic, elegant look or a modern, minimalist style, indoor blinds offer versatility that suits every taste.
Why Choose Indoor Blinds in Melbourne?
1. Temperature Control
Melbourne's weather can be unpredictable, with hot summers and chilly winters. Indoor blinds act as an effective barrier, keeping your home comfortable year-round. They block out the scorching sun in summer and provide an extra layer of insulation in winter, helping you save on energy bills.
2. Privacy and Security
With Melbourne's urban sprawl, maintaining privacy in your home is crucial. Indoor blinds give you control over the level of privacy you desire, preventing prying eyes from peering into your living spaces. Additionally, they enhance the security of your home.
3. Light Management
Enjoy Melbourne's abundant natural light without the discomfort of glare. Indoor blinds allow you to adjust the amount of sunlight that enters your home, creating a cozy and well-lit atmosphere.
4. Style and Elegance
Indoor blinds are more than just practical; they are also a statement of style. At Gflashy.com, we offer an extensive collection of blinds, including Roller Blinds, Dual Roller Blinds, Sunscreen Roller Blinds, Blockout Roller Blinds, Plantation Shutters, Venetian Blinds, Timber Venetian Blinds, PVC Venetian Blinds, and Vertical Blinds. Our wide range of materials, colors, and textures ensures you'll find the perfect blinds to complement your interior design.
Gflashy.com: Your Trusted Blinds Provider in Melbourne
Roller Blinds: These sleek and modern blinds are available in various fabrics and colors. They are perfect for achieving a minimalist look while maintaining functionality.
Dual Roller Blinds: Enjoy the benefits of two blinds in one. Our dual roller blinds offer both sunscreen and blockout options, allowing you to control light and privacy effortlessly.
Venetian Blinds: Choose from Timber Venetian Blinds for a warm, natural look or PVC Venetian Blinds for a durable, moisture-resistant option. Venetian blinds offer classic style and precise light control.
Vertical Blinds: Ideal for larger windows and sliding doors, our vertical blinds are available in various fabrics and patterns. They provide elegant light and privacy control.
Service Area: Melbourne, Australia
We proudly serve Melbourne and its surrounding areas. Whether you're in the heart of the city or the serene suburbs, our expert team is ready to assist you.
Contact Gflashy.com for a Custom Quote
Ready to elevate your Melbourne home with our premium indoor blinds? Contact us today for a custom quote. Our team is dedicated to helping you find the perfect blinds that align with your style, needs, and budget.
Call us at +614 478 555 038 or email us at support@gflashy.com for personalized assistance and to schedule a consultation.
Transform your living spaces, enhance your comfort, and make a style statement with indoor blinds from Gflashy.com. Contact us now, and let's embark on a journey to elevate your Melbourne home.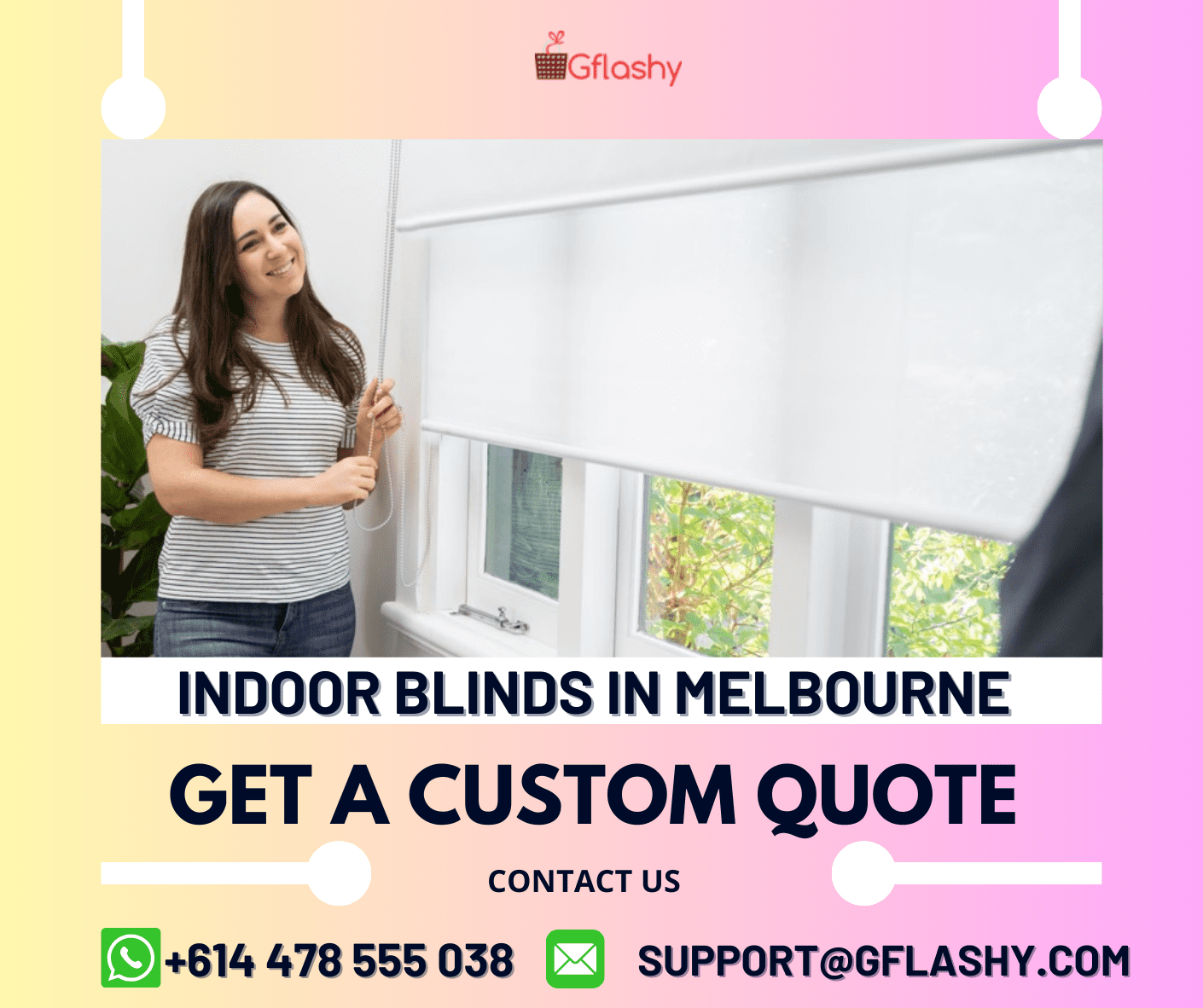 More Services