Leather Chelsea Boots
100% Genuine leather
Cow leather upper material
Breathable pigskin lining and insole
Non-slip rubber outsole
Ankle boots
Thick sole
Elastic band closure
Heel height: 5cm
Good quality
Handmade
Available colors:Black, Coffee
Shoes with box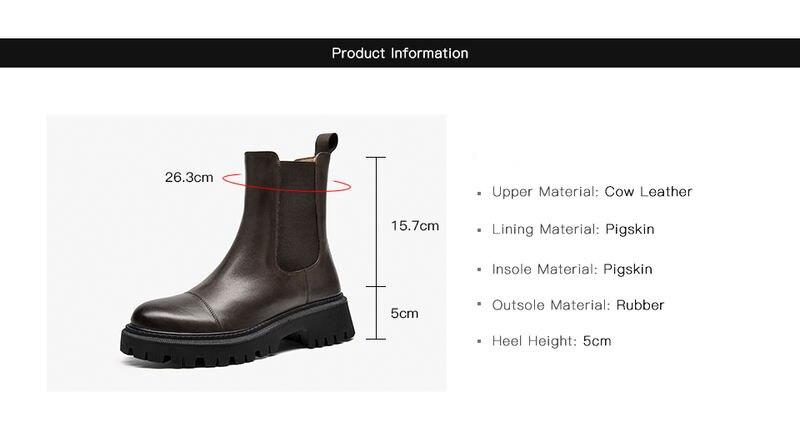 Introduction:
Leather Chelsea boots have earned their place as an iconic and beloved footwear choice, adored by both men and women. These classic and chic boots have stood the test of time, retaining their allure and fashion-forward appeal for generations. With their unique combination of style and comfort, leather Chelsea boots have become a staple in every wardrobe, adding a touch of sophistication to various outfits.
The Chelsea Boot Heritage:
The history of Chelsea boots dates back to the Victorian era in England. First designed as practical riding boots, they featured elastic side panels for ease of slipping on and off. The streamlined and versatile design quickly gained popularity among the aristocracy and working class alike. Over the years, Chelsea boots evolved into a symbol of timeless elegance and urban fashion.
The Allure of Leather:
Leather is the material of choice for Chelsea boots, and for good reason. High-quality leather not only exudes luxury and refinement but also provides durability and comfort. As leather ages, it develops a beautiful patina, adding character to the boots and making them more charming with each passing year.
Versatility in Style:
One of the most appealing aspects of leather Chelsea boots is their versatility in style. Available in various colors and finishes, from classic black and brown to trendy shades, they effortlessly complement a wide range of outfits. Whether paired with jeans, dresses, skirts, or tailored suits, these boots elevate your ensemble with an air of sophistication.
An All-Season Essential:
Leather Chelsea boots offer the benefit of being an all-season footwear choice. During colder months, they provide ample warmth and protection against the elements. In warmer seasons, the sleek and understated design of Chelsea boots still adds a polished touch to your attire without causing overheating.
Slip-On Ease:
The signature elastic side panels of Chelsea boots make them incredibly convenient and easy to wear. With no need for laces or zippers, slipping into and out of these boots is a breeze. The elastic panels also provide a comfortable and snug fit around the ankles, ensuring stability and support.
Dressing Up or Down:
Leather Chelsea boots effortlessly transition between casual and formal occasions, making them a versatile choice for any event. For a relaxed and trendy look, pair them with cuffed jeans or a bohemian dress. On the other hand, they pair perfectly with tailored trousers or a sleek skirt for a polished office or evening outfit.
Timeless Appeal:
Fashion trends come and go, but leather Chelsea boots have proven their timeless appeal. They are not bound by the constraints of passing fads, making them a long-lasting investment that never goes out of style. A pair of well-crafted leather Chelsea boots can be passed down through generations, becoming a cherished heirloom.
Comfortable All-Day Wear:
In addition to their stylish appearance, leather Chelsea boots offer exceptional comfort for extended wear. Many models come with cushioned insoles and supportive outsoles, ensuring that your feet stay cozy and supported even during long days on your feet.
Conclusion:
Leather Chelsea boots are a testament to the enduring charm of timeless fashion. Their combination of elegance, comfort, and versatility has earned them a prominent place in the world of footwear. Embrace the heritage and sophistication of Chelsea boots, and elevate your style with every step. Whether you're dressing up for a special occasion or aiming for a casual yet refined look, leather Chelsea boots are a reliable choice that never disappoints. So, step into the world of classic elegance, and let these boots be your trusted companion on your fashion journey.