Pink Corset | Lace Up Corset
Specifications:
Item Type: Bustiers & Corsets

Material: 90% Polyester 10%Spandex

Supporting material: 12 Plastic Bone

Color: Black, White, Pink, Red, Brown, Green, Pink, Blue, Apricot

Size: S-6XL

Description:

Please choose the best size by yourself:

1inch=2.54cm

1cm=0.39inch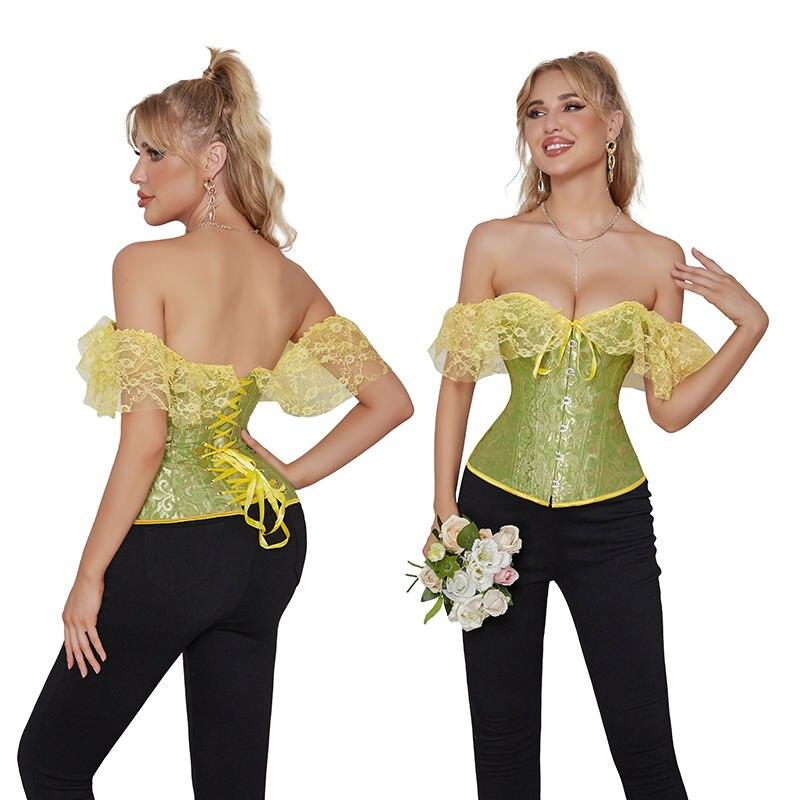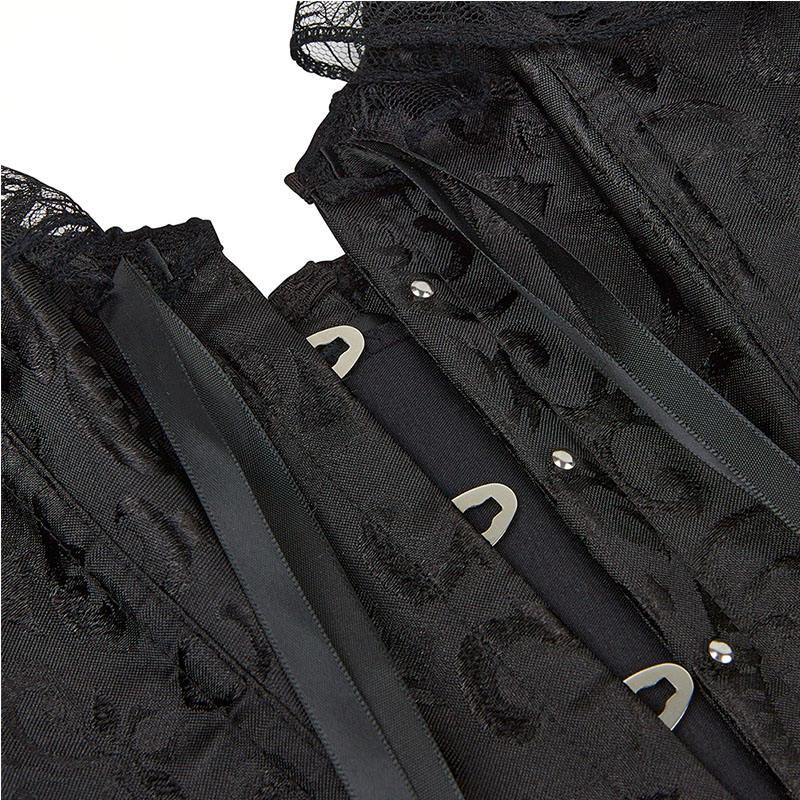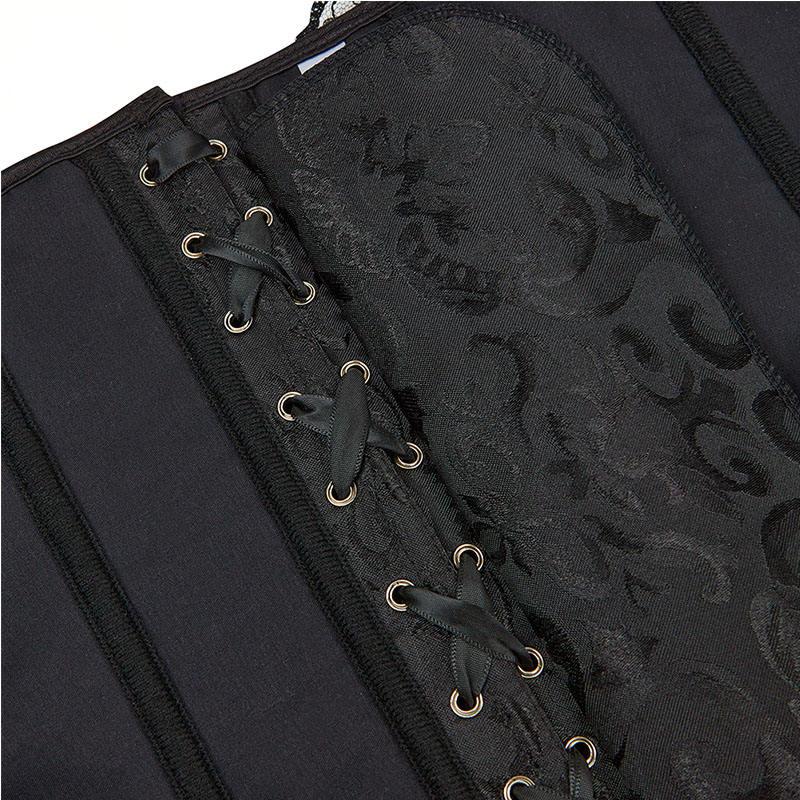 Pink Corset: Lace Up Corsets and Women's Corset Tops
In the world of fashion, some garments hold a timeless allure, and one such piece is the pink corset. This exquisite piece of clothing has transcended generations, redefining femininity and sensuality with its elegant design and versatile appeal.
Whether you're a fashion enthusiast or someone looking to add a touch of allure to your wardrobe, the pink corset is a must-have item. In this comprehensive guide, we will delve into the world of pink corsets, exploring lace-up corsets, women's corset tops, and everything in between. Get ready to discover the endless possibilities of this iconic garment.
The Allure of Pink Corsets
Pink corsets have been a symbol of femininity and sophistication for centuries. Their appeal lies in their ability to sculpt and enhance the natural curves of the female body, creating a stunning silhouette that exudes confidence and grace. The soft, romantic hue of pink adds a touch of whimsy and charm to the corset, making it a favorite among fashion-forward individuals.
1.1. A Brief History
Corsets have a rich history dating back to the 16th century when they were used to shape the female figure into the desired silhouette of the time. Over the years, corsets evolved in design and purpose, and today, they are more about self-expression and empowerment than constriction. Pink corsets, in particular, gained popularity during the Victorian era and have remained a fashion staple ever since.
Lace Up Corsets: A Timeless Trend
When it comes to pink corsets, one style that stands out is the lace-up corset. These corsets feature intricate lacing in the front or back, allowing for a customized fit and a touch of sensuality. Lace-up corsets are versatile and can be worn as lingerie, outerwear, or even as a statement piece at special occasions.
2.1. Customized Fit
The lace-up design of these corsets enables wearers to adjust the tightness according to their comfort and style preferences. This customization ensures that the corset fits perfectly, accentuating your figure while providing comfort for extended wear.
2.2. Versatility
Lace-up corsets are incredibly versatile. Pair them with a skirt, jeans, or trousers for a trendy street-style look, or wear them under a blazer or dress to add a touch of allure to your formal attire. With the right accessories, lace-up corsets can effortlessly transition from day to night.
Women's Corset Tops: Modern Elegance
The evolution of corsets has given rise to a modern interpretation known as women's corset tops. These tops retain the corset's structure and charm but are designed to be worn as standalone pieces. Whether you're attending a cocktail party or a casual brunch, women's corset tops are the perfect choice for making a statement.
3.1. Contemporary Designs
Modern women's corset tops come in a variety of styles, from off-shoulder to halter neck, each offering a unique take on this classic garment. The incorporation of contemporary elements such as ruffles, bows, and lace embellishments adds a fresh twist to the traditional corset design.
3.2. Comfort and Support
While women's corset tops provide the allure of a corset, they are designed with comfort in mind. Many of these tops feature built-in support, eliminating the need for additional undergarments. This ensures that you not only look stunning but also feel comfortable throughout the day or night.
Styling Tips for Pink Corsets
Now that you have a better understanding of pink corsets, let's explore some styling tips to help you make the most of this versatile garment:
4.1. Casual Chic
For a trendy daytime look, pair your lace-up corset with high-waisted jeans and sneakers. Add a denim jacket or a cardigan for an effortlessly chic ensemble.
4.2. Elegant Evening
When attending a formal event, choose a women's corset top with intricate detailing. Pair it with a flowing skirt or tailored trousers and accessorize with statement jewelry for an elegant and sophisticated look.
4.3. Lingerie Luxe
Don't underestimate the allure of a pink corset as lingerie. It can make you feel confident and seductive in the bedroom. Pair it with matching lace panties for an extra dose of glamour.
In the world of fashion, certain pieces remain eternally enchanting, and the pink corset is undoubtedly one of them. Whether you opt for a lace-up corset for its versatility or a women's corset top for modern elegance, this iconic garment has the power to transform your style and boost your confidence.
Embrace the allure of the pink corset, and let it become an integral part of your wardrobe, allowing you to express your individuality and radiate timeless charm.