Seamless Gym Clothes |  Slim Fit Sports Wear Online
Product Details:
1. Seamless smooth stretch fabric
2. Padded push-up sports bra with removable pads
3. Slim Fit Yoga Shirt
4. Long-sleeve yoga crop top with thumb holes
5. Seamless high-waist yoga pants
About the size:
1. Asian sizes are 1 to 2 sizes smaller than European and American people.
2. If you find it difficult to choose the size, you can feel free to contact me. We will give you some suggestions, but it is just for your reference.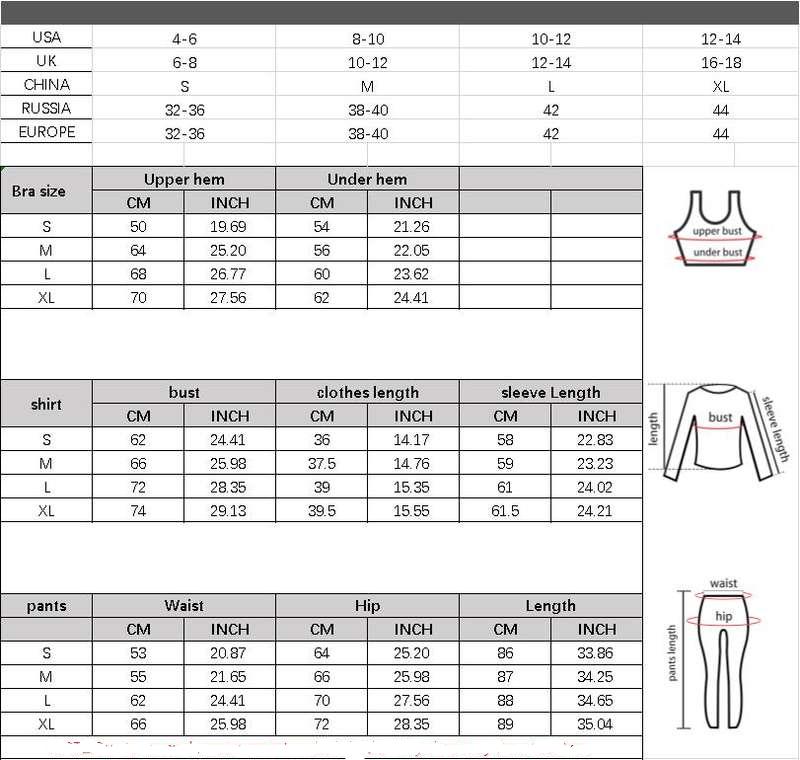 .
In the realm of fitness and active lifestyles, the importance of appropriate workout attire cannot be overstated. Seamless gym clothes, particularly women's slim-fit sports wear, have revolutionized the world of athletic fashion.
These advanced garments combine cutting-edge technology, comfort, and style, providing athletes and fitness enthusiasts with a range of benefits. Let's explore why seamless gym clothes and slim-fit sports wear are essential for elevating your workout experience.
Zero Seams, Zero Chafing:
Seamless gym clothes are engineered with a revolutionary knitting process that eliminates traditional seams. This translates to a frictionless workout experience. Without seams to rub against your skin, the risk of chafing is drastically reduced, making every movement smooth and comfortable.
Second-Skin Comfort:
Slim-fit sports wear, particularly seamless varieties, offers a second-skin-like feel. The close-fitting design ensures that the clothing moves with your body, without bunching or sagging. This enhances your comfort, concentration, and performance during workouts.
Sweat-Wicking Technology:
High-quality slim-fit sports wear often incorporates moisture-wicking technology. These fabrics pull sweat away from your skin, keeping you dry and comfortable during intense workouts. You can maintain your focus and stay cool throughout your training sessions.
Freedom of Movement:
Seamless gym clothes are designed to provide unparalleled flexibility. The absence of seams allows for a wide range of motion. You can stretch, twist, and bend without restrictions, making these garments perfect for yoga, Pilates, or any activity requiring agility.
Streamlined Aesthetics:
Slim-fit sports wear has a sleek, modern appearance. The snug fit and clean lines create a streamlined look that's both flattering and stylish. It's a confidence booster, helping you feel good about your body and your workout.
Targeted Compression:
Many slim-fit sports wear options incorporate targeted compression zones. These strategically placed areas provide support to key muscle groups, enhancing muscle stability and reducing fatigue. The result is improved endurance and reduced post-workout soreness.
Breathable Fabrics:
Even with a snug fit, these garments often use breathable materials that allow air circulation. This prevents overheating, ensuring you stay cool and comfortable throughout your training. Breathability is particularly valuable during high-intensity workouts.
Durability:
High-quality seamless gym clothes are known for their durability. They can withstand the rigors of frequent exercise and washing without losing their shape or functionality. This long-lasting quality offers excellent value for your investment.
Layering Versatility:
Slim-fit sportswear is versatile enough to be layered with other workout clothing. You can adapt your attire to changing weather conditions or the intensity of your training session. Layering allows you to maintain your comfort and focus, regardless of external factors.
Inclusivity:
Fitness fashion brands understand the importance of inclusivity. Slim-fit sports wear comes in a variety of sizes and styles to cater to all body types. This inclusivity ensures that athletes of all backgrounds and body shapes can benefit from these advanced garments.