Abstract Watercolor Wall Art
Features
Type: Canvas Printings

Medium: Waterproof Ink

Style: europe

posters: Morden creative print

Subjects: ABSTRACT

Material: COTTON

Support Base: Canvas

Technics: Spray Painting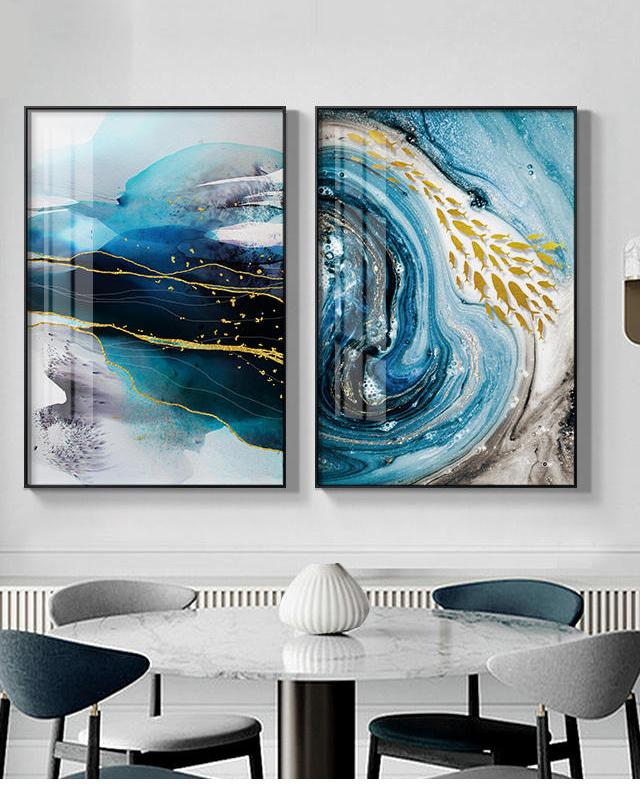 Abstract watercolor wall art captivates the imagination with its fluidity and vibrant expressions, creating a visual symphony that resonates with emotions. This distinctive form of art is a celebration of spontaneity and creativity, as artists harness the unpredictable nature of watercolors to produce unique and mesmerizing pieces.
The essence of Abstract Watercolor Wall Art lies in the interplay of color and water, where pigments dance across the canvas in a harmonious ballet. Each brushstroke is a deliberate exploration, guided by intuition and a deep connection between the artist and the medium. The result is a tapestry of emotions, a visual diary of the artist's thoughts and feelings translated onto paper.
One of the defining features of Abstract Watercolor Wall Art is its ability to evoke a wide range of emotions. From the soothing blues that mimic the gentle ripples of water to the fiery reds that ignite passion, each piece tells a story that is open to interpretation. The viewer is invited to immerse themselves in the artwork, allowing their own emotions and experiences to color the narrative.
The versatility of Abstract Watercolor Wall Art makes it a captivating choice for wall art. Its ability to seamlessly blend with various interior styles, from modern minimalist to eclectic bohemian, ensures that there is a piece for every aesthetic. Whether adorning the walls of a cozy living room or bringing life to a corporate space, abstract watercolor art adds a touch of sophistication and intrigue.
In a world that often feels chaotic and unpredictable, abstract watercolor wall art serves as a reminder of the beauty that can emerge from spontaneity. It encourages viewers to embrace the unpredictable, find joy in the unexpected, and appreciate the beauty that arises when creativity flows freely. Each piece is a unique expression, a testament to the endless possibilities that unfold when an artist allows their imagination to run wild with the delicate dance of water and pigment.