Black Blouse | Sleeveless Dress Shirt
Clothing Patterns: STRAIGHT

Release Date: Summer 2022

Combination Form: Single-piece Set

Fabric content: 96% and above

Material Composition: Synthetic fiber

Shirts Type: Casual Shirts

Sleeve Length(cm): Sleeveless
S: Bust Size:88cm Length:57cm
M: Bust Size:92cm Length:58cm
L: Bust Size:96cm Length:59cm
XL: Bust Size:100cm Length:60cm
2XL: Bust Size:104cm Length:61cm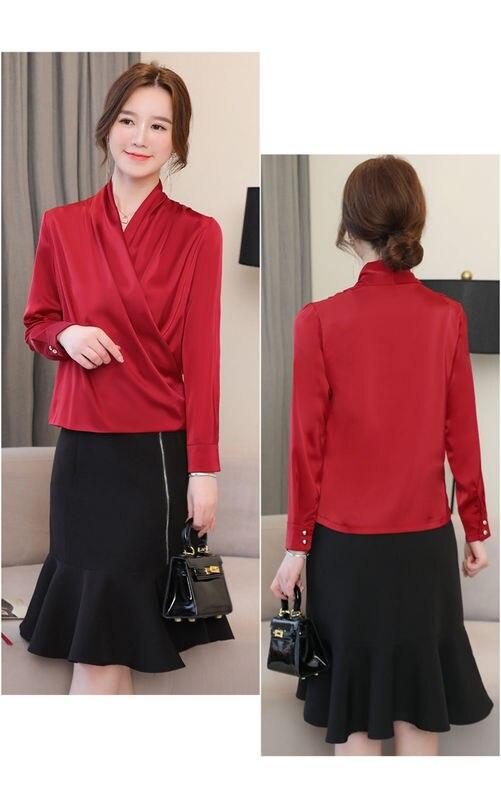 Elevate Your Wardrobe with a Versatile Black Blouse
A black blouse is a timeless wardrobe staple that effortlessly combines style and versatility. Whether you're heading to the office, a formal event, or a casual outing, a well-crafted black blouse can be your go-to choice for a chic and sophisticated look.
In this comprehensive guide, we will explore the various styles and options available in Sleeveless Dress Shirt, including sleeveless dress shirts, black silk shirts, and more. Discover how to make the most of this essential piece and elevate your fashion game.
The Classic Sleeveless Dress Shirt:
The sleeveless dress shirt is a classic variant of the Sleeveless Dress Shirt. It exudes a sense of elegance and professionalism while providing comfort during warmer seasons. These blouses typically feature a button-up front and a collar, similar to a traditional dress shirt, but without sleeves.
They are perfect for formal occasions, business meetings, or a polished look at the office. Pair a sleeveless black dress shirt with tailored trousers and heels for a sophisticated ensemble that will leave a lasting impression.
The Allure of a Black Silk Shirt:
Black silk shirts offer a luxurious twist to the traditional Sleeveless Dress Shirt. Crafted from high-quality silk fabric, these blouses are not only exceptionally comfortable but also exude a subtle sheen that adds a touch of glamour to any outfit.
Whether you're attending a romantic dinner or a cocktail party, a black silk shirt can be your go-to choice. Their soft and lightweight texture drapes beautifully on the body, making them a comfortable option for all-day wear. Pair it with a skirt and statement jewelry for a stunning evening look.
Versatility Beyond Compare:
What sets black blouses apart is their incredible versatility. They seamlessly transition from day to night, casual to formal, and everything in between. Pair a black blouse with jeans and sneakers for a casual daytime look, or dress it up with a pencil skirt and pumps for a night out. The possibilities are endless, making a black blouse a must-have item in every wardrobe.
The Perfect Fit:
When shopping for a black blouse, ensure you select the perfect fit. A well-fitted blouse enhances your silhouette and boosts your confidence. Pay attention to the neckline, sleeve length, and overall cut to find a style that flatters your body type. Many black blouses come in various sizes and styles, including regular, petite, and plus sizes, ensuring there's an option for everyone.
Caring for Your Black Blouse:
To keep your black blouse looking its best, follow the care instructions provided on the garment's label. Typically, black blouses can be machine washed on a gentle cycle or hand-washed in cold water. Avoid exposing them to direct sunlight for extended periods to prevent fading.
Proper care will ensure your black blouse remains a timeless addition to your wardrobe. Investing in a black blouse, whether it's a sleeveless dress shirt or a luxurious silk shirt, is a decision you won't regret.
Its versatility and timeless elegance make it a fashion essential that can effortlessly take you from day to night, from casual to formal. By choosing the right fit and following proper care instructions, you can enjoy the enduring beauty of your black blouse for years to come. Elevate your wardrobe today with this classic and versatile piece.