Elevate Your Outdoor Aesthetics and Comfort with Canvas Shade Sails
Discover Affordable Shade Solutions with Gflashy Canvas Shade Sails
Melbourne, Australia, is known for its love of outdoor living and beautifully landscaped gardens. To fully enjoy your outdoor space, you need adequate shade that not only protects you from the harsh sun but also adds to the aesthetic charm of your surroundings. Canvas shade sails provide the perfect balance of functionality and elegance, making them a popular choice for homeowners and businesses alike. At Gflashy, we believe in making quality shade solutions accessible to everyone. In this article, we'll delve into the world of canvas shade sails and introduce you to our top-notch products and services, including installation, repairs, and cleaning.

The Advantages of Canvas Shade Sails
Canvas shade sails offer a range of benefits that make them a sought-after choice:
1. Aesthetic Appeal
Canvas shade sails come in various colors and designs, allowing you to choose options that complement your outdoor space, whether it's a residential garden or a commercial courtyard.
2. Effective Sun Protection
Enjoy the outdoors without worrying about harmful UV rays. Canvas shade sails provide reliable sun protection, keeping you and your loved ones safe.
3. Versatile Applications
Canvas shade sails can be installed in a variety of settings, from residential patios to outdoor dining areas at restaurants. Their versatility is unmatched.
4. Durable and Cost-Effective
These shade sails are made from durable materials that are designed to withstand the elements, ensuring they remain a cost-effective solution for years to come.
Gflashy: Your Trusted Canvas Shade Sail Partner in Melbourne
Service Description
Our canvas shade sail services include:
Canvas Shade Sails for Sale: We offer a wide range of high-quality canvas shade sails, ensuring you find the perfect fit for your outdoor space.
Shade Sail Installation: Our expert team ensures that your canvas shade sails are installed securely, allowing you to enjoy your outdoor area without any worries.
Shade Sail Repairs: If your canvas shade sails require repairs or maintenance, our technicians can efficiently address any issues, ensuring they continue to enhance your outdoor experience.
Shade Sail Cleaning: We provide professional cleaning services to keep your canvas shade sails looking pristine.
Service Area: Melbourne, Australia
We proudly serve Melbourne and its surrounding areas, ensuring that residents across the city can benefit from our canvas shade sail solutions.
Contact Gflashy for a Custom Quote
Ready to enhance your outdoor aesthetics and comfort with canvas shade sails from Gflashy? Contact us today for a custom quote. Our team is dedicated to helping you find the perfect shading solutions that align with your style, needs, and budget.
Call us at +614 478 555 038 or email us at support@gflashy.com for personalized assistance and to schedule a consultation.
Elevate your outdoor living experience, create beautiful shaded areas, and enjoy the beauty of your outdoor spaces with canvas shade sails from Gflashy. Contact us now, and let's make your outdoor vision a reality, one shade sail at a time.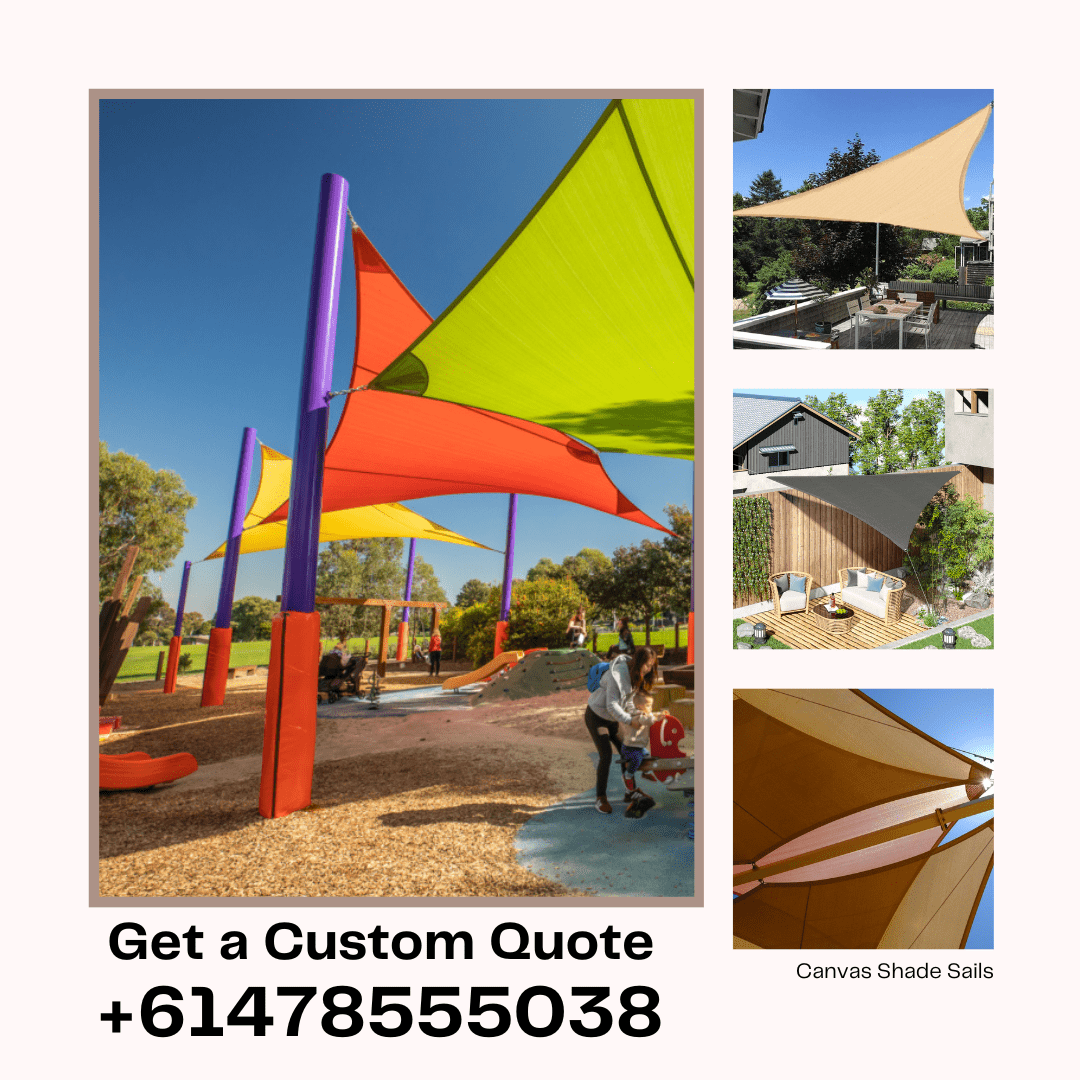 More Services