Gay Bumper Sticker | Love Cruising Logo
Gay Bumper Stickers: Celebrating Diversity, Unity, and Equality
Introduction:
Bumper stickers have long served as a powerful medium of expression, conveying ideas, beliefs, and identities in a succinct and visually striking manner. One category of bumper stickers that has gained significant prominence in recent times is the "Gay Bumper Sticker." These stickers symbolize the LGBTQ+ community's pride, resilience, and demand for acceptance and equality. In this essay, we will explore the history, significance, and impact of gay bumper stickers, highlighting how they foster inclusivity and create a sense of belonging for individuals within the LGBTQ+ community.
Historical Context:
The gay rights movement has a profound history, marked by struggles, challenges, and notable achievements. While the movement for LGBTQ+ rights predates the 20th century, it wasn't until the Stonewall Riots in 1969 that the modern gay rights movement gained significant momentum. Following Stonewall, advocacy for LGBTQ+ rights became more visible and widespread. With time, this advocacy extended to include various forms of expression, including bumper stickers.
The Emergence of Gay Bumper Stickers:
Gay bumper stickers emerged as a creative and tangible means for individuals to assert their identity, share messages of love, pride, and empowerment, and challenge societal norms. The 1970s saw the first wave of gay-themed bumper stickers, often featuring simple messages like "Gay Pride" and "Gay is Good." These stickers became a beacon of hope for countless LGBTQ+ individuals who often felt marginalized and discriminated against.
Growing Visibility and Diversity:
As the gay rights movement progressed, the visibility and diversity of gay bumper stickers expanded exponentially. The 1980s and 1990s saw a surge in stickers reflecting support for AIDS awareness and LGBTQ+ rights, often urging society to embrace diversity and combat prejudice. Stickers displaying the rainbow flag, symbolizing the spectrum of LGBTQ+ identities, became iconic representations of the community's unity and resilience.
In the 21st century, gay bumper stickers continued to evolve, reflecting contemporary issues and changes in LGBTQ+ rights. With increasing acceptance and legal victories, stickers began to carry messages of love, marriage equality, and the importance of family, pushing for further social recognition and inclusion.
The Significance of Gay Bumper Stickers:
Empowerment and Visibility: Gay bumper stickers serve as potent tools of empowerment for individuals within the LGBTQ+ community. Displaying these stickers on their vehicles allows them to assert their identities proudly, gain visibility, and challenge the stigma that still persists in some communities. In this way, bumper stickers become catalysts for change, inspiring others to embrace their identity and fight for equality.
Fostering Community and Support: The act of displaying gay-themed bumper stickers creates a sense of community among LGBTQ+ individuals. It sends a powerful message that they are not alone and that there are allies and fellow community members who share their struggles and triumphs. Bumper stickers can also act as conversation starters, leading to connections and supportive interactions between strangers who recognize their shared experiences.
Encouraging Acceptance and Inclusivity: For individuals outside the LGBTQ+ community, seeing gay bumper stickers can be an eye-opening experience. These stickers challenge stereotypes, foster understanding, and promote empathy towards the experiences and struggles faced by LGBTQ+ individuals. They play a crucial role in normalizing diverse sexual orientations and gender identities and encourage acceptance and inclusivity.
Political and Social Advocacy: Gay bumper stickers often serve as vehicles for political and social advocacy. They are used to support candidates, legislation, or social movements that champion LGBTQ+ rights. By visually displaying their stance, individuals encourage public discourse and raise awareness about the issues affecting the community, furthering the cause for equality.
Celebration of Diversity: The diversity within the LGBTQ+ community is vast, encompassing people from various races, cultures, religions, and backgrounds. Gay bumper stickers celebrate this diversity by featuring different colors, designs, and slogans, illustrating the vast array of identities and experiences that exist within the community. In doing so, they encourage people to embrace their uniqueness and find strength in their differences.
Conclusion:
Gay bumper stickers have emerged as powerful symbols of pride, unity, and advocacy within the LGBTQ+ community. Throughout history, these stickers have evolved from simple declarations of identity to complex representations of the struggles and triumphs of the gay rights movement. They empower individuals, foster a sense of community, and promote acceptance and inclusivity. As society continues to progress towards a more equitable and compassionate future, the message conveyed by gay bumper stickers will remain an essential part of the broader fight for equality and social change.
Buy Gay Bumper Sticker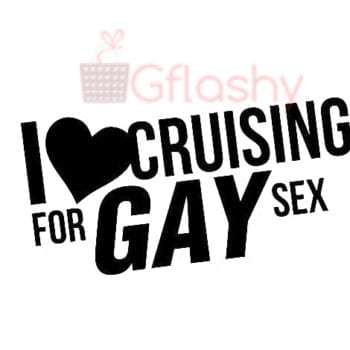 Buy More Products