LGBT Sticker | I'm Gay Stickers
LGBT stickers are adhesive labels or decals that feature designs related to the LGBT community. These stickers often incorporate the rainbow flag, which is a symbol of LGBT pride and diversity. The rainbow flag was designed by artist and activist Gilbert Baker in 1978, and it has become a widely recognized symbol of the LGBT community.
LGBT stickers can come in a variety of shapes, sizes, and designs. They may include slogans or images that represent the diversity of the LGBT community, such as the transgender flag, bisexual flag, pansexual flag, or asexual flag. They may also include phrases such as "Love is Love" or "Pride" to promote inclusivity and acceptance.
Many people use LGBT stickers to show their support for the community or to express their own identity as a member of the LGBT community. Stickers can be placed on personal items such as laptops, water bottles, or notebooks, or they can be used for public displays of support such as on car bumpers or storefronts.
Overall, LGBT stickers serve as a form of visible support for the LGBT community and help to promote acceptance, love, and equality.
Buy LGBT Sticker
12.7CM*9.3CM I'm Gay Decal Personality Funny Reflective Car Sticker 12-0969
Size:12.7CM*9.3CM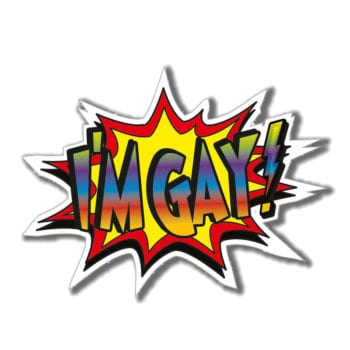 Buy More Products