LGBT Bumper Stickers | Lesbian Car Decals
LGBT bumper stickers are a type of adhesive decal that features slogans, symbols, or messages related to the lesbian, gay, bisexual, and transgender (LGBT) community. These stickers are typically affixed to the bumper of a car, but can also be placed on other surfaces such as laptops, water bottles, and notebooks.
The designs of LGBT bumper stickers can vary widely, from simple text-based messages to elaborate graphics that incorporate rainbow colors or other LGBT symbols such as the pink triangle, lambda, or transgender symbol. Some popular slogans found on LGBT bumper stickers include "Love is Love," "Proud Ally," "Equality for All," and "Born This Way."
LGBT bumper stickers serve several purposes. They can act as a statement of pride and support for the LGBT community, signaling to others that the driver or owner of the car is an ally or member of the community themselves. They can also serve as a form of activism, helping to raise awareness about LGBT rights and issues.
While LGBT bumper stickers can be a way for individuals to express themselves and their beliefs, it's important to note that not everyone feels comfortable or safe displaying them. In some areas or contexts, openly displaying support for the LGBT community can result in discrimination or even violence. Therefore, it's important to consider the potential risks and benefits before deciding whether to display an LGBT bumper sticker.
Buy LGBT Bumper Stickers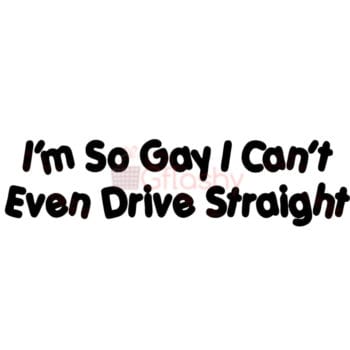 Buy More Products
Buy More Products