Gay Rainbow Stickers | Cheap Stickers For Sale 10Pcs
Rainbow stickers are often associated with the LGBTQ+ community as they feature the colors of the rainbow, which has been adopted as a symbol of diversity and inclusivity. Gay rainbow stickers, in particular, are stickers that often have the colors of the rainbow in a pattern or design that explicitly expresses support or celebration of the LGBTQ+ community, and specifically the gay community.
These stickers can be used in a variety of ways, such as to decorate personal belongings or to show support for the LGBTQ+ community during Pride events or rallies. They can also be used as a means of self-expression and identity for individuals who identify as gay.
It is important to note that while gay rainbow stickers are a positive way to show support for the LGBTQ+ community, they should not be used in a way that appropriates or commodifies LGBTQ+ culture. It is always important to be respectful and mindful of the community and its history.
Get Gay Rainbow Stickers
Features
– Color: As shown
– Material: Paper.
– Size: Approx. 13.6×7.6cm.
– Adopting advanced technology which makes the patterns on the stickers is lifelike.
– It's a great decoration for cosplays, party, club nights, birthdays.
– You can attached these to the waist, chest, neck, arms, back, legs, paste any position you like.
– A perfect gift idea for any occasion and a great party accessory or favors for all adults and kids.
– Long lasting and waterproof, you can clean it with baby oil or alcohol.
10 x Stickers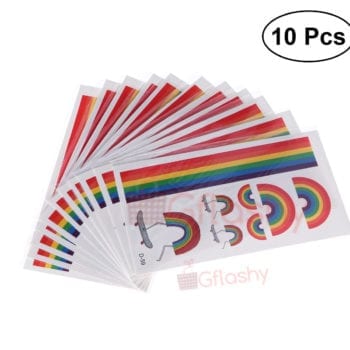 Buy More Products