Platform Wedge Sandals For Women | Comfortable Platform Wedge Sandals
Features
Style
ROME
Shoe Type
Mules
Heel Type
Flat with
Heel Height
High (5cm-8cm)
Platform Height
0-3cm
With Platforms
Yes
Color
Black, Green, Black, and Khaki
Please Attention!


1. Choose the size according to your foot length (don't choose the size according to the usual size in your country!!!)
please choose Size 36, if your foot length is 23cm.
please choose Size 37, if your foot length is 23.5cm.
please choose Size 38, if your foot length is 24cm.
please choose Size 39, if your foot length is 24.5cm.
please choose Size 40, if your foot length is 25cm.
please choose Size 41, if your foot length is 25.5cm.
please choose Size 42, if your foot length is 26cm.
please choose Size 43, if your foot length is 26.5cm.
Foot length≠sole length≠outsole length For example Size 39 (24.5cm). This 24.5CM only represents the length of the insole

If your feet are a bit wide or the instep is a bit thick, it is better to choose a size 1-2 larger.

Lighting and camera equipment and displays may cause chromatic aberration. If you mind, please do not pay. thanks.

If you have any questions, please contact our customer service first, and we will help you solve them.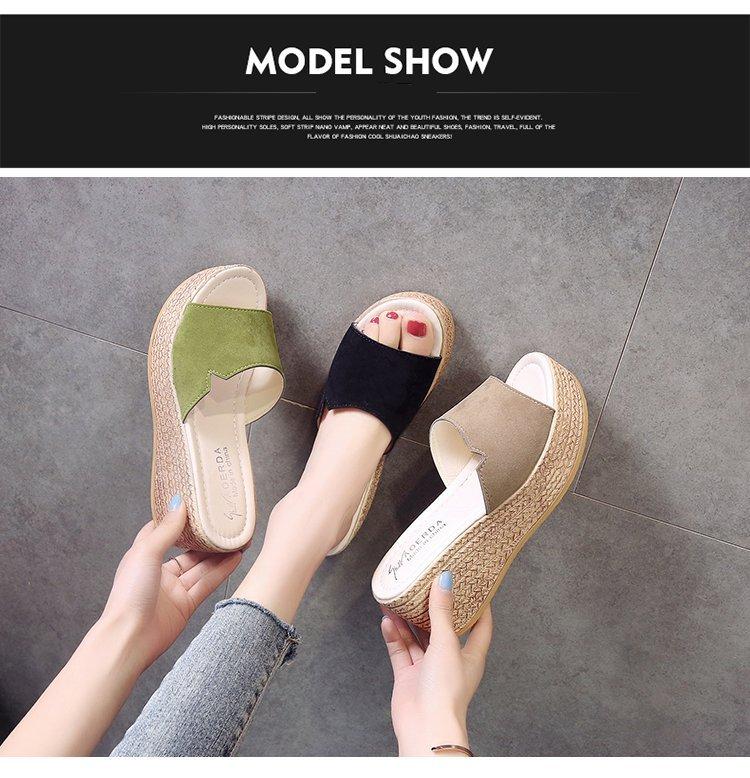 Step up your fashion game with Platform Wedge Sandals for Women. These sandals offer you the best of both worlds: a stylish lift and exceptional comfort. Whether you're dressing up for a special occasion or adding a chic touch to your everyday outfit, these sandals are the perfect choice.
The Appeal of Platform Wedge Sandals for Women
Platform wedge sandals have a unique charm. They add height without the discomfort of traditional heels. The combination of the elevated sole and the wedge heel offers a balanced look that's both fashionable and comfortable.
Your Comfortable Companion
Comfortable Platform Wedge Sandals are your go-to footwear for achieving a trendy look without sacrificing comfort. The raised sole provides a gentle lift, making your legs look longer and your overall posture more confident. The wedge heel distributes your weight evenly, reducing pressure on your feet.
A Stylish Lift
What sets these sandals apart is the added height and style they bring. The platform sole and wedge heel create a bold silhouette that's sure to turn heads. Whether you're attending a party, or a wedding, or simply want to feel more glamorous, these sandals have got you covered.
Comfort Without Compromise
While style is important, comfort is equally crucial. Platform Wedge Sandals for women prioritize your well-being with their supportive design. The combination of the platform and wedge offers stability, making them an excellent choice for those who prefer a more comfortable heel option.
Selecting Your Perfect Pair
When choosing Platform Wedge Sandals for Women:
Heel Height: Decide on the heel height that suits your comfort and style preferences. From moderate lifts to higher platforms, there's a range to choose from.
Strap Options: Explore different strap styles, from ankle straps to criss-cross designs. Choose what resonates with your personal style.
Color Palette: Opt for neutral shades for versatile pairing or go for vibrant colors to make a statement.
Conclusion: Style and Comfort Combined
Platform Wedge Sandals for Women redefine footwear fashion by offering you style and comfort in one package. Whether you're headed to a special event, a night out, or a social gathering, these sandals provide the perfect blend of elevated style and cozy wear.
So why wait? Elevate your look with our collection of Comfortable Platform Wedge Sandals for Women. Experience the joy of confident steps as you embrace both height and comfort, making a lasting impression wherever you go.