Enjoy Cool Poolside Comfort with Pool Sail Shades in Melbourne
Elevate Your Pool Experience with Gflashy Shade Sail Solutions
Melbourne, Australia, is known for its love of outdoor living, and what better place to enjoy the outdoors than by the pool? However, prolonged sun exposure can turn a relaxing pool day into an uncomfortable experience. Pool sail shades offer the perfect solution, allowing you to enjoy your pool while staying cool and protected from the harsh Australian sun. At Gflashy, we understand the importance of poolside comfort and safety, and we're here to help you create a shaded oasis by your pool. In this article, we'll dive into the world of pool sail shades and introduce you to our top-notch products and services designed to enhance your poolside experience.

The Benefits of Pool Sail Shades
Pool sail shades are more than just sun protection; they are an essential addition to your pool area:
1. Efficient Sun Protection
Enjoy your pool without worrying about harmful UV rays. Pool sail shades effectively block the sun, providing a shaded and safe environment for you and your family.
2. Enhanced Aesthetics
These shades come in various designs and colors, allowing you to choose a style that complements your pool area's aesthetics.
3. Comfortable Poolside Retreat
Create a cool and comfortable space by the pool where you can relax, entertain, or watch the kids swim, all while staying protected from the sun's intensity.
4. Durable and Weather-Resistant
Our pool sail shades are designed to withstand Melbourne's ever-changing weather, ensuring they remain a valuable addition to your pool area.
Gflashy: Your Trusted Pool Sail Shade Partner in Melbourne
Service Description
Our pool sail shade services include:
Pool Sail Shades for Sale: We offer a wide range of high-quality pool sail shades, ensuring you find the perfect fit for your pool area.
Shade Sail Installation: Our experienced team ensures that your pool sail shades are installed securely, allowing you to enjoy your pool without any worries.
Shade Sail Repairs: If your pool sail shades require repairs or maintenance, our technicians can efficiently address any issues, ensuring they continue to enhance your poolside experience.
Shade Sail Cleaning: We provide professional cleaning services to keep your pool sail shades looking their best.
Service Area: Melbourne, Australia
We proudly serve Melbourne and its surrounding areas, ensuring that residents across the city can enjoy the benefits of our pool sail shade solutions.
Contact Gflashy for a Custom Quote
Ready to elevate your poolside experience with pool sail shades from Gflashy? Contact us today for a custom quote. Our team is dedicated to helping you find the perfect shading solutions that align with your pool area's style, needs, and budget.
Call us at +614 478 555 038 or email us at support@gflashy.com for personalized assistance and to schedule a consultation.
Create a shaded poolside oasis, enhance your outdoor living, and enjoy the beauty of your pool area with pool sail shades from Gflashy. Contact us now, and let's make your pool days even more refreshing and enjoyable.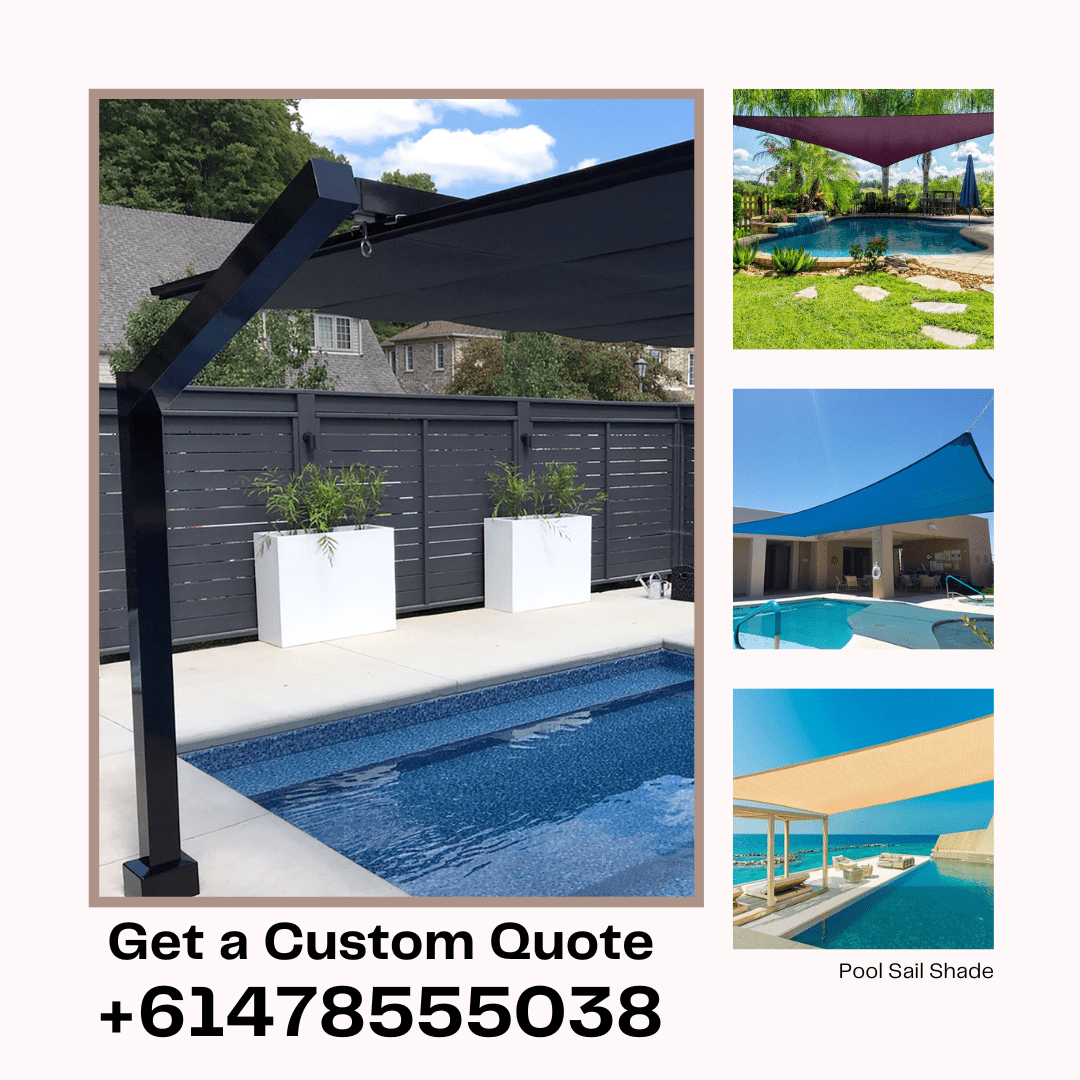 More Services