Enhance Your Poolside Experience with Pool Shade Covers and Shade Sails in Melbourne
Stay Cool, Stay Safe, and Dive into Summer with Gflashy Premium Pool Shade Solutions
Melbourne, Australia, is famous for its stunning summers, and what better way to enjoy the sunny season than with a refreshing dip in your pool? However, prolonged sun exposure can be harsh. That's where pool shade covers and shade sails come to the rescue. At Gflashy, we understand the importance of combining fun in the sun with adequate protection. In this article, we will dive into the world of pool shade solutions and introduce you to our top-notch products and services designed to make your poolside experience safe, comfortable, and stylish.

The Necessity of Pool Shade
Pool shade covers and shade sails aren't just accessories; they are essential components of a safe and enjoyable pool area. Here's why they are a must-have:
1. Sun Protection
The Australian sun can be relentless, and overexposure to UV rays can have detrimental effects on your skin. Pool shade covers and shade sails provide vital sun protection, allowing you to enjoy your pool while minimizing the risks associated with excessive sun exposure.
2. Temperature Control
Melbourne's weather can fluctuate, but during the peak of summer, it's essential to have a cool, shaded area by your pool. Shade solutions help maintain a comfortable temperature, ensuring that your poolside experience is enjoyable, even on scorching days.
3. Enhanced Aesthetics
Outdoor spaces should be as visually pleasing as they are practical. Well-designed pool shade covers and shade sails not only offer functionality but also add a touch of elegance to your pool area. They can complement your home's architecture and enhance the overall aesthetics of your outdoor space.
4. Safety and Privacy
Pool shade solutions not only protect you from the sun but also provide an element of safety and privacy. They act as a physical barrier, helping to keep your pool area secure and away from prying eyes.
Gflashy: Your Trusted Pool Shade Partner in Melbourne
Product Description
Our range of pool shade solutions includes:
Pool Shade Covers: These covers are specifically designed to protect your pool from leaves, debris, and UV rays. They are available in various materials and designs, ensuring a perfect fit for your pool.
Shade Sails: Shade sails are a versatile and stylish way to provide shade to your pool area. They come in various shapes, sizes, and colors, allowing you to create a customized look for your pool.
Service Area: Melbourne, Australia
We proudly serve Melbourne and its surrounding areas, ensuring that residents across the city can enjoy the benefits of our pool shade solutions. Our experienced team is ready to assist you with installations, repairs, and cleaning.
Contact Gflashy for a Custom Quote
Ready to enhance your poolside experience with our premium pool shade covers and shade sails? Contact us today for a custom quote. Our team is dedicated to helping you find the perfect shading solutions that align with your style, needs, and budget.
Call us at +614 478 555 038 or email us at support@gflashy.com for personalized assistance and to schedule a consultation.
Make your poolside experience safe, comfortable, and stylish with pool shade solutions from Gflashy. Contact us now, and let's make your pool area the ultimate summer retreat.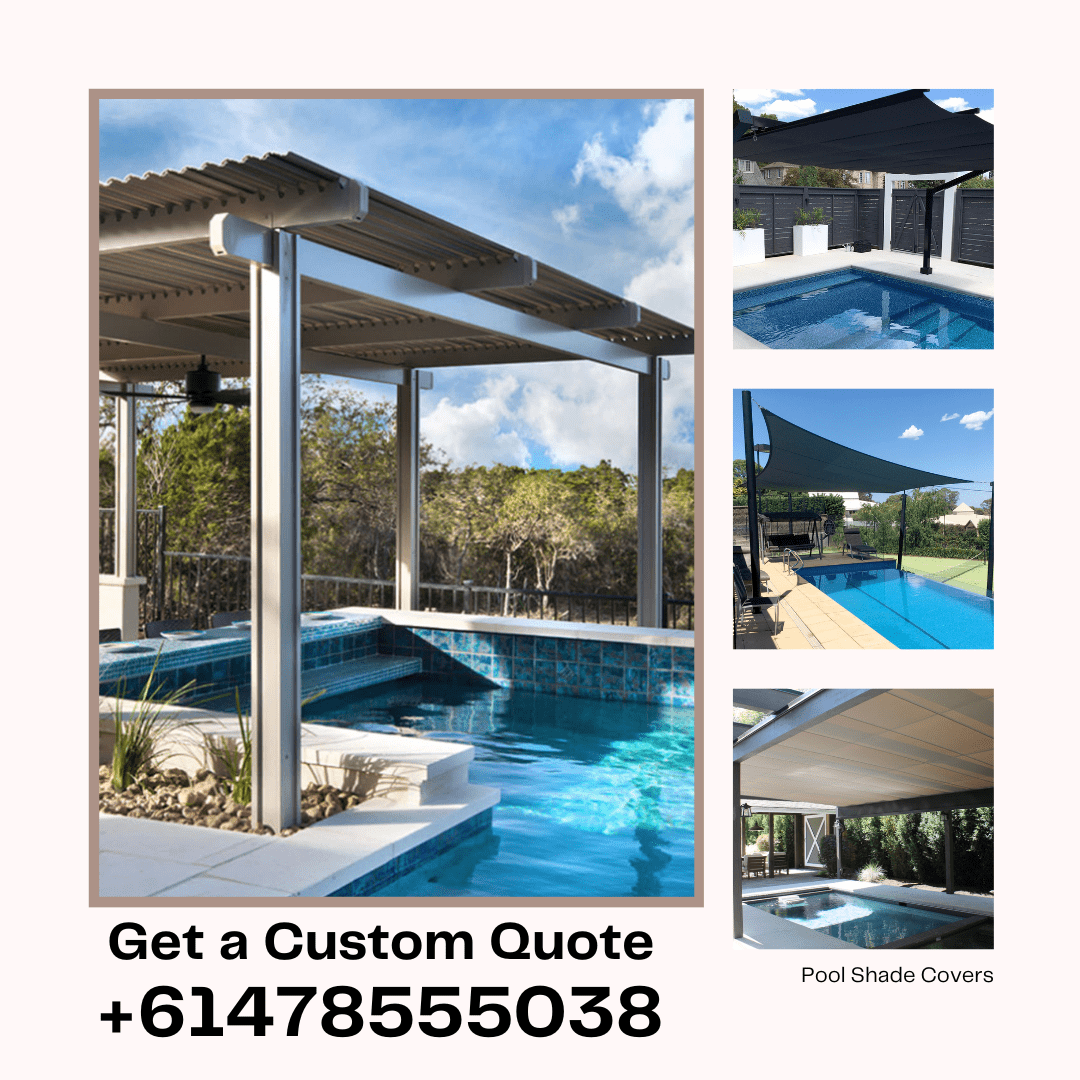 More Services