Rainbow Engagement Rings | Rainbow Wedding Rings
Rainbow Engagement Rings: A Kaleidoscope of Love and Beauty
Introduction:
In the world of engagement rings, where diamonds have traditionally taken center stage, a new and vibrant trend has emerged – Rainbow Engagement Rings. These stunning and unique pieces of jewelry have captured the hearts of modern couples, celebrating love in a kaleidoscope of colors. In this article, we will delve into the captivating allure of Rainbow Engagement Rings, exploring their history, symbolism, craftsmanship, and the reasons why they have become a sought-after choice for contemporary couples.
A Brief History of Rainbow Engagement Rings
Rainbow Engagement Rings may seem like a recent phenomenon, but the concept of colored gemstones in engagement rings has deep historical roots. In ancient civilizations, like Egypt and Rome, colored gemstones were cherished for their rarity and meaning. The use of colored stones in engagement rings gained popularity during the Georgian and Victorian eras, with sapphires, rubies, and emeralds adorning the hands of nobility.
Fast forward to the modern era, and the resurgence of Rainbow Engagement Rings can be attributed to the desire for individuality and self-expression. As societal norms evolve, couples seek to break away from conventional norms, embracing the vibrant spectrum of gemstones that reflects the diversity and uniqueness of their love.
Symbolism and Meaning
Each color in a Rainbow Engagement Ring carries its own symbolism and meaning, adding depth and significance to the commitment of marriage.
Red: Representing passion and love, red gemstones like rubies are often associated with desire and intensity, signifying the eternal flame of devotion.
Orange: The color of enthusiasm and creativity, orange gemstones, such as orange sapphires, evoke feelings of energy and warmth, symbolizing a lively and adventurous love.
Yellow: Yellow gemstones like citrine or yellow diamonds embody joy, happiness, and optimism, signifying a bright and sunny future together.
Green: Emeralds or green tourmalines, symbolizing growth and harmony, represent a love that flourishes and endures over time.
Blue: Often associated with loyalty and tranquility, blue gemstones like sapphires epitomize a steadfast and calm devotion.
Indigo: Representing intuition and spiritual awareness, indigo gemstones, like tanzanite, convey a deeper connection and understanding between partners.
Violet: Gemstones in violet hues, such as amethyst, symbolize royalty and spirituality, celebrating a love that transcends the ordinary.
Craftsmanship and Design
Rainbow Engagement Rings showcase the creativity and skill of master jewelers who combine various colored gemstones to create breathtaking pieces of art. One popular design is the "Rainbow Eternity Band," where an unbroken circle of multicolored gems symbolizes everlasting love. Another sought-after design is the "Rainbow Halo," featuring a central colored gemstone surrounded by a halo of smaller, complementary stones.
The setting of these rings also plays a crucial role in enhancing the brilliance and beauty of the gemstones. Jewelers use prong settings, bezel settings, or pave settings to secure the stones while allowing maximum light to pass through, creating a mesmerizing sparkle.
Personalization and Expression
One of the primary reasons for the surge in popularity of Rainbow Engagement Rings is the ability to personalize the design to match the unique tastes and personalities of the couple. Unlike traditional diamond rings that follow a standardized approach, Rainbow Engagement Rings offer endless possibilities for customization.
Couples can choose a specific color palette to reflect their shared experiences or opt for birthstones representing each partner's birth month. Some may prefer a gradual transition of colors, while others may opt for a bold and striking contrast. With Rainbow Engagement Rings, the couple's love story is encapsulated in a wearable work of art.
Breaking Traditions and Embracing Change
In the past, diamond engagement rings were considered the norm, and any deviation from this standard was met with skepticism. However, as society evolves, so do our perceptions of love and relationships. Rainbow Engagement Rings symbolize a departure from the traditional, embracing change and celebrating love in all its diversity.
These rings resonate with couples who prioritize meaningfulness over conventionality, offering an opportunity to express their love in a way that is authentic and true to their values. Moreover, the rise of LGBTQ+ relationships has also contributed to the increasing demand for Rainbow Engagement Rings as a visible symbol of inclusivity and acceptance.
Conclusion: A Kaleidoscope of Love and Beauty
In the ever-changing landscape of engagement rings, Rainbow Engagement Rings stand as a testament to love's kaleidoscope of colors and emotions. From their historical significance to their symbolism and versatility, these vibrant rings have captured the hearts of couples seeking something truly extraordinary.
As the world embraces diversity and individuality, Rainbow Engagement Rings shine as a brilliant reminder that love knows no bounds. With their unique blend of colors, these rings symbolize the spectrum of human emotions and the journey of love that each couple embarks upon.
In the end, Rainbow Engagement Rings celebrate the beauty of love in all its forms, igniting a spark of color and joy that will forever illuminate the hearts of those who wear them.
Get Rainbow Engagement Rings
Material

316L Stainless steel ( free Nickel and lead )
color
Rainbow
size
US size 5 6 7 8 9 10 11 12 13
Wide
6.0mm wide

High quality 316L Stainless Steel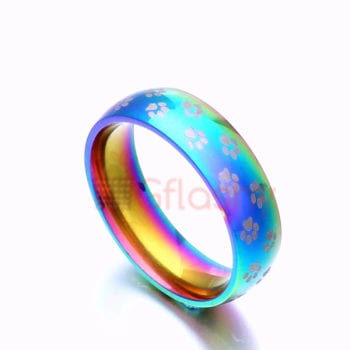 Buy More Products