Experience Unmatched Flexibility with Retractable Shade Sails in Melbourne
Discover the Perfect Balance of Versatility and Affordability with Gflashy Retractable Shade Sails
Melbourne, Australia, is known for its unpredictable weather, making versatile shade solutions a must for outdoor enthusiasts. Retractable shade sails offer the best of both worlds – sun protection when you need it and the freedom to enjoy the open sky when you don't. At Gflashy, we believe that your outdoor experience should be as adaptable as Melbourne's weather. In this article, we'll explore the world of retractable shade sails and introduce you to our top-tier products and services designed to provide you with unparalleled comfort and convenience.

The Benefits of Retractable Shade Sails
Retractable shade sails offer a range of advantages that make them a popular choice for outdoor spaces:
1. On-Demand Shade
Retractable shade sails can be opened or closed as needed, giving you control over your outdoor environment. Enjoy shade during the scorching sun or bask in the warmth of the sun when it's cooler.
2. Weather Adaptability
Melbourne's weather can change rapidly, but with retractable shade sails, you're always prepared. Close them during rain or harsh weather, and open them up to enjoy clear skies.
3. Enhanced Aesthetics
These shade sails are available in various designs and colors, allowing you to choose one that complements your outdoor space's aesthetics.
4. Affordability
Retractable shade sails offer flexibility without breaking the bank. They provide a cost-effective way to transform your outdoor area.
Gflashy: Your Trusted Retractable Shade Sail Partner in Melbourne
Service Description
Our retractable shade sail services include:
Retractable Shade Sails for Sale: We offer a range of high-quality retractable shade sails at competitive prices, ensuring that you get the best value for your investment.
Shade Sail Installation: Our experienced team ensures that your retractable shade sail is installed correctly, enabling smooth and effortless operation.
Shade Sail Repairs: If your retractable shade sail requires repairs or maintenance, our technicians can efficiently address any issues, ensuring it operates optimally.
Shade Sail Cleaning: We provide professional cleaning services to keep your retractable shade sail looking its best.
Service Area: Melbourne, Australia
We proudly serve Melbourne and its surrounding areas, ensuring that residents across the city can enjoy the benefits of our retractable shade sails.
Contact Gflashy for a Custom Quote
Ready to experience the ultimate flexibility and comfort with a retractable shade sail from Gflashy? Contact us today for a custom quote. Our team is dedicated to helping you find the perfect shading solutions that align with your style, needs, and budget.
Call us at +614 478 555 038 or email us at support@gflashy.com for personalized assistance and to schedule a consultation.
Enjoy adaptable outdoor living, create comfortable retreats, and enhance the beauty of your outdoor spaces with retractable shade sails from Gflashy. Contact us now, and let's make your outdoor vision a reality, rain or shine.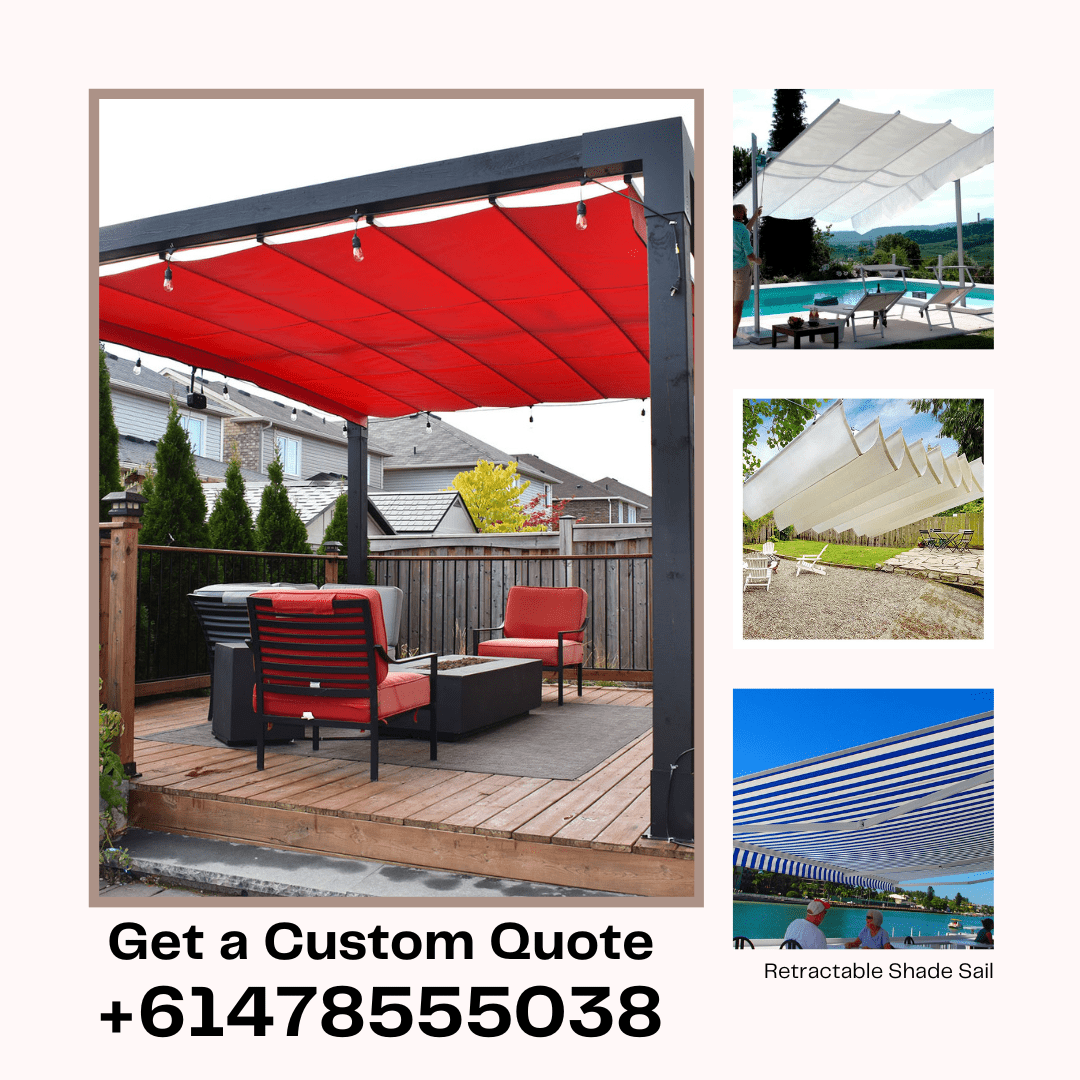 More Services