Elevate Your Outdoor Aesthetic with Right Angle Triangle Shade Sails in Melbourne
Discover Stylish Sun Protection and Durability with Gflashy Waterproof Right Angle Triangle Shade Sails
Melbourne, Australia, is synonymous with outdoor living, and what better way to enhance your outdoor space than with right angle triangle shade sails? These versatile and stylish shade solutions not only offer excellent sun protection but also add a touch of elegance to your outdoor areas. At Gflashy, we believe in combining form and function. In this article, we'll explore the world of right angle triangle shade sails and introduce you to our waterproof options, perfect for Melbourne's changeable weather.

The Beauty of Right Angle Triangle Shade Sails
Right angle triangle shade sails are the epitome of form meeting function. Here's why they have become a popular choice:
1. Unique Geometry
The right angle triangle design adds a unique and dynamic visual element to your outdoor space. It's an eye-catching addition that enhances your outdoor aesthetics.
2. Effective Sun Protection
These sails offer an efficient way to block the sun's harsh rays, providing a shaded retreat where you can relax, dine, or entertain without worrying about harmful UV exposure.
3. Versatile Configuration
Right angle triangle shade sails can be installed in various configurations to fit your outdoor space's dimensions and requirements. This flexibility makes them suitable for a wide range of applications.
4. Heavy-Duty and Waterproof
Our heavy-duty right angle triangle shade sails are designed to endure Melbourne's ever-changing weather. They are not only sun-resistant but also waterproof, ensuring you stay dry during sudden rain showers.
Gflashy: Your Trusted Right Angle Triangle Shade Sail Partner in Melbourne
Service Description
Our right angle triangle shade sail service includes:
On-Site Consultation: Our experts visit your location to assess your outdoor space and discuss your shading needs.
Custom Design: Based on the consultation, we work with you to design a right angle triangle shade sail solution that perfectly matches your requirements.
High-Quality Materials: We use top-quality heavy-duty and waterproof materials that are durable and weatherproof, guaranteeing that your shade sail effectively shields you from both sun and rain.
Expert Installation: Our team of skilled installers ensures that your custom right angle triangle shade sail is precisely and securely installed, adhering to industry standards.
Repairs and Cleaning: In addition to installation, we offer repair and cleaning services to maintain the longevity and aesthetics of your shade sail.
Service Area: Melbourne, Australia
We proudly serve Melbourne and its surrounding areas, ensuring that residents across the city can enjoy the benefits of our heavy-duty right angle triangle shade sails.
Contact Gflashy for a Custom Quote
Ready to transform your outdoor space into a stylish and comfortable retreat with a custom right angle triangle shade sail? Contact us today for a custom quote. Our team is dedicated to helping you find the perfect shading solutions that align with your style, needs, and budget.
Call us at +614 478 555 038 or email us at support@gflashy.com for personalized assistance and to schedule a consultation.
Elevate your outdoor living experience, create a stylish retreat, and enhance the beauty of your outdoor spaces with right angle triangle shade sails from Gflashy. Contact us now, and let's turn your outdoor vision into a captivating reality.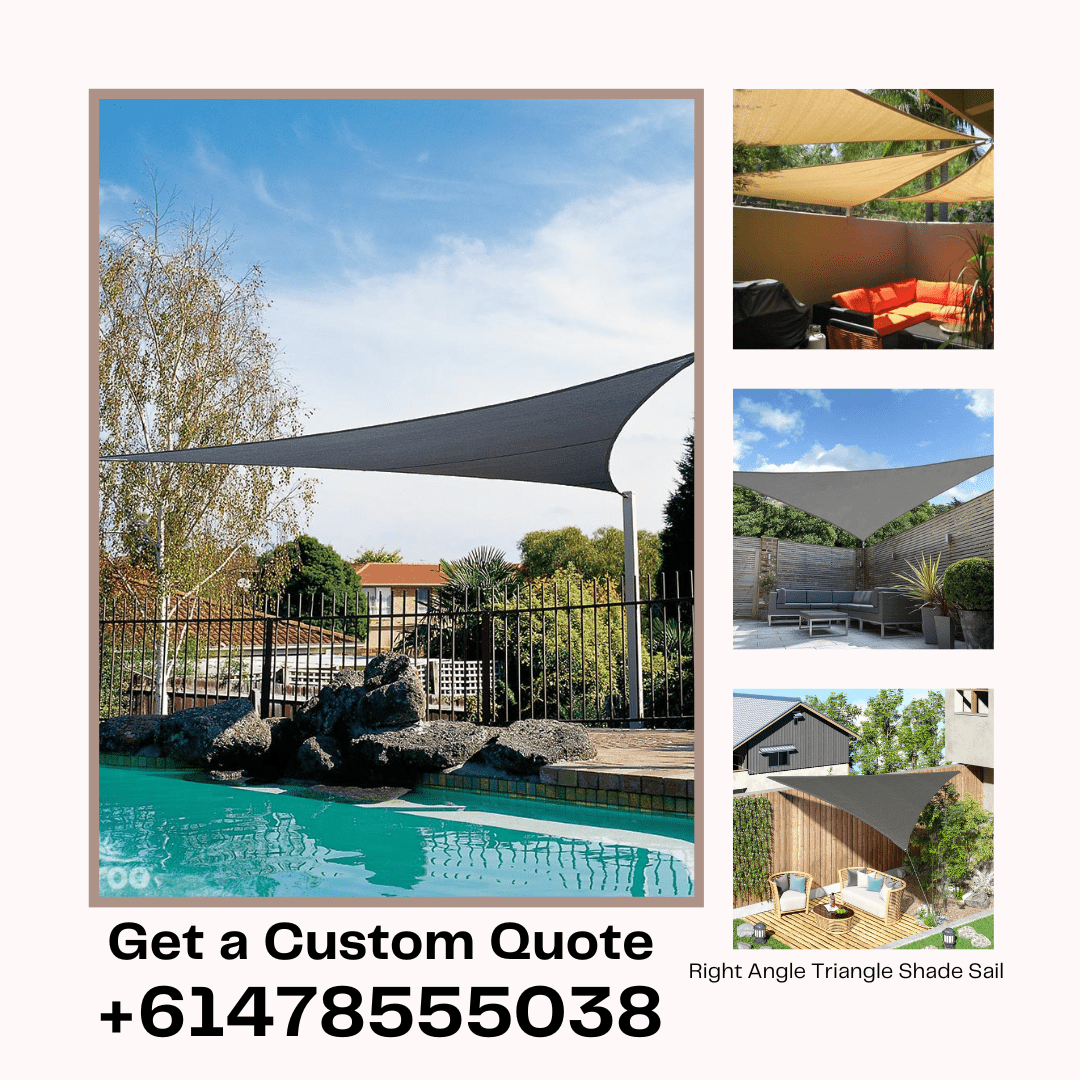 More Services