Experience Ultimate Shade Comfort with Shade Awnings from Gflashy
Transform Your Space with Online Shade Sails and Expert Services
Melbourne, Australia, is renowned for its sunny days and outdoor activities, making it essential to have reliable shade solutions. Shade awnings offer an elegant and practical solution for staying cool and protected from the sun's harsh rays. At Gflashy, we understand the importance of outdoor comfort, and we're here to provide you with top-quality online shade sails and expert services that include installation, repairs, and cleaning. In this article, we'll explore the world of shade awnings and introduce you to our premium products and services, tailored to enhance your outdoor experience.

The Benefits of Shade Awnings
Shade awnings offer a multitude of benefits that make them a preferred choice for sun protection:
1. Effortless Sun Protection
Shade awnings provide instant shade and relief from the sun, allowing you to enjoy your outdoor space without discomfort.
2. Versatile Design Options
These awnings come in various styles, colors, and materials, allowing you to choose the perfect shade solution that complements your outdoor aesthetics.
3. Customizable for Any Space
Whether you have a small patio or a sprawling garden, shade awnings can be tailored to fit any outdoor area, creating comfortable and shaded spots.
4. Durable and Low Maintenance
Designed to withstand Australia's challenging weather conditions, shade awnings are durable and require minimal upkeep, providing long-lasting sun protection.
Gflashy: Your Trusted Shade Awnings Partner in Melbourne
Service Description
Our shade awning services include:
Online Shade Sail Sales: We offer a wide range of high-quality online shade sails that you can conveniently browse and purchase from the comfort of your home.
Shade Awning Installation: Our expert installation team ensures that your shade awning is securely and professionally installed, allowing you to relax in the shade with peace of mind.
Shade Awning Repairs: If your shade awning requires repairs or maintenance, our skilled technicians can efficiently address any issues, ensuring your outdoor comfort.
Shade Awning Cleaning: We provide professional cleaning services to keep your shade awning looking its best, preserving its beauty and functionality.
Service Area: Melbourne, Australia
We proudly serve Melbourne and its surrounding areas, ensuring that residents across the city can benefit from our shade awning solutions.
Contact Gflashy for a Custom Quote
Ready to experience ultimate shade comfort with shade awnings from Gflashy? Contact us today for a custom quote. Our team is dedicated to helping you find the perfect shading solutions that align with your outdoor space's style, needs, and budget.
Call us at +614 478 555 038 or email us at support@gflashy.com for personalized assistance and to schedule a consultation.
Create a shaded outdoor retreat, enhance your outdoor living, and enjoy the beauty of your outdoor spaces with shade awnings from Gflashy. Contact us now, and let's make your outdoor vision a reality, one awning at a time.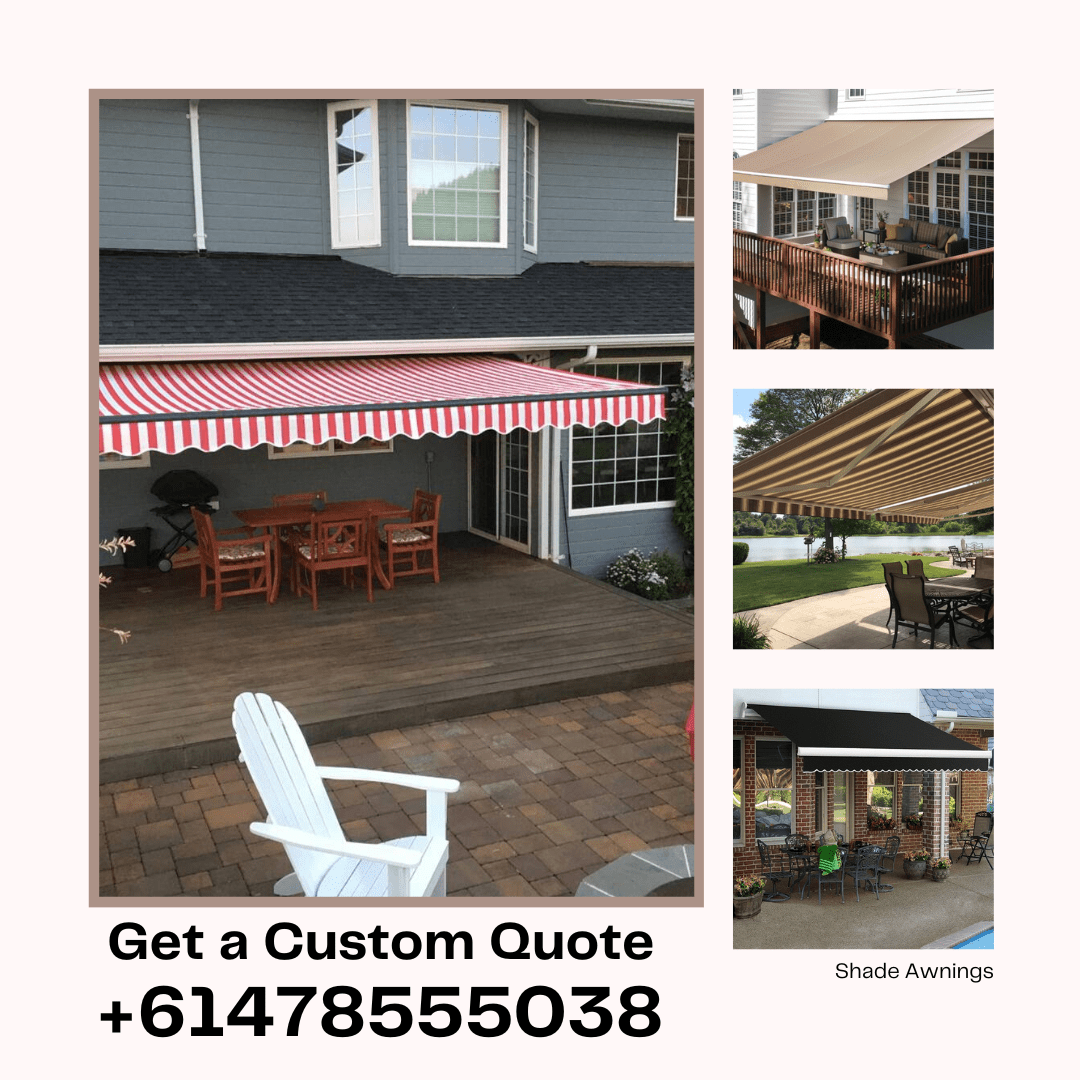 More Services