Transform Your Carport with Stylish Shade Sail Carports from The Shade Sail Shop
Experience the Perfect Fusion of Functionality and Aesthetics with Gflashy's Shade Sail Carport Solutions
Melbourne, Australia, is known for its love of the outdoors, and that extends to our vehicles as well. However, leaving your car exposed to the harsh Australian sun can lead to a host of problems, from faded paint to unbearably hot interiors. That's where shade sail carports come to the rescue. These innovative structures not only protect your vehicle from the elements but also add a touch of elegance to your property. At Gflashy, we understand that your car is an investment worth protecting. In this article, we'll explore the world of shade sail carports and introduce you to our top-notch products and services designed to enhance your outdoor and automotive experience.

The Advantages of Shade Sail Carports
Shade sail carports offer a unique blend of style and functionality. Here's why they are becoming increasingly popular:
1. Ultimate Sun Protection
Australian sun can be relentless, and prolonged exposure can damage your vehicle's paint and interior. Shade sail carports provide efficient sun protection, keeping your car cool and safeguarded.
2. Aesthetic Appeal
Beyond their practicality, shade sail carports are a stylish addition to your property. They can be customized to match your home's aesthetics, enhancing its overall appeal.
3. Versatile Design
Shade sail carports come in various shapes and sizes, allowing you to choose the perfect design that suits your property and parking space.
4. Durable and Low Maintenance
Our shade sail carports are made from high-quality materials that are not only durable but also easy to maintain, ensuring they remain an asset to your property for years to come.
The Shade Sail Shop: Your Trusted Shade Sail Carport Partner in Melbourne
Service Description
Our shade sail carport service includes:
On-Site Consultation: Our experts visit your location to assess your carport area and discuss your shading needs.
Custom Design: Based on the consultation, we work with you to design a shade sail carport solution that perfectly matches your requirements and complements your property.
High-Quality Materials: We use top-quality materials that are weather-resistant, ensuring your shade sail carport can withstand Melbourne's climate.
Expert Installation: Our team of skilled installers ensures that your custom shade sail carport is precisely and securely installed, adhering to industry standards.
Repairs and Cleaning: In addition to installation, we offer repair and cleaning services to maintain the longevity and aesthetics of your shade sail carport.
Service Area: Melbourne, Australia
We proudly serve Melbourne and its surrounding areas, ensuring that residents across the city can enjoy the benefits of our shade sail carport solutions.
Contact Gflashy for a Custom Quote
Ready to protect your vehicle in style with a shade sail carport from The Shade Sail Shop? Contact us today for a custom quote. Our team is dedicated to helping you find the perfect shading solutions that align with your style, needs, and budget.
Call us at +614 478 555 038 or email us at support@gflashy.com for personalized assistance and to schedule a consultation.
Enhance your outdoor and automotive experience, create stylish carport solutions, and safeguard your investments with shade sail carports from The Shade Sail Shop. Contact us now, and let's make your outdoor vision a reality.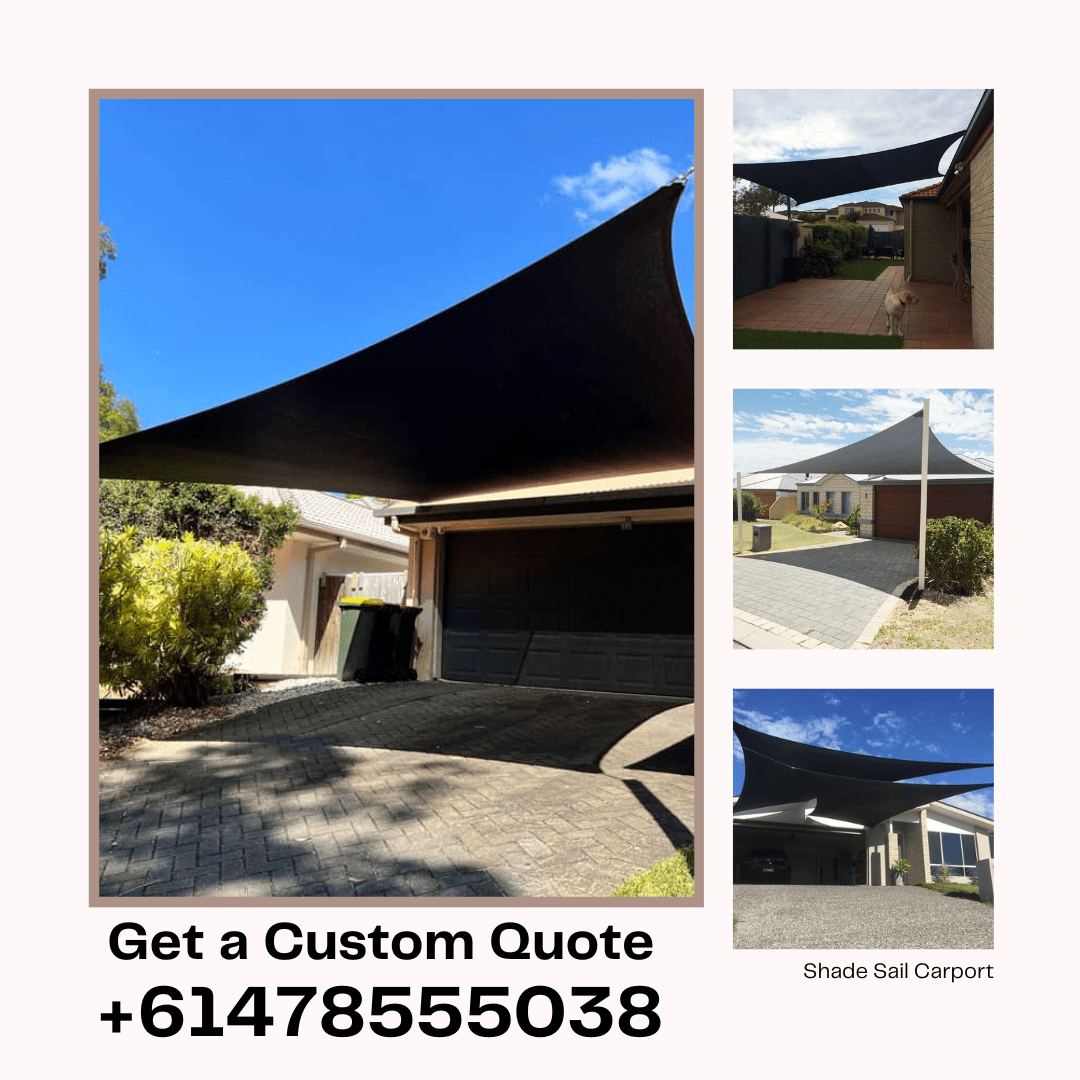 More Services