Revive and Maintain Your Shade Sail's Beauty with Gflashy's Expert Shade Sail Repairs and Cleaning Services
Protect Your Investment and Enjoy Long-Lasting Shade with Gflashy's Shade Sail Repairs and Cleaning Solutions
Melbourne, Australia, is blessed with a vibrant outdoor culture, and a well-maintained shade sail is essential for outdoor comfort. However, exposure to the elements can take a toll on your shade sail, affecting both its appearance and functionality. That's where Gflashy shade sail repairs and cleaning services come into play. We understand the value of protecting your outdoor investments. In this article, we'll explore the importance of shade sail maintenance and introduce you to our comprehensive repair and cleaning services designed to keep your shade sail looking and performing its best.

The Importance of Shade Sail Maintenance
Shade sails provide vital protection from the sun and add aesthetic appeal to your outdoor spaces. Regular maintenance is crucial to ensure they remain in excellent condition:
1. Prolonged Lifespan
Regular cleaning and maintenance can significantly extend the lifespan of your shade sail, protecting your investment for years to come.
2. Efficient Sun Protection
A clean shade sail is more effective at blocking harmful UV rays, ensuring that your outdoor area remains a safe and comfortable space.
3. Enhanced Aesthetics
Cleaning and repairing your shade sail help retain its visual appeal, adding to the overall beauty of your outdoor area.
4. Preventative Repairs
Routine maintenance allows us to identify and address issues early, preventing costly damage and ensuring your shade sail functions optimally.
Gflashy: Your Trusted Shade Sail Maintenance Partner in Melbourne
Service Description
Our shade sail maintenance services include:
Shade Sail Repairs: Our expert technicians can assess and repair various issues such as tears, loose fittings, or damaged hardware, restoring your shade sail to its full functionality.
Shade Sail Cleaning: We use specialized cleaning methods to remove dirt, mold, and stains, rejuvenating the appearance of your shade sail while preserving its structural integrity.
Service Area: Melbourne, Australia
We proudly serve Melbourne and its surrounding areas, ensuring that residents across the city can enjoy the benefits of our shade sail maintenance services.
Contact Gflashy for a Custom Quote
Ready to protect your outdoor investments and enjoy the full benefits of your shade sail? Contact us today for a custom quote. Our team is dedicated to helping you maintain your shade sail for years of outdoor enjoyment.
Call us at +614 478 555 038 or email us at support@gflashy.com for personalized assistance and to schedule a consultation.
Ensure your shade sail remains beautiful and functional with shade sail repairs and cleaning services from Gflashy. Contact us now, and let's keep your outdoor space shaded and inviting.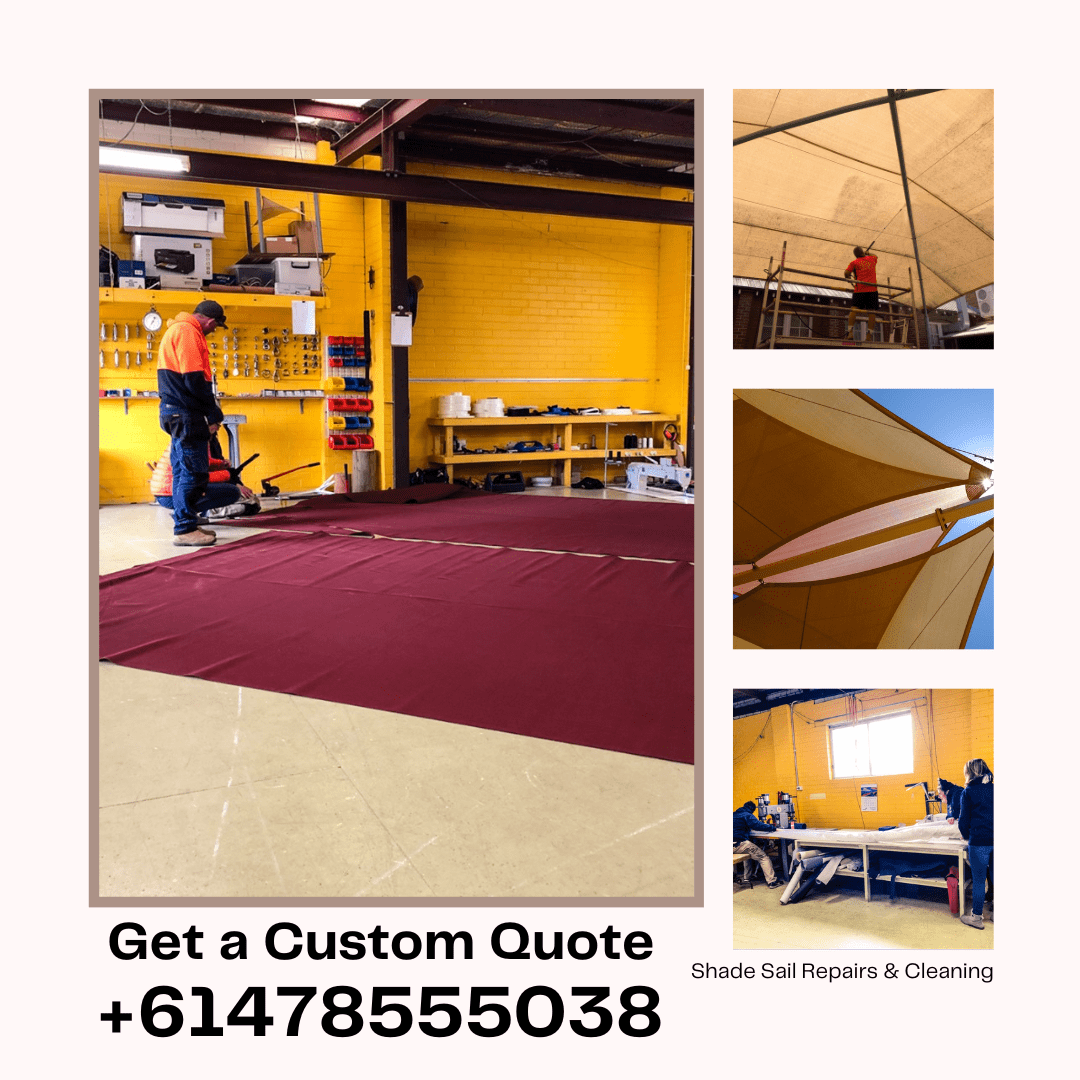 More Services