Elevate Your Outdoor Lifestyle with Stunning Shade Sails Melbourne
Discover the Perfect Blend of Style and Sun Protection with Gflashy Shade Sails for Sale
Melbourne, Australia, is famous for its outdoor living, and a beautiful shade sail can transform your outdoor space into a comfortable oasis. Whether you're lounging by the pool, hosting a barbecue, or simply enjoying a quiet afternoon, shade sails offer the perfect balance of style and sun protection. At Gflashy, we believe that your outdoor area should be an extension of your home, and we're here to help you create a shaded retreat that enhances your outdoor lifestyle. In this article, we'll explore the world of shade sails in Melbourne and introduce you to our top-tier products and services designed to elevate your outdoor experience.

The Magic of Shade Sails
Shade sails are not just practical; they are an architectural statement. Here's why they have become an integral part of outdoor living:
1. Stylish Design
Shade sails are available in various shapes, sizes, and colors, allowing you to choose a design that complements your outdoor aesthetics.
2. Effective Sun Protection
In the scorching Australian sun, shade sails offer reliable protection from harmful UV rays, ensuring that your outdoor space remains a safe and comfortable haven.
3. Versatile Applications
From residential patios to commercial courtyards, shade sails can be installed in a wide range of settings, making them suitable for various applications.
4. Enhanced Comfort
They create a cool and shaded environment where you can relax, entertain, or dine with family and friends, even on the hottest days.
Gflashy: Your Trusted Shade Sail Partner in Melbourne
Service Description
Our shade sail services include:
Shade Sails for Sale: We offer a wide range of high-quality shade sails for sale, including various designs, sizes, and colors to suit your preferences and outdoor space.
Shade Sail Installation: Our team of skilled installers ensures that your shade sail is precisely and securely installed, taking into account your outdoor area's unique characteristics.
Shade Sail Repairs: If your shade sail requires repairs, our expert technicians can assess and fix any issues, ensuring it continues to provide effective sun protection.
Shade Sail Cleaning: We offer professional cleaning services to maintain the cleanliness and aesthetics of your shade sail.
Service Area: Melbourne, Australia
We proudly serve Melbourne and its surrounding areas, ensuring that residents across the city can enjoy the benefits of our shade sails.
Contact Gflashy for a Custom Quote
Ready to enhance your outdoor lifestyle with a stunning shade sail from Gflashy? Contact us today for a custom quote. Our team is dedicated to helping you find the perfect shading solutions that align with your style, needs, and budget.
Call us at +614 478 555 038 or email us at support@gflashy.com for personalized assistance and to schedule a consultation.
Elevate your outdoor living experience, create comfortable retreats, and enhance the beauty of your outdoor spaces with shade sails from Gflashy. Contact us now, and let's turn your outdoor vision into a reality.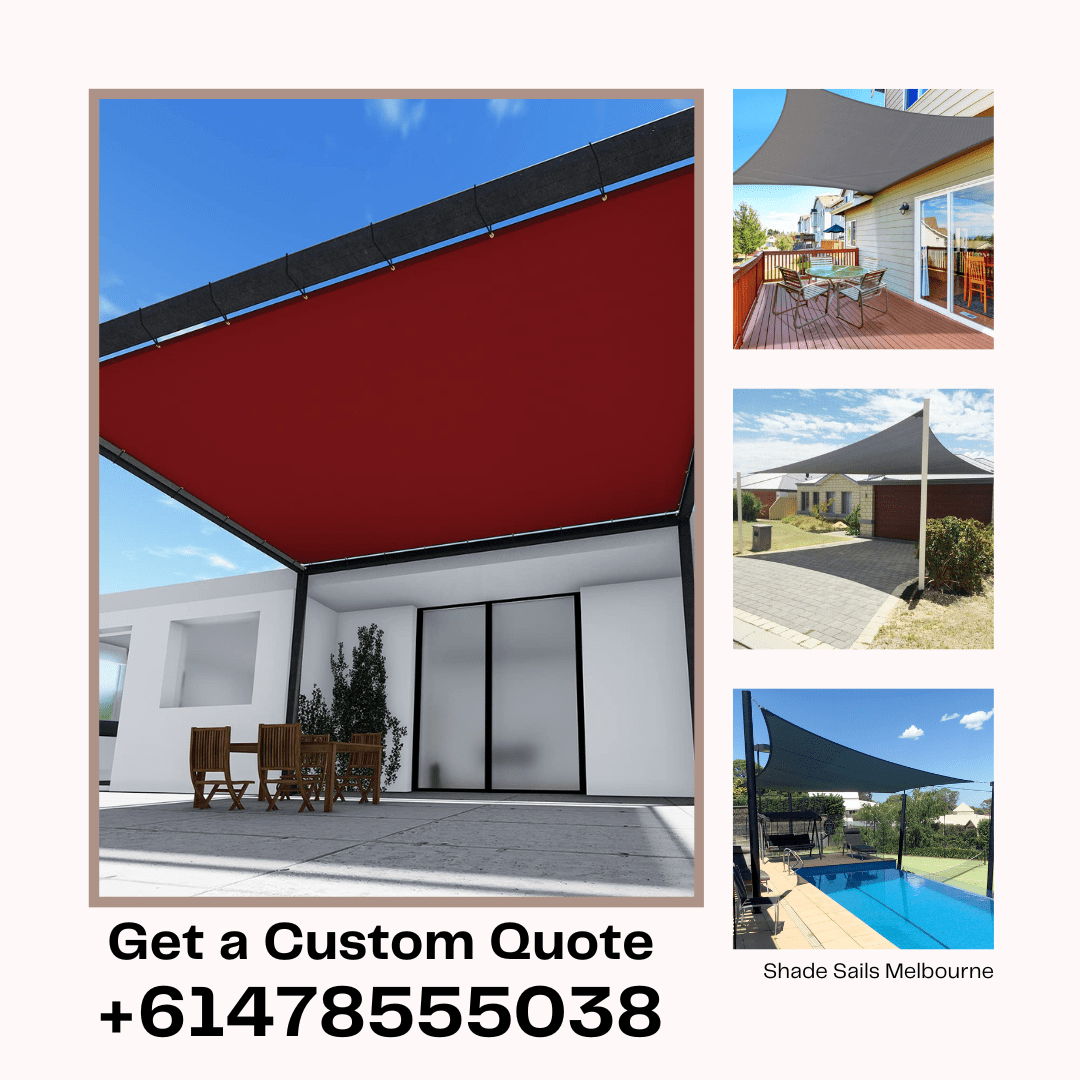 More Services