Unleash Year-Round Outdoor Enjoyment with Waterproof Shade Sails in Melbourne
Experience Versatile Comfort and Elegance with Gflashy's Custom Waterproof Shade Sails
Melbourne, Australia, is known for its unpredictable weather patterns. While outdoor living is a cherished part of life here, the occasional rain shower can quickly disrupt your plans. That's where the magic of waterproof shade sails comes in. These innovative shade solutions not only provide shelter from the scorching sun but also shield you from unexpected rain, allowing you to enjoy your outdoor spaces throughout the year. At Gflashy, we're committed to enhancing your outdoor living experience, rain or shine. In this article, we'll explore the world of waterproof shade sails and introduce you to our top-tier products and services designed to elevate your outdoor lifestyle.

The Advantages of Waterproof Shade Sails
Waterproof shade sails combine the best of both worlds – sun protection and rain shelter. Here's why they are the ultimate outdoor shading solution:
1. Year-Round Enjoyment
Melbourne's weather can be unpredictable, but with waterproof shade sails, you're always prepared. They provide reliable shelter, ensuring that you can use your outdoor spaces, even during unexpected rain.
2. Multi-Functional
Waterproof shade sails are incredibly versatile. They offer sun protection when the weather is fine and transform into rainproof shelters when needed. This versatility makes them ideal for outdoor dining, entertaining, or simply relaxing.
3. Aesthetic Appeal
Outdoor spaces should not only be functional but also visually appealing. Waterproof shade sails add an element of elegance to your outdoor area, elevating its aesthetics.
4. Customization
Each outdoor area is unique, and so are its shading needs. With custom waterproof shade sails, you have the freedom to design the perfect shading solution that matches your outdoor space's dimensions and style.
Gflashy: Your Trusted Waterproof Shade Sail Partner in Melbourne
Service Description
Our waterproof shade sail service includes:
On-Site Consultation: Our experts visit your location to assess your outdoor space and discuss your shading needs.
Custom Design: Based on the consultation, we work with you to design a waterproof shade sail solution that perfectly matches your requirements.
High-Quality Materials: We use top-quality waterproof materials that are durable and weatherproof, ensuring your shade sail effectively shields you from both sun and rain.
Expert Installation: Our team of skilled installers ensures that your custom waterproof shade sail is precisely and securely installed, adhering to industry standards.
Repairs and Cleaning: In addition to installation, we offer repair and cleaning services to maintain the longevity and aesthetics of your shade sail.
Service Area: Melbourne, Australia
We proudly serve Melbourne and its surrounding areas, ensuring that residents across the city can enjoy the benefits of our waterproof shade sails.
Contact Gflashy for a Custom Quote
Ready to transform your outdoor space into a versatile oasis with a custom waterproof shade sail? Contact us today for a custom quote. Our team is dedicated to helping you find the perfect shading solutions that align with your style, needs, and budget.
Call us at +614 478 555 038 or email us at support@gflashy.com for personalized assistance and to schedule a consultation.
Experience year-round outdoor enjoyment, create comfortable retreats, and enhance the beauty of your outdoor spaces with waterproof shade sails from Gflashy. Contact us now, and let's make your outdoor dreams a reality, no matter the weather.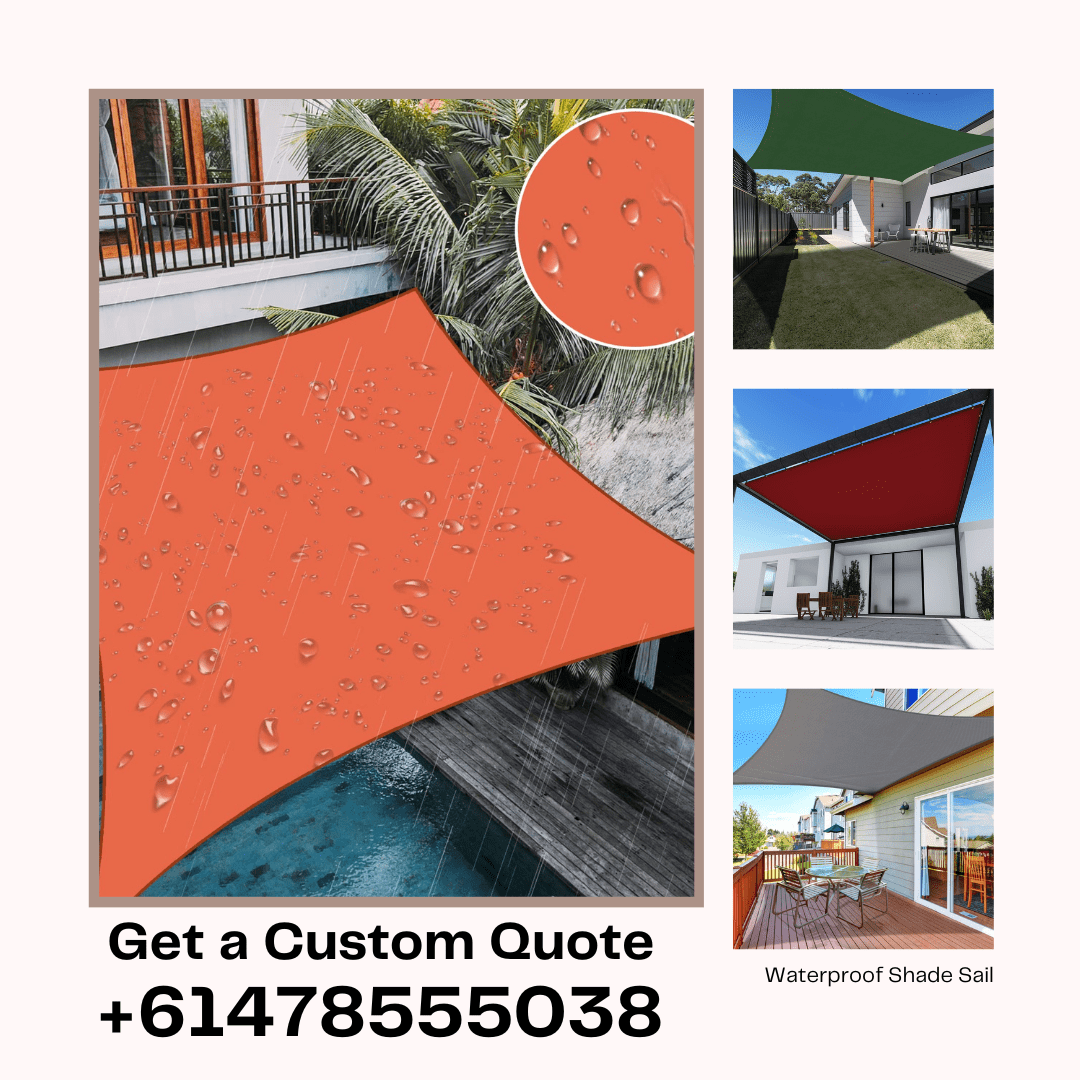 More Services