White Platform Boots
How to choose correct size?
1.Measure your foot length as the size chart.
2.Find the "EUR/China Size" from the size chart by your foot length!
3.Please do not measure the insole length,it is different from the foot length.

EUR/China Size 35 = Foot length (cm) 22.5
EUR/China Size 36 = Foot length (cm) 23.0
EUR/China Size 37 = Foot length (cm) 23.5
EUR/China Size 38 = Foot length (cm) 24.0
EUR/China Size 39 = Foot length (cm) 24.5
EUR/China Size 40 = Foot length (cm) 25.0
EUR/China Size 41 = Foot length (cm) 25.5
EUR/China Size 42 = Foot length (cm) 26.0
EUR/China Size 43 = Foot length (cm) 26.5

Note:
1. Measurements are the maximum size, please allow an error of about ± 5MM. Compare the size chart with your feet length carefully before ordering.
2. Please according to our size chart choose the most appropriate size! This is very important, thank you for your understanding and cooperation! Wish you have a happy shopping!
3. If you do not know how to choose the correct size or have any questions about this product, please contact us, we will give you satisfactory answers as fast.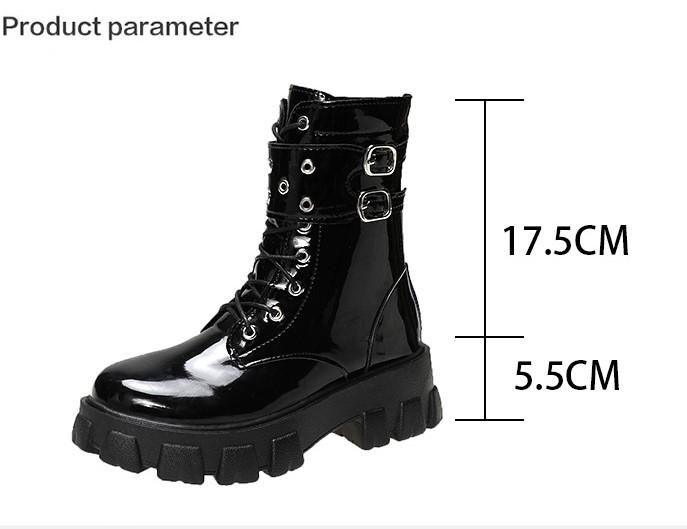 1. If you are satisfied with our products and service, please leave us 5 stars feedback.
2. If you have any problems or questions regarding your transaction please contact us before leaving any type of feedback.
3. All emails will be answered within 24 hours, If you do not receive our reply, please kindly re-send your email or complaint to our manager.
Introduction:
White platform boots have taken the fashion world by storm, offering a unique blend of boldness and trendiness. These statement shoes are all about elevating your style to new heights, quite literally. With their eye-catching design and versatile appeal, white platform boots have become a favorite choice for fashion-forward individuals seeking to make a powerful and confident statement.
The Trendsetter's Delight:
Fashion trends constantly evolve, and white platform boots have emerged as a must-have accessory among trendsetters and influencers. These boots exude an air of boldness and fearless fashion choices, making them a go-to option for those who wish to stand out from the crowd.
A Contemporary Twist on Platforms:
Platform shoes have a history that dates back to ancient civilizations, but their modern incarnation has seen a surge in popularity. White platform boots provide a fresh twist on this classic style, elevating the look with a clean and sleek white color that complements various outfits.
Versatility in Style:
White platform boots come in various styles, from chunky combat boots to sleek and minimalistic designs. Some feature laces, buckles, or zippers, adding to the boots' aesthetic appeal. The versatility of these boots allows you to express your individuality and style, creating diverse looks that suit different occasions.
Elevate Your Height and Confidence:
The defining feature of platform boots is the elevated sole, providing extra height without compromising comfort. This boost in height not only elongates your silhouette but also boosts your confidence, giving you a commanding presence in any setting.
Pairing with Various Outfits:
White platform boots offer a striking contrast against outfits of any color, making them easy to pair with a wide range of clothing choices. For an edgy look, combine them with black skinny jeans and a leather jacket. To create a chic and monochromatic ensemble, pair them with a white dress or matching separates.
A Symbol of Fashion Rebellion:
White platform boots carry a sense of fashion rebellion, embracing the unconventional and breaking free from traditional norms. They are for individuals who embrace their uniqueness and are unafraid to make a powerful statement with their style choices.
Comfort and Stability:
While the bold design may suggest otherwise, white platform boots are designed with comfort and stability in mind. The elevated sole typically features a platform at the front, providing better weight distribution and reducing pressure on the balls of the feet. Many models come with cushioned insoles, ensuring comfort during extended wear.
Transitioning Across Seasons:
White platform boots are not restricted to any particular season. While they may add a touch of winter wonderland charm during colder months, they can be effortlessly styled for spring, summer, and autumn as well. White is a versatile color that complements various seasonal palettes, making these boots suitable for year-round wear.
Conclusion:
White platform boots are a symbol of fearless fashion and unapologetic self-expression. With their bold design and striking presence, they have become a staple for those seeking to elevate their style to new heights. Embrace the trendsetter within, and step into the world of white platform boots to make a powerful and confident statement. Whether you're attending a concert, a night out with friends, or a fashion-forward event, these boots will add a striking touch of boldness to your ensemble. So, seize the opportunity to add white platform boots to your footwear collection, and let them be your go-to choice for making a lasting impression with every step.